While Southern Miss' Wednesday matchup with Troy was called off, Ole Miss and Mississippi State were both in action as the rain held off, and both picked up mid-week wins. SportsTalk Mississippi's Brian Scott Rippee and Brian Hadad recap both games below:
Ole Miss: 15 Arkansas State: 3 
*Story by Ole Miss Beat Reporter Brian Scott Rippee
The beginning of Gunnar Hoglund's collegiate debut didn't go as scripted, but the freshman righty recovered after a tough first inning and did some good things in Ole Miss' 15-3 win over Arkansas State on Wednesday.
Hoglund threw two innings, gave up three runs on four hits with three strikeouts and a walk. His velocity with the fastball sat right at 90 and he flipped over a handful of quality curveballs, his but his command was a bit erratic early in the outing. He threw 45 pitches.
"I was just trying to get into a rhythm early, trying to get my feet wet and refine all three pitches out there," Hoglund said. "I was a little anxious to start the game. I think the first couple of batters my nerves got to me a little bit, but after that, I just kind of went about my outing."
Hoglund gave up two runs in three hits before recording an out, but responded with three consecutive strikeouts to get out of the pinch in the first. He offered a couple of plus breaking balls that netted swings-and-misses and found the command of his fastball later on.
"My off speed pitches were a lot better," Hoglund said. "It was really about fastball command. I think I will be better next outing."
The Ole Miss offense picked Hoglund up immediately plating five runs in the first inning, highlighted by a three-run homer from Tyler Keenan in the three hole, his second of the year. The Rebels plated all five runs before Arkansas State starter Carter Holt recorded an out.
Hoglund's successor fared much better in his season debut. Houston Roth, who sprained his AC joint in his non-throwing shoulder last week and missed opening weekend, threw two scoreless innings one one-hit ball. Roth struck out four and walked one.
"I felt good," Roth said. "I have been doing tons of rehab. I felt good tonight. May have had some adrenaline help. I didn't feel any pain tonight. I felt a little stiff maybe, but my motion was normal. Everything felt normal. It was good."
Roth said he braced for the worst when the injury happened and was relieved to be back just over a week after suffering sprain on a fall coming off of the pitcher's mound.
Perhaps the sharpest staffer out of the pen on this evening was freshman lefty Doug Nikzhazy, who threw a scoreless fifth inning after Roth. Nikhazy gave up two soft-contact singles, but his fastball showed good life at 91 and he struck out the first batter he faced.
"Doug has electric stuff," Thomas Dillard said. "I feel like he is going to be one of our best arms out of the bullpen this year."
Ole Miss blew the game open with a five-run fifth. Dillard demolished a fastball over the wall in left-center for a three-run jack that was responsible for the bulk of the damage in the frame. The Rebels totaled 19 hits. Grae Kessinger, Cole Zabowski and Keenan all had three hits.
Dillard's first collegiate game behind the plate went well. He received the ball well and was tested early as Hoglund spiked a fastball into the dirt as well as a couple of breaking balls.
"I thought he was terrific," Bianco said. "He is smart and has a lot of confidence. For him to handle it like that, not only the blocking but the receiving of the pitches and getting the signals, he did a terrific job."
Dillard's services will be needed behind the plate this season in some capacity. The Rebels have two other catchers behind Johnson on the roster in freshman Knox Loposer and junior college transfer Hunter Nabors. Loposer broke his foot in the fall, and has since made a full recovery. He got a plate appearance on opening day against Wright State and entered the game defensively behind the plate late in the game. Nabors got his first career at-bat in the win on Wednesday.
Loposer is only a freshman and Nabor being a newcomer has played a role in Dillard needing to catch. Bianco has been adamant that Dillard will be the backstop in a handful of games this season and seems to feel most comfortable with Dillard's experience as a catcher and a hitter, despite never having caught in a college game until Wednesday night. Dillard, of course, was a catcher in high school and has caught each offseason to stay familiar with the position.
Notes:
— Bianco said after the game that Will Ethridge will not pitch this weekend at Tulane as he deals with the lingering effects of a blister on his right hand that surfaced in his opening day outing. Zack Phillips will start Friday with Roth and Hoglund behind him in that order. Ethridge has not thrown a baseball since the start on Friday.
"I guess, maybe a little worse, though I am not sure if that is the right adjective, but a little worse than we thought," Bianco said. "It is one of those things where we don't want to rush him back and fight it every week. Today was the first day putting pressure on that finger didn't bring any pain. They think they have gotten all the blood out of there so it can dry up.. We will play it day-by-day."
— Ole Miss threw six arms in this game. Bianco rarely elects to Johnny Wholestaff a game, but deemed it necessary in this one. This is partially a side effect of being rained out in the finale against Wright State on Sunday and needing a number of guys to make their season debut. Nikhzay, Connor Green, Roth and Tyler Myers made their season debuts.
"We don't do it much, but we needed to get a lot of people in there," Bianco said. "We wanted to do everything we could to get (Parker) Caracci in there, but with that big of a lead, it would've been ridiculous to put him in the game. Really, from the second or third inning on, we were really good on the mound."
Ole Miss returns to action on Friday in New Orleans. First pitch is set for 6:30 P.M.
Mississippi State: 3 UAB: 2 
*Story by Mississippi State Beat Reporter Brian Hadad.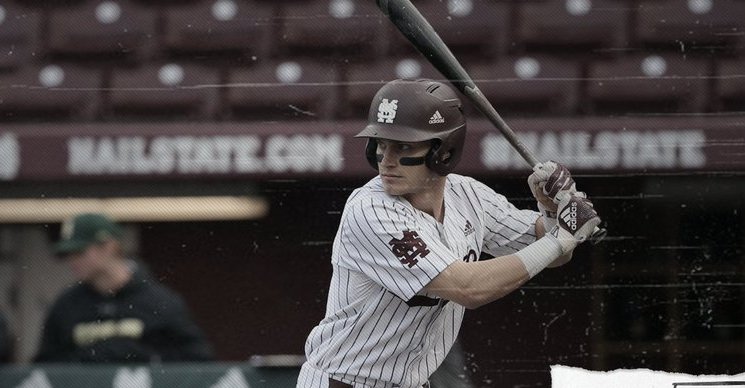 Winners are winners, so they say, so you knew that when Jake Mangum was at the plate in the seventh inning with Mississippi State trailing UAB 2-1, runners at second and third with two outs, that the Bulldog All-American was going to deliver. Deliver he did, with a two RBI single putting the Bulldogs into the lead where they would stay in a 3-2 win over a tough Blazers squad. On a day where the Diamond Dawgs only had three hits total, it was Mangum who once again delivered the blow that lead to a maroon and white victory.
MANGUM DOES MANGUM THINGS
MANGUM DELIVERS!

A single to right, and the Diamond Dawgs have taken the lead!#HailState🐶 | State 3, UAB 2 pic.twitter.com/DCG0rrIniC

— Mississippi State Baseball ⚾️ (@HailStateBB) February 21, 2019
Jake Mangum with a game winning RBI is among the least surprising things you can imagine. When Mangum arrived at the plate in that situation, the entire press box was in agreement, he was going to get a hit and the Bulldogs were going to take the lead. It might not have been on the same level as some of his heroics in last season's run to Omaha, but the bottom line is if Mangum can be at the plate at the right time, he will do what needs to be done nearly every time.
A FAMILIAR FACE RETURNS
.@Doug4212's final line: 5⃣.2⃣ IP, 0⃣ H, 0⃣ R, 2⃣ BB, 7⃣ Ks.

We're happy he's on our side.#WinAsOne | #Uncommon pic.twitter.com/HLx0X6EBxw

— UAB Baseball (@UAB_Baseball) February 20, 2019
It wasn't that long ago that you could have predicted Graham Ashcraft would make the first start at the new Dudy Noble Field, as he passed on a chance at Major League Baseball to come to Starkville. Ashcraft's time at Mississippi State was plagued by injuries, but healthy now, he didn't allow a Bulldog hit in 5.2 innings pitched Tuesday. Ashcraft consistently ran his fastball to the 93-95 miles per hour range, and featured an nearly untouchable cutter. He might not have gotten the win, but he can't be disappointed by his return to this stadium.
WHAT'S NEXT?
The Golden Eagles fly together.

We'll see you all in Starkville this weekend 😈#SMTTT pic.twitter.com/FUTHNTve5i

— Southern Miss Baseball (@SouthernMissBSB) February 20, 2019
It will be one of the best series across the country as Southern Mississippi travels to Starkville for three games this weekend, weather permitting. USM swept the Bulldogs in Hattiesburg a season ago, sparking the chain of events that led to the dismissal of Andy Cannizaro. This series will definitely have the feel of an SEC weekend, or perhaps even postseason play. I expect a lot of drama, and if the weather could clear up, some big crowds.
Plenty to talk about on the Thunder & Lightning Podcast and SportsTalk Mississippi, we'll have you covered.
Stay up to date with all of Mississippi's latest news by signing up for our free newsletter here. 
Copyright 2023 SuperTalk Mississippi Media. All rights reserved.