Earlier this week, Ole Miss and Mississippi State prospects worked out for NFL scouts at their respective pro days. SportsTalk Mississippi's Brian Scott Rippee and Brian Hadad were in attendance to get a closer look at the former Rebels and Bulldogs that are hoping to play on Sundays next season.
Ole Miss: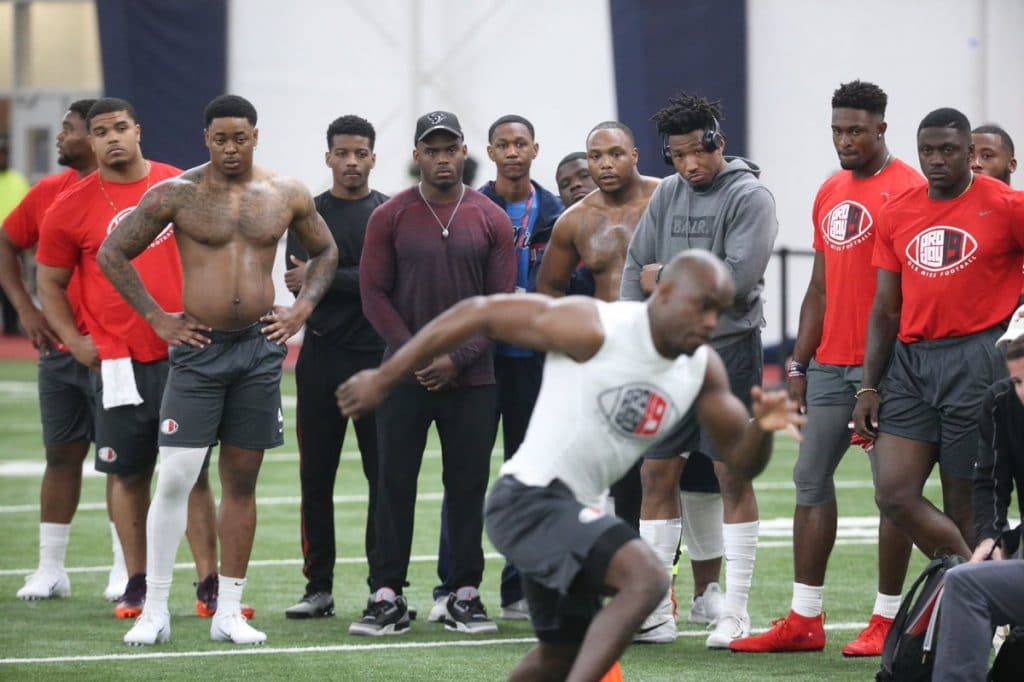 Story by Ole Miss Beat Reporter Brian Scott Rippee
Over 60 representatives from all 32 NFL teams were present in the Manning Center on Friday morning as Ole Miss held pro day. 
It was highlighted, of course, by the trio of wide receivers that have become the face the offense and program over the last three seasons in D.K. Metcalf, Damarkus Lodge and A.J. Brown. But Jordan Ta'amu also put his arm on display for scouts and Dawson Knox went through a number of drills. Knox and Ta'amu were among about 15 other players that went through a workout.
 Here are some news, notes and statistics from the workout.
Testing measurements and times:
All times are unofficial, according to Ole Miss media relations
Here are the results today. All times are 100 percent official as deemed by @BradSheffield Sports Bureau pic.twitter.com/an3MytROpK

— Brian Scott Rippee (@bsrippee) March 29, 2019
Metcalf healthy, ready to prove he's more than a combine specimen:
Metcalf has been through a lot over the last eight months. From a severe neck injury, to the recovery and becoming an internet sensation with his combine measurements and overall physique, he is aiming to prove there is more that comes with him than that. 
"I look in the mirror and know who I am each day," Metcalf said. "I am just going about my business."
https://www.youtube.com/watch?v=ju3jt7sqiYg&t=1s
A lot of what is said during these interviews can be classified as a canned answer simply to complete what can be a mundane exercise, but Metcalf seems to genuinely feel like he has something to prove. He missed most of his freshman season with a foot injury and, of course, half of last season with the neck issue. Metcalf would like to exterminate any budding stigma that he is injury prone. Neck injuries are always scary and often vary in their severity and recovery timeline. But Metcalf says he feels healthy and has put the injury in the rearview.
"It was definitely scary, but once the doctor told me I could play football again, all the doubt went away," Metcalf said. "That is all I am focused on."
One advantage Metcalf has utilized is the fact that his father, Terrence, played in the NFL and has been through this process before. 
"My dad is like a cheat code," Metcalf said. "He has been through all of this. He gives me tips every day, telling me what I do and do not need to do. It is always good to have him around."
Brown being asked by teams to play both slot and outside 
There is a fairly wide variance of opinion amongst scouts regarding A.J. Brown and where he may get drafted. Brown hasn't popped off the charts in testing like his friend Metcalf. It is not something he puts a lot of stock in
"That isn't football, so I do not really care about that," Brown said. "I just do it to handle my business. In my opinion, 40-yard dashes and that stuff aren't going to tell whether you are a good football player. Your film speaks for that.. I had to do it. I had to get it over with. I wasn't big on that. It wasn't my main focus. I am a football player. My job is to run routes and get open."
https://www.youtube.com/watch?v=UCyhYSmdS-c
One thing Brown has working in his favor is the fact that he can play both in the slot and on the outside. He has been asked to do a lot of both by teams to this point. Brown began his career as an outside receiver before being moved into the slot as a sophomore in Phil Longo's scheme. He says he feels equally comfortable in both positions.  
"Pretty much every team talks to me about both," Brown said. "That is always a plus."
Lodge trying to prove intangibles, cherished final moments with fellow receivers 
The guy often lost in the large shadow Brown and Metcalf cast is Damarkus Lodge, a long, rangy wide receiver with good feet. Lodge did not go through testing on Friday, but did some field drills. Lodge said he wasn't necessarily happy with his test results at the combine, but was at peace with it because he felt did all he could do.
"I wanted to show that I may not be a 4.3 (40-yard dash) guy," Lodge said. "But put the ball on the ground and I will play like a 4.3 guy. I can run routes, separate, catch the ball smooth. I think I checked those boxes today."
https://www.youtube.com/watch?v=xi_PMAhh1v4
Lodge doesn't fret over the attention being given to Metcalf and Brown, but rather relishes being in the presence of it and getting an opportunity to perform in that spotlight. 
"It is actually a blessing that all of those guys get that attention," Lodge said. "If they weren't, then all of those coaches wouldn't have been out there for me to show what I can do. I don't stress about it. I just want to show everyone what I can do."
Knox trying to supplement limited tape
Dawson Knox is a tight end prospect that NFL teams seem bullish on. He is a big, athletic kid at 6-foot-4, 250 pounds with good hands. Knox was criminally underused in Longo's offense over the past two seasons. But he has enjoyed the challenge of showing teams his skillset that was hidden by neglect the last two years.
"It has been pretty fun for me going into film session trying to explain that we ran a lot of routes in practice," Knox said. "I know any route on the route tree. I have tried to showcase some of that stuff that maybe didn't show on film. I feel pretty good about being on the same page as coaches with regards to there being more to me than what is on film."
https://www.youtube.com/watch?v=WWpVmFv5U1g
Knox had surgery to repair a sports hernia right after the season ended. The decision to go pro with another year of eligibility left was a tough one for Knox, but at the end of the day, it was about eliminating risk.
"I had my degree and knew I had enough on film," Knox said. "I wouldn't be able to live with myself if I came back and had some sort of freak injury that prevented me from playing at the highest level."
Ta'amu showcasing arm talent
Brown described Ta'amu's workout on Friday as perfect. Ta'amu wasn't ready to go that far, but acknowledged he felt good with what he put out there in front of scouts and NFL teams. Ta'amu is an interesting prospect with some arm talent. What will ultimately go a long way in determining if and where he is drafted is the ability to make intermediate throws with accuracy. 
"You can't be zipping the ball all the time, you have to give it a little touch," Ta'amu said of the feedback he has received. "Drop backs under center need to be smoother. I rarely did that here. They wanted to see that a lot more and the short routes. Can I throw the short routes in addition to the deep routes? That is what I have been working on."
https://www.youtube.com/watch?v=KIGx6UgBx3U
Ta'amu will return to Hawaii after finishing up an internship with the Oxford Police Department in the next two weeks and will watch the draft at home. 
HIGHLIGHTS:
https://www.youtube.com/watch?v=zk6B4J57U3Y
https://www.youtube.com/watch?v=PLQkxsbjLaE
https://www.youtube.com/watch?v=5rSFO6YOoz0
Mississippi State:
Story by MSU Beat Reporter Brian Hadad
Mississippi State's pro day definitely lost some sizzle in the past few weeks, as star defensive tackle Jeffery Simmons' injury kept him from competing, and likely first-round pick Montez Sweat blew up the combine, cementing him among the top picks in April's NFL Draft. That said, there were still some things to glean from Wednesday's showcase for the Bulldogs.
SWEAT CONTINUES TO COMPETE
Montez Sweat doing position drills. pic.twitter.com/7bMasGINdc

— SportsTalk Mississippi (@SportsTalkMiss) March 27, 2019
Sweat skipped the 40 yard dash, standing pat on his incredible 4.41 from Indianapolis, but did participate in position drills. From my perspective, Sweat looked every bit of the first round pick he's projected to be. He is surprisingly powerful for somehow as lean as he is, and his wingspan makes every pass near him a potential deflection. Sweat cited his desire to compete when we spoke to him after drills, saying he's not the type of guy to sit out any potential competition.
SIMMONS DISCUSSES HIS INJURY AND THE PATH BACK
MSU Pro Day: Jeff Simmons https://t.co/xwsMDnXJwk

— Brian Hadad (@brianhadad) March 27, 2019
Obviously, the absence of Simmons was a big storyline, as he continues to rehab from the ACL tear he suffered in training back in February. Simmons was able to do the bench press, putting up 28 reps at 225 pounds, a number his teammates said would have been higher were he fully healthy. Talking to him afterward, the frustration at being unable to compete was evident, especially since he was focused on this date after being denied entry to the NFL Combine. Simmons also discussed the off the field incident that preceded his arrival at Mississippi State, stating that he had been open and honest about it since it happened, and that he planned to tell teams the truth, as he has since day one in Starkville.
FITZGERALD RUNS ROUTES
Nick Fitzgerald shows his blocking skills. pic.twitter.com/0E2cEtoj6a

— SportsTalk Mississippi (@SportsTalkMiss) March 27, 2019
Fitzgerald running routes. pic.twitter.com/JOw1D3lVXR

— SportsTalk Mississippi (@SportsTalkMiss) March 27, 2019
Nick Fitzgerald started his pro day off a quarterback, firing passes to his receivers Jesse Jackson, Justin Johnson, and former Bulldog Donald Gray. He finished the workout coming out of a three-point stance and finding himself catching those passes. Fitzgerald's versatility was on full display Wednesday, as teams want to know if he can fill a similar role for them as Taysom Hill filled for New Orleans this past season. I thought Fitzgerald looked very comfortable catching the ball, getting in and out of his breaks, and powerful enough as a blocker. The NFL is such a copycat league, everybody will be looking for the own version of Hill, and Fitzgerald can be a person that fits that order.
Stay up to date with all of Mississippi's latest news by signing up for our free newsletter here. 
Copyright 2023 SuperTalk Mississippi Media. All rights reserved.