A recent poll from Millsaps College and Chism Strategies showed that 67% of Mississippians supported a 2020 ballot initiative to allow for the use of medical marijuana for patients with debilitating medical conditions.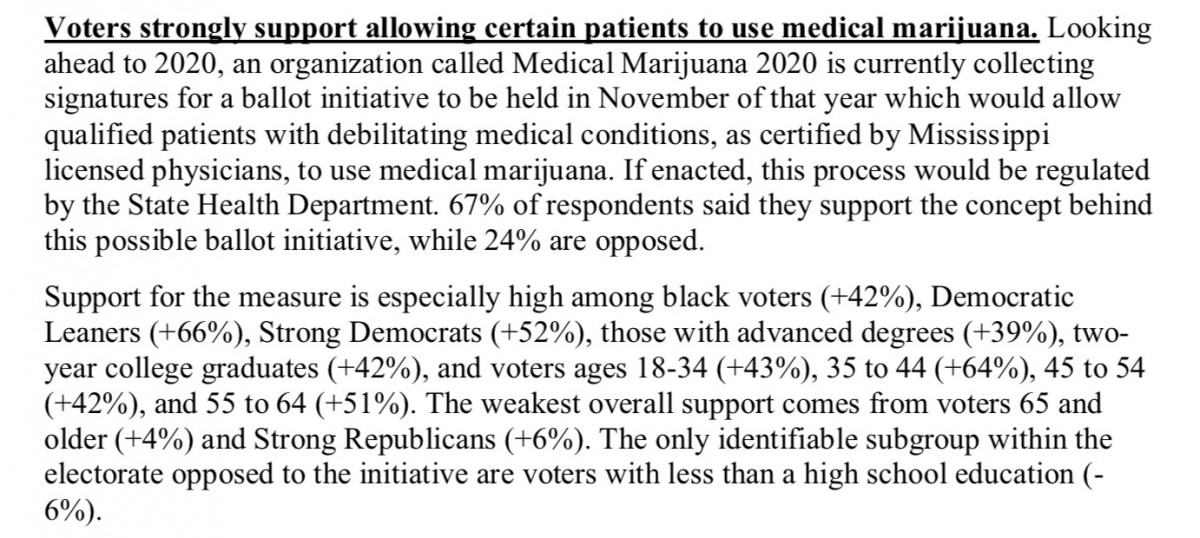 Representative Joel Bomgar, has been an avid supporter of the medical marijuana initiative for several years and says it has been proven to help cancer patients and even leads to fewer opioid deaths, roughly 25%.
"Almost everybody seems to know somebody who could have benefited from medical marijuana or who lives in another state and did benefit from medical marijuana," Bomgar said. "When you have almost everybody in Mississippi that knows somebody, has an experience, or knows someone in another state, it just starts to make no sense to anyone that 33 states allow medical marijuana and Mississippi is one of 17 that does not."
RELATED: Medical marijuana group looks to legalize for Mississippi
Bomgar said that legalizing medical marijuana "just makes sense" as other conservative states such as Arkansas, Louisiana, Oklahoma, and Florida have legalized it and are benefiting from the use of medical marijuana. However, Bomgar added that patients shouldn't be the only ones benefiting, farmers should too. He said industrial hemp, which is the cannabis plant and does not have any psychoactive ingredients in it, is a huge opportunity for farmers in Mississippi.
"For farmers that want to plant acres and acres of something, industrial hemp is a huge opportunity for the state," Bomgar said. "The federal Farm Bill that President Trump signed into law just weeks ago allowed industrial hemp at the national level as long as each state would amend their laws to make it dovetail nicely with the federal law. We still need to do that in Mississippi but I think from a farmers perspective there's a huge amount of opportunity there."