A new program made it's way to the East Mississippi Correctional Facility in Meridian that allows incarcerated fathers to enjoy time with their children. 
According to the Mississippi Department of Corrections it was a special day for 15 offenders last Sunday. Kevin Brown, an inmate, and his son were able to celebrate the little boys first birthday that day.
Brown, 25, was convicted of burglary of a vehicle in DeSoto County said he will "relish spending time with his 2-year-old daughter and son whose birthday is Aug. 9."
"My children are growing up so fast. They are beginning to be able to speak in whole sentences and I am just looking forward to being able to talk with them," Brown said. "This is a wonderful opportunity and something to look forward to."
Each inmate that qualifies for the program were allowed one adult visitor and their children, in most cases one or two. The families then participated in face painting, watching movies, eating snacks, playing games and puzzles, as well as reading.
Ray Rice, Deputy Warden of Programs said it was a great day for the inmates and their families. Some of the fathers had not seen their children in years.
"One offender, his kids hadn't seen him in five years. they drove from Arkansas and they got to see him, they were twin boys 8-years-old, and they got to see him. It was just an amazing sight," said Rice.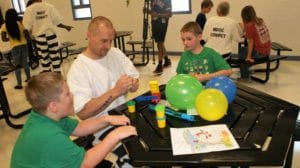 He said the event was emotional for everyone, including staff members at the facility.
"Having family support is important not only when inmates are released but also while they are incarcerated," said Commissioner Pelicia Hall. "Programs such as a 'Day with My Dad' are consistent with our vision to meet offenders' reintegration needs."
The program is modeled after one that was used in a correctional facility in Cleveland, Texas.
The adult visitors that accompany the children must be spouses, ex-spouses, grandparents, and parents of the offenders. "The adult visitors who will be participating are already on the approved and established list for visitors," said Markeshia Wells, EMCF's lead case manager. "Additionally, we verified the paternity of all of the children who will be participating."
Brown told MDOC that the ability to see his children give him an optimistic view on life.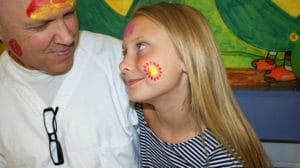 "I felt a little overwhelmed at first when they told me, but now I am excited," Brown said. "My children are growing and developing, changing physically and mentally, and I am inspired to have a positive mindset. This gives me motivation to change for the better and something to look forward to."
Rice said they hope to continue the program on every fifth Sunday.