With high-tech equipment pumping up to 50,000 cubic yards of sand per day from a shoal area in the Gulf of Mexico, the U.S. Corps of Engineers' project to re-nourish Cat Island's East Beach is expected to conclude in mid-October. 
"Cat Island is an important asset to Mississippi because of its natural beauty and historical value, but it also offers critical protection to our mainland.  Restoring the island to its pre-1998 condition secures that protection for years to come," said Secretary of State Delbert Hosemann, who serves as State Land Commissioner and spearheaded acquiring the acreage at no cost to the State in December 2016.
Under a Memorandum of Agreement between Secretary Hosemann and the Department of Army, the Corps agreed to renourish East Beach with about 2 million cubic yards of dredged sand. The renourished area will be approximately 250 feet wide and between five to seven feet in height, sloping toward the Gulf.  The project will be monitored for up to 10 years post-construction to determine its success.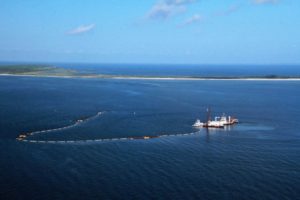 "The Mobile District is honored to be a partner in the restoration of Cat Island ensuring that this critical resource is resilient to future storm events and held in trust for the residents of Mississippi and the Gulf Coast," said Lieutenant Colonel Andrew Yoder of the Corps.
The dredge, which is located approximately 1.5 miles off Cat Island, is named "Robert M. White," and was christened in Gulfport in June 2017.  The contractor is Manson Construction.  The Corps has monitored shorebird and sea turtle nesting activities throughout the project, with its environmental consultant safely relocating several turtle nests from the construction area.
The total cost of the renourishment project is approximately $16 million, including sand fencing and dune vegetation, which will begin in November.  Funding is provided by the Mississippi Coastal Improvements Barrier Island Restoration Plan.  No State funds have been expended on this project.
The Department of Marine Resources (DMR), a State agency created to protect and conserve marine interests, will oversee the day-to-day maintenance of the Cat Island property once renourishment is complete.
"This is another significant step toward restoring and preserving Cat Island as an ecological, recreational and protective barrier resource for all Mississippians," DMR Executive Director Jamie Miller said.
For more information about Mississippi's coastal resources, or for information about recreation and other opportunities on Cat Island other State-owned coastal property, visit DMR's website.
Stay up to date with all of Mississippi's latest news by signing up for our free newsletter here. 
Copyright 2023 SuperTalk Mississippi Media. All rights reserved.