The Rebels trip to Nashville ended quickly with a 62-57 loss to Alabama last night, thanks to second half collapse after holding a 14-point lead at halftime. Mississippi State blew out Texas A&M 80-54 to move on to today's quarterfinals where they'll face Tennessee.
SportsTalk Mississippi's Brian Scott Rippee and Brian Hadad were at Bridgestone Arena for the action last night, and below, you'll find a full recap of both games.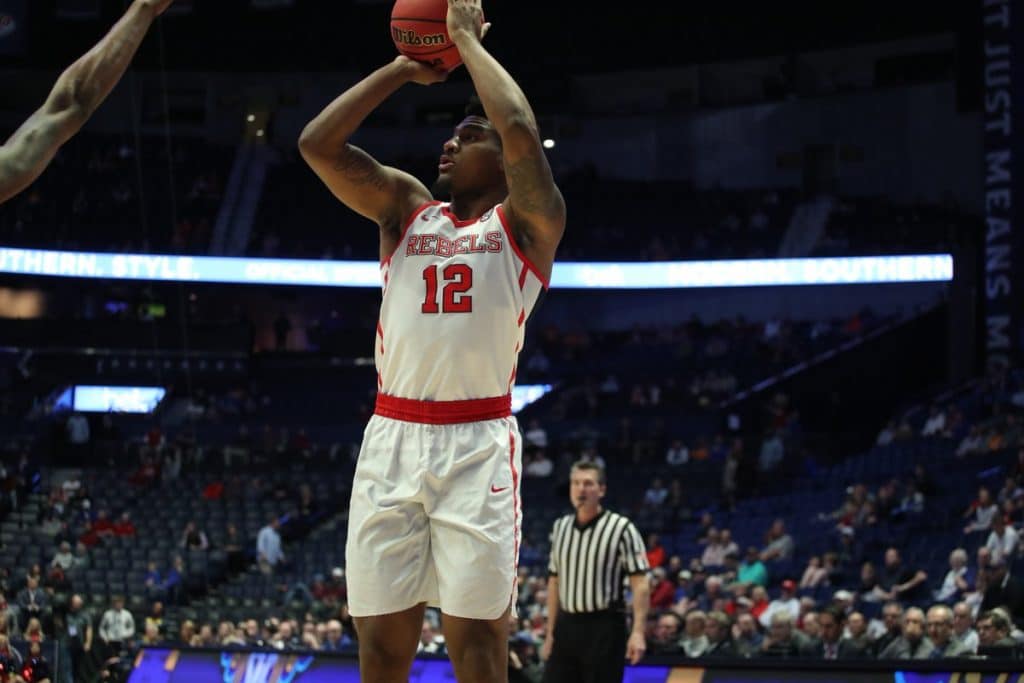 Story by Ole Miss Beat Reporter Brian Scott Rippee
The rim was unkind to Ole Miss and its lingering effects in other areas is what proved to be more detrimental than the lack of shot making itself.
The Rebels lost to Alabama, 62-57, on a night that saw its two All-SEC guards — Breein Tyree and Terence Davis — go 4-of-27 combined from the field. That result on its own can be deemed an outlier. The 31 games prior serve as evidence to support that. How it affected the duo's effort on the other end of the floor is something more concerning in the mind of Kermit Davis.
"We took a lot of first-side shots in the second half," Kermit Davis said. "Then, when our two All-SEC guards quit shot making, they quit guarding. It was just tough for us."
Ole Miss blew a 14-point halftime lead. It scored 19 points in the second half. It had an Alabama team that is fighting for its NCAA Tournament life down 38-24 and on the verge of folding. But what has been a reoccurring issue for the Rebels reared its head again. Lethargic starts to the second half have become a pattern, one that occurred again as the Tide started the second half on a 20-5 run to take a 44-43 lead.  The eight minutes in which this run occurred looked similar to the January matchup between these two clubs, one in which Alabama bullied the Rebels inside and outmanned them with physicality. The Tide pummeled Ole Miss in Tuscaloosa on that night.
"We absorbed a lot," Kermit Davis said. "We just couldn't absorb the physicality around the goal. That is why the free throw difference was so big. We just settled and settled and settled."
The Tide out-rebounded Ole Miss, 50-30. Alabama pulled 12 offensive rebounds in the second half and 31 total rebounds in the second half. The Rebels issued the first punch in the first half. They absorbed blows in the second half.
"I think we just gave up, not being aggressive," Bruce Stevens said. "We have to come out just as aggressive in the second half."
https://www.youtube.com/watch?v=8MZvz_IZqRI
Ole Miss was spread thin for parts of this game. K.J. Buffen battled foul trouble in the second half. Dominik Olejniczak scored just four points and grabbed one rebound in 15 minutes. Stevens twisted an ankle and missed a stretch of time in the second half, but returned later in the game.
Outside of the rebounding ineptitude, the lack of scoring from Tyree and Davis is what cost Ole Miss dearly. The two settled for a lot of jump shots and were unable to get to the rim as easily as they've so often been accustomed to. The two put the blame on themselves.
"I played the worst game of my career," Tyree said. "I let my ream down. It is a team game, but I have to do better. I just quit on possessions, gave up easy layups uncontested. I dug my team too far in a hole and we couldn't get out of it."
The Rebels didn't score a point in the final 3:21 of the game. In the close games Ole Miss has lost down the stretch, it has, at times, struggled to get quality looks in half court offense down the stretch. It hasn't been the case in every game or every possession in the game's waning minutes, but it hasn't made shots late in games at a consistent enough rate lately. Ole Miss led 57-55 with just over two minutes remaining. Terence Davis threw the ball to an Alabama defender with just over a minute left and it led to a basket in transition that put the Crimson Tide up two points. The Rebels see the ball go through the rim again.
"We have to move the ball," Shuler said. "Moving the ball and killing time when we have the lead. That is the main thing."
https://www.youtube.com/watch?v=3z_TTUZIIzI
 Ole Miss' shot selection was suboptimal late in the game. Kermit Davis used the word 'settling' in his postgame press conference more than three times. It is an accurate word for what took place.
"We shot it quick," Kermit Davis said. "We panicked. We settled. In those kind of moments, we have to trust the offense and we didn't."
So, what now? Well, on the surface, Ole Miss will now await its postseason fate on Sunday. Will it be a nervous weekend for the Rebels?
"You are always on are on edge about things like this," Terence Davis said."I feel like our resume is pretty good."
Kermit Davis said he isn't going to stress at all about his team's postseason fate. In all likelihood, the 2019 SEC Coach of the Year is correct. Ole Miss has four quadrant one wins. Its worst loss is to a South Carolina team that is a couple of wins away from an outside shot at an at-large bid. Translation: Ole Miss doesn't have a bad loss. Its NET will likely remain in the high 30's The experts who prognosticate the NCAA Tournament field had the Rebels firmly on the eight or nine seed line entering Thursday. This loss could drop them a 10-seed. Beyond that, there really isn't any rational cause for concern. 
"I think we are in the (NCAA) Tournament," Kermit Davis said. "I just feel that we are going to be in the Tournament. I think we are an NCAA Tournament team."
With the bubble teams behind Ole Miss being as weak as they are, the Rebels should feel pretty good about their chances. A win would've eliminated any sliver of remaining doubt, though it will likely end up being moot. But a win would've allowed a team that has now lost four of five to enter the NCAA Tournament trending in a better direction. Aside from that, there could be a silver lining in this for the Rebels. They'll have essentially a full week's rest and a chance to rectify some of the flaws that have plagued them late. Moving off the eight-nine seed line would also allow Ole Miss to dodge a one seed in the round of 32 in the event it won a Tournament game.
All Ole Miss can do now is wait, but its postseason fate appears much clearer than it has in previous years leaving the SEC Tournament.
https://www.youtube.com/watch?v=qeYCzrvvIA0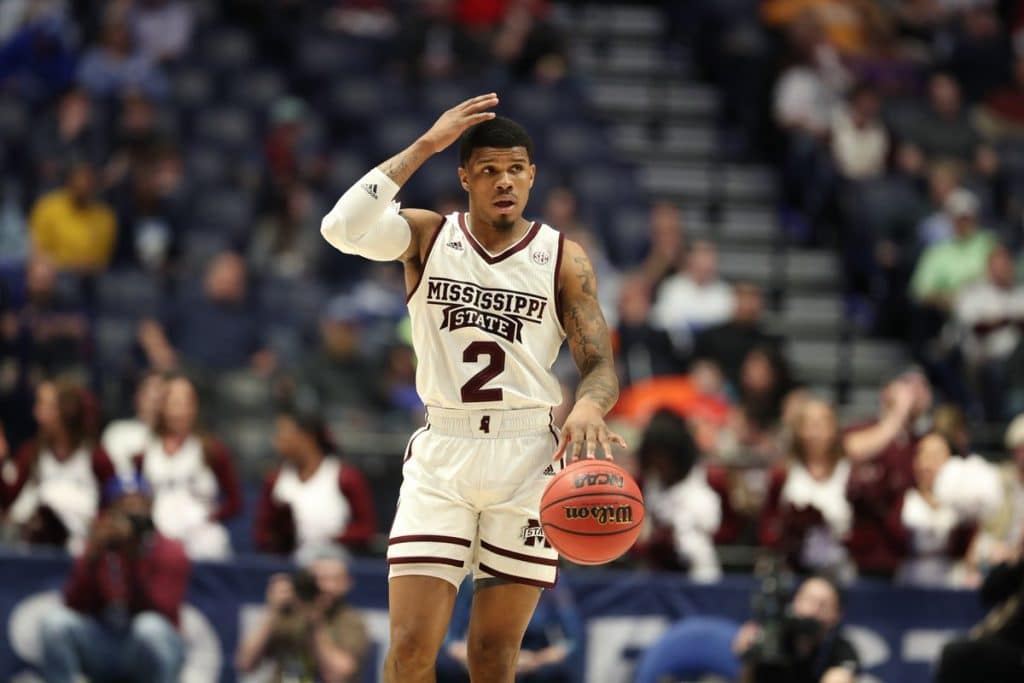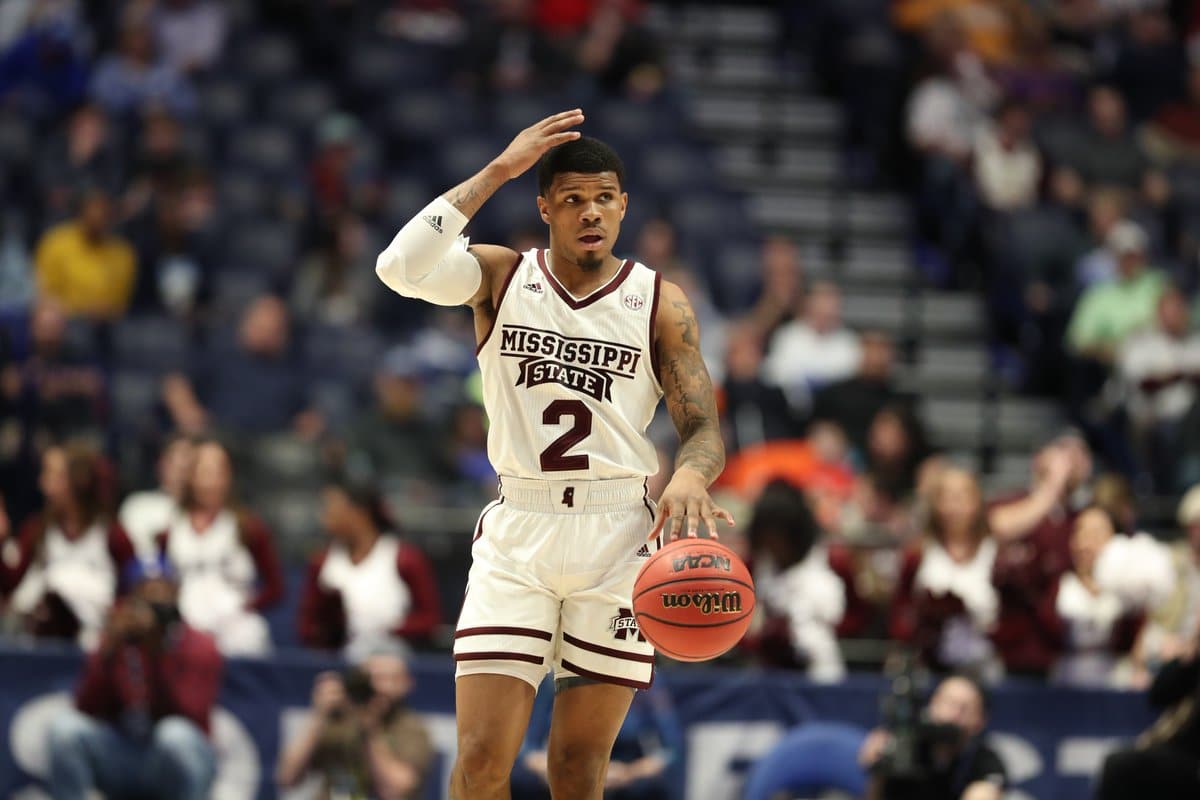 Story by Mississippi State Beat Reporter Brian Hadad 
On Saturday, Mississippi State pretty much got what they wanted on the offensive end against Texas A&M, but defensively, there were lapses that allowed the Aggies to shoot 47% and rack up 81 points on the Bulldogs. Thursday night in Nashville, those lapses were non-existent, as MSU held A&M to 37% from the field in an 80-54 win in Thursday's opener of the SEC Tournament. State continued its hot shooting, hitting at a 53% clip, including 11 three pointers, while racking up a +14 advantage on the boards. The Bulldogs will move to Friday, where they will look for revenge from their 71-54 defeat at the hands of the Volunteers ten days ago.
PETERS CONTINUES TO PLAY WELL
Where you going 12? (PSA March Lamar Peters has arrived) pic.twitter.com/eswXS6bxeP

— Dawgs Are Dancin' (@DawgBites15) March 15, 2019
We've been saying it all season long, when Lamar Peters is going, this Bulldog team is incredibly difficult to stop. Peters must have been a Texas Longhorn at heart, as he has played two of his best games of the season against the Aggies, combining for 36 points in the last two. When he is hitting three pointers, it simply opens everything else up for his teammates. He also is the Bulldog whose confidence level raises his teammate's intensity. A confident Peters makes Mississippi State dangerous in March.
COOL AS A Q-CUMBER
Q to the cup for a layup, MSU on a 7-0 run 💪

Dawgs up 22-7 at the 10:16 mark#HailState🐶 pic.twitter.com/XQ8VUrqs51

— Mississippi State Basketball (@HailStateMBK) March 15, 2019
It was no surprise to also see Quinndary Weatherspoon in double figures, and Thursday was no exception. Weatherspoon mixed the inside and outside game for 12 points to go with 9 assists and 4 boards. He has simply steadied the Bulldog ship every time out, and now that his teammates are starting to show up, he can become more of a facilitator. There will come a moment in March where the Bulldogs need Q to make that big shot, and I don't see how you can't have confidence in him to make it.
WHAT'S NEXT?
Tomorrow should be fun 💥

Interactive Bracket » https://t.co/HGsPh7xYyd pic.twitter.com/riXlqCQDTj

— Southeastern Conference (@SEC) March 15, 2019
There will be no shortage of orange in the Bridgestone Arena tomorrow night, as Tennessee takes the court for the first time in this postseason. Mississippi State didn't play with the kind of effort you need to win in the SEC last week in Knoxville, but the team we saw on the court tonight is very capable of giving the Volunteers all they can handle.