Matt Luke will soon enter his 18th season as a player or coach in college football, but for the first time, he represented the Rebels as the head coach at SEC Media Days. 
Let's get this out of the way early on in the article — Luke mentioned that they have not received an update on the university's appeal of the 2018 bowl ban which was handed down by the NCAA, but they could have the hearing this month and have a decision sometime in the fall. 
In the meantime, Luke mentioned that they'll prepare for the worst, but he's now worried about the team's mindset moving forward. Luke went on the say that because the team went through the up and down 2017 season without the possibility of playing in a bowl, they'll know what to expect in 2018.
"I think that's when everybody was looking for them to shut it down, they didn't, because they had a very, very unselfish attitude and were playing for each other," he said. "I think that's where the motivation comes, is really working and playing for each other and trying to prove everybody wrong, going out there each week and trying to find a way to win that game. I think that's the mindset of our team.
On-the-field, the Rebel roster looks a bit different than it did at this time last year, most notably missing is QB Shea Patterson. 
Patterson, among several other Rebels, transferred after the 2017 campaign, but the Rebels had time to brace for his exit. After the injury he suffered against LSU, it was Jordan Ta'amu's team the rest of the way, and he now enters his first full season as the starter.
"This season I'm being more vocal, I'm being a better leader. How I was last year, I was kind of the new guy," Ta'amu said.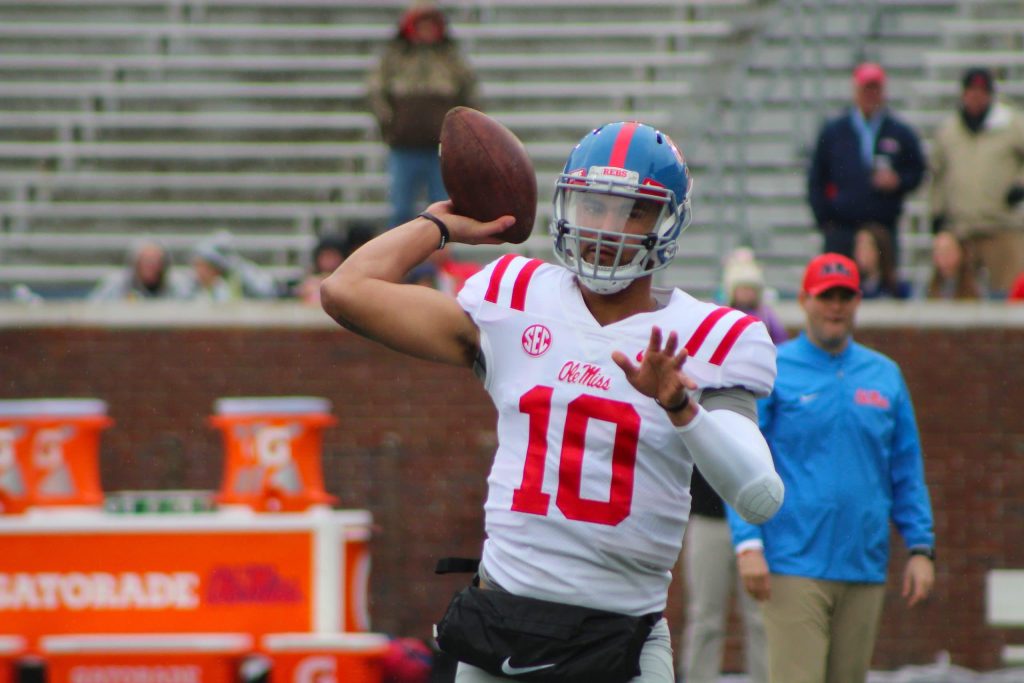 Luke had high praise for his QB, stating that he had a certain "it" factor down the stretch of last season, and he looks forward to seeing him with a full offseason of prep under his belt. When it comes to growth, team chemistry is a big part of that, and Luke knows that Ta'amu is doing everything he can to earn the respect of those around him. 
"He wasn't given anything," Luke said. "He earned the respect of his teammates and I think as a quarterback, you have to have that. I think the defense knows that if they can get the ball back to him, he's going to take it and do something with it. The receivers know that if they get open, he'll put it on the money. Then the o-line knows that if they protect him, he's going to make something happen."
Ta'amu finished 2017 with nearly 1,700 yards, 11 TDs and 4 INTs, and he said that he saw room to improve with his decision making and reducing the number of turnovers. While everyone knows that Ole Miss has one of the deepest WR corps in the nation with A.J. Brown, D.K. Metcalf and others,  the QB mentioned that TE Dawson Knox could add a new dynamic to this offense after being limited by injuries last season. 
Evan Engram was prominently featured during his Rebel career, but the TE position wasn't quite as productive in 2017, but Ta'amu mentioned that could change this season. 
"[Knox] is a big target to look for, he knows how to block, he knows how to get open," Ta'amu said. "He's fast, he's physical, and I think he'll be a big asset for our team this year."
While many expect the Rebels to put points on the board in 2018, the defense remains a question mark. In 2017, Ole Miss ranked 115th in the country while allowing nearly 460 yards per game with a majority of their issues coming on the ground, so Luke is looking for improvement on that side of the ball. 
"It was well documented us trying to stop the run. But I think continuity is very important. Having seven returning starters, the second year in Coach McGriff's defense, just continue to get one year better," Luke said. "We're going try to build off the last two games where they shut Texas A&M in the second half and got five turnovers against Mississippi State in the Egg Bowl. I think that continuity is important in trying to build and get one year better."
The Rebels open up on a national stage this season against Texas Tech in Houston on September 1st. 
For those waiting to hear from the Mississippi State contingent in Atlanta, they'll face the media tomorrow.