A new report from Walgreens shows that Mississippi is leading the nation in flu activity.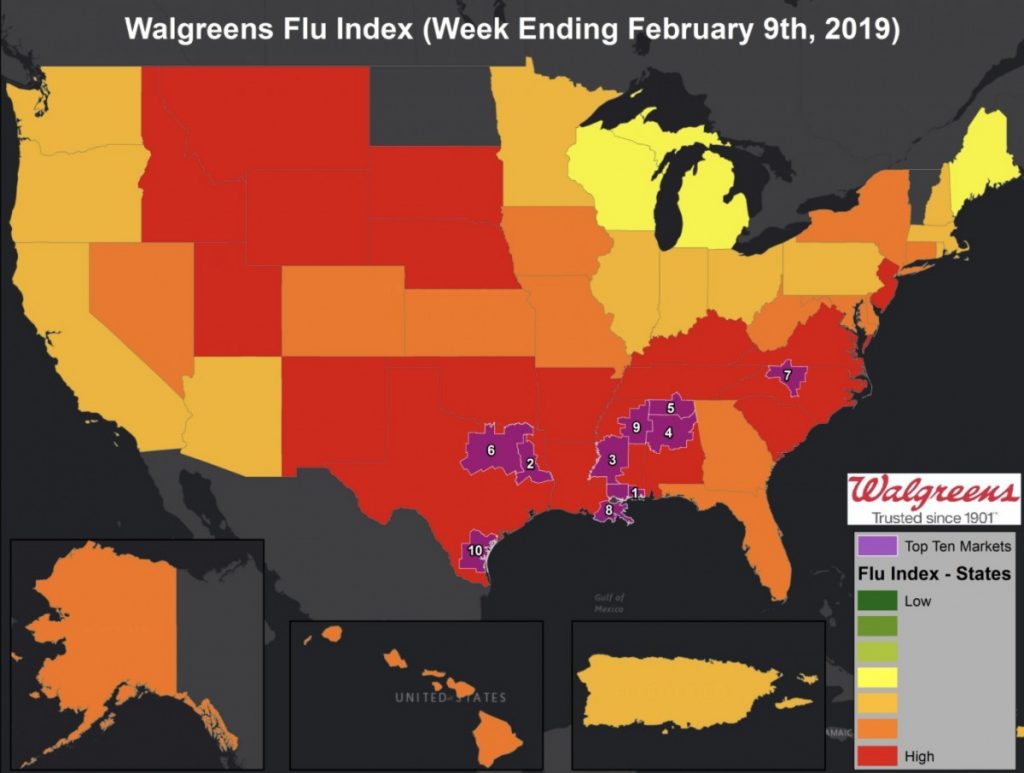 The Walgreens Flu Index is a weekly report which maps out flu activity across the country, and the latest edition of the report shows that Mississippi and Alabama are the two-leading states when it comes to the flu. 
Top 10 States with Flu Activity
Week Ending 2/9/19
1. Mississippi
2. Alabama
3. Oklahoma
4. Texas
5. Tennessee
6. North Carolina
7. Arkansas
8. Louisiana
9. Kentucky
10. Nebraska
Not only is Mississippi at the top of the list, but three of its cities have seen the highest "flu activity gains" since the last report was issued.
Top 10 DMAs with Flu Activity Gains
Week Ending 2/9/19
1. Biloxi-Gulfport, Miss.
2. Jackson, Miss.
3. Columbus-Tupelo-West Point-Houston, Miss.
4. Birmingham (Anniston and Tuscaloosa), Ala.
5. Huntsville-Decatur (Florence), Ala.
6. Knoxville, Tenn.
7. Greensboro-High Point-Winston Salem, N.C.
8. Tri-Cities, Tenn.-Va.
9. New Orleans, La.
10. Charlotte, N.C. 
According to the company, the index is based on prescription data from its stores.
"The Walgreens Flu Index is compiled using the drugstore chain's weekly retail prescription data for antiviral medications used to treat influenza across Walgreens and Duane Reade locations nationwide. In addition to the top markets and states, the Flu Index also ranks the markets and states experiencing the greatest gains in activity on a week-over-week basis."
With flu season in full swing, the Mississippi Department of Health is continuing to urge Mississippians to get a flu shot, especially for young children and the elderly. 
In addition to a flu shot, remember to wash your hands often, cover your mouth when you cough and stay home when you're sick. 
Stay up to date with all of Mississippi's latest news by signing up for our free newsletter here. 
Copyright 2023 SuperTalk Mississippi Media. All rights reserved.