Thirty members of the Marine Raider Memorial March are on a 900-mile journey across five states over two and a half weeks to honor the 15 US Marines and US Navy Corpsman killed when their KC-130 aircraft crashed in Leflore County on July 10, 2017. The march began on Saturday, July 14th after a dedication ceremony was held in Itta Bena. 
"The Raider community is unique in how close we are," said Rucker Andy H. "When we experience profound loss, the act of honoring our brothers' memories through physical hardship only strengthens our bonds with each other. Our love for our brothers is our strength."
The group is divided into 10 teams and participants will relay across Mississippi, Alabama, Georgia, South Carolina, and North Carolina making this the longest recorded ruck to date. Each member is carrying a rucksack filled with 45lbs. of soil from the crash site. The event began in Greenwood, Mississippi and will end at Camp Lejeune in Stone Bay, N.C.
"Starting from a place that was once fire and ash, we will bring our husbands, friends, and family home; rucking alongside one another, forever honoring all the brave men from Yanky 72," said Ashley Kundrat, Staff Sgt. Kundrat's wife and one of the 30 members of the Ruck. "Regardless of the physical and emotional discomfort, I want to show our children that regardless of what happens in life, we can stand tall, stand proud, and continue to march on."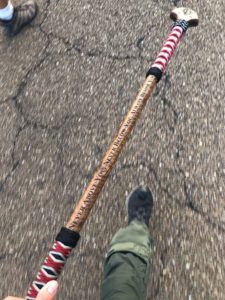 The Marine Raider Memorial March will honor the memory of Staff Sgt. William J. Kundrat, Staff Sgt. Robert H. Cox, HM1 Ryan M. Lohrey, Sgt. Chad E. Jenson, Sgt. Talon R. Leach, Sgt. Joseph J. Murray, Sgt. Dietrich A. Schmieman.
This will be the second time in two years that the Marine Corps Special Operations Command (MARSOC) community rallies to commemorate fellow soldiers killed in training. In 2015, an Army UH-60 Blackhawk helicopter crashed into the Santa Rosa Sound in Navarre, Fla. killing seven Marine Raiders from team 8231. On the one-year anniversary of the Raider 7 crash, 20 Marine Raiders and Gold Star Family Members embarked on a 770-mile ruck carrying a paddle – the only item left intact from the crash.
"This is a devastating loss for the families and friends of our fallen brothers" said Marine Raider Memorial March Founder and Director, Nathan Harris. "In 2016 we rucked 770 miles in honor of the Raider 7 and prayed there would never be another incident. We are distraught to see this happen again and our sole mission for this 900-mile journey is to honor our brothers' memory and symbolize bringing them home."
Stay up to date with all of Mississippi's latest news by signing up for our free newsletter here. 
Copyright 2023 SuperTalk Mississippi Media. All rights reserved.