Shad White has been announced by Governor Phil Bryant as the new State Auditor for Mississippi. White has served as the Director of Mississippi Justice Institute as of late last year. He also practiced law in the private sector and served as a special prosecutor in Rankin County.
White earned his undergraduate degree in economics from the University of Mississippi, where he was a member of Phi Beta Kappa and a Truman scholar. He studied as a Rhodes Scholar at the University of Oxford, earning a master's in economic history. White holds a law degree from Harvard Law School, where he learned the meaning of fighting for your values even when it is unpopular. At Harvard, White served as president of the Federalist Society, a conservative legal association, and brought speakers to campus to defend the legality of public prayer, the morality of work and free enterprise, and the importance of traditional moral values.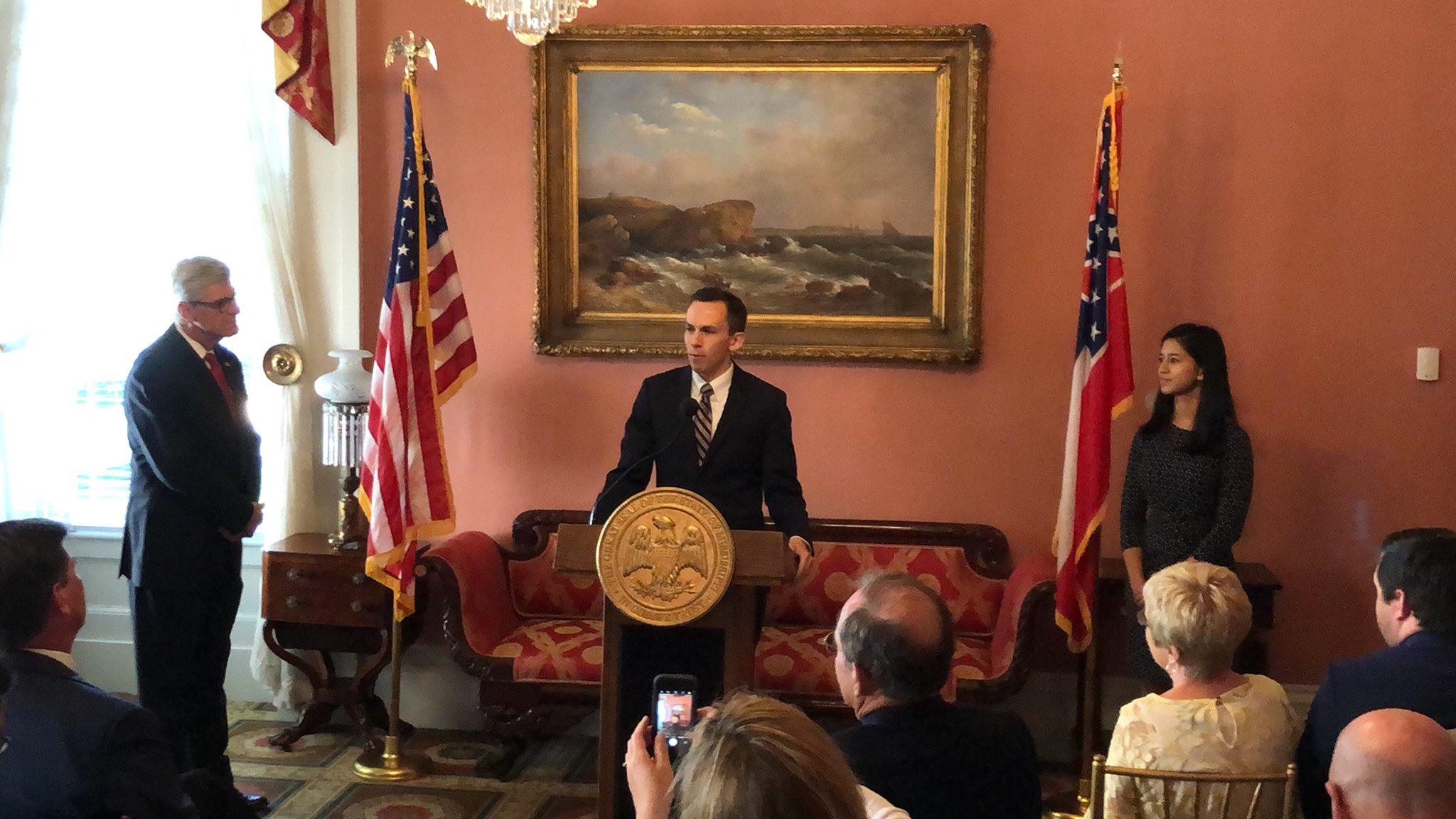 The appointment is effective July 17. White, 32, replaces Stacey Pickering, who resigned recently to become executive director of the Mississippi State Veterans Affairs Board.
"Stacey Pickering has served the people of Mississippi well, from the state Senate to the office of state auditor," Gov. Bryant said. "I know that service will continue in his new role."
White grew up in Sandersville, in a blue-collar family. His father and grandfather were oilfield pumpers, and his mother and grandmother were teachers. On the weekends, his father was music minister at their small country church, where his mother played the organ. Today, his father serves as mayor of their small town.
"Shad's credentials and ability are without question," Gov. Bryant said. "He has proven himself a champion of limited and efficient government that serves the taxpayers. He is the perfect fit for this important office, and I am pleased he has accepted this appointment."
At the Mississippi Justice Institute, White filed and led cases against public officials when they violated Mississippi's open government and ethics laws. He has also taught as an adjunct professor at the University of Mississippi, earned a certificate in forensic accounting (the use of accounting to detect fraud) from the University of North Carolina at Charlotte, and previously worked as a fellow at a national think tank on state policy.
"I'm honored by the faith Governor Bryant has placed in me with this appointment," White said. "I know this office is important to him personally, and it's important to the taxpayers, too. I'm looking forward to being the watchdog of their hard-earned dollars. I've committed to the governor and will commit to Mississippians that I'll bring every ounce of energy I have and whatever talent God gave me to do this the right way. I'll always tell you the truth, even if the truth is uncomfortable. I'll always treat our public officials fairly, and I'll do everything in my power to make sure Mississippi's future is free from corruption."
White and his wife, Rina, live in Rankin County and are faithful members of St. Richard Church.
Bryant wanted to select someone who will continue in the job as State Auditor for a number of years and not just use it as a stepping stone to a higher office.
"The State Auditor's job is one that is about long-term goals," Bryant said. "Stacey has done a remarkable job and I want a new auditor to realize that it is not that stepping stone for another political office, it can be at some point in the future, but they need to dedicate themselves to being State Auditor."
Bryant himself served as State Auditor from 1996-2008 and said it was one of the most difficult tasks of his career up to that point.
To watch the full announcement, check out the video below:
Stay up to date with all of Mississippi's latest news by signing up for our free newsletter here. 
Copyright 2023 SuperTalk Mississippi Media. All rights reserved.