The graduation rate in Mississippi has reached an all-time high.
The Mississippi Department of Education has released the high school graduation rates for the 2017-18 school year, which show the state's graduation rate has hit an all-time high of 84%.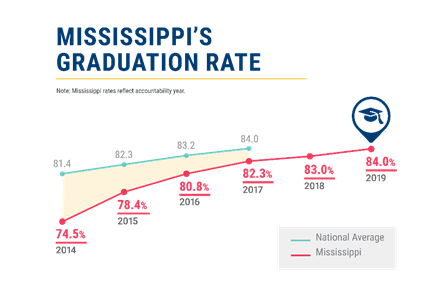 The 84% figure is on par with the most recent national graduation rate.
During his recent State of the State Address, Governor Bryant reflected on the progress that Mississippi students have made, and said that they're showing their true potential.
"For too long, too many people assumed our students were just not destined for success – that they could not or would not achieve. But we knew better. We understood the innate ability of all children to learn and grow and unlock their own potential if only given the opportunity," he said.
The graduation rate for students with disabilities also increased for the fifth consecutive year to 38.4 percent, which is up from 23.2 percent in 2014.
"Students, parents, teachers and administrators should be proud of the class of 2018's significant achievement," said Dr. Carey Wright, state superintendent of education. "I congratulate our school districts for helping students complete high school prepared for college, postsecondary training, the military and the workforce."
The state's drop-out rate fell to a historic low of 10.1 percent, a decrease from 13.9 percent in 2014.
The Mississippi State Board of Education (SBE) approved new diploma options starting in the 2018-19 school year that give students the opportunity to earn an endorsement with their high school diploma and provide the majority of students with disabilities an opportunity to earn a traditional diploma.
The new diploma options include a traditional diploma for all students and an alternate diploma option for students with Significant Cognitive Disabilities. Starting in the 9th grade, students now choose whether they want to work toward a traditional diploma, or take additional classes to earn an academic, distinguished academic or career and technical education endorsement. Students can earn more than one endorsement.
Each diploma option will prepare students to be successful after graduation, whether that be in the workforce, a career and technical training program, the military or college. Also, beginning with freshmen in 2018-19, students who earn an academic or distinguished academic diploma endorsement from a public high school will automatically qualify for admission into any of the state's public universities.
Graduation rates for 2017-18 will be reflected in the accountability ratings for the 2018-19 school year.
Stay up to date with all of Mississippi's latest news by signing up for our free newsletter here. 
Copyright 2023 SuperTalk Mississippi Media. All rights reserved.