More Mississippi rural hospitals are at risk of closing than almost any other state. A new study shows that 31 hospitals at risk of closure. That's nearly half of Mississippi's rural hospitals.
While Democrats in the state say a Medicaid expansion will help fund those struggling rural hospitals, Republicans are adamant that an expansion is not going to happen.
"We need to understand that the hospitals are not at fault," said Timothy Moore, President of the Mississippi Hospital Association. "When the ACA (Affordable Care Act) came into play, there were a number of cuts including sequestration that are still in place that are still costing hospitals. I think over a four year period it was going to cost over $4 billion. So basically, you have taken billions of dollars out of the healthcare economy in the state of Mississippi with the ACA and have not replaced it with anything. So, we still have hospitals that are struggling to find ways to do things differently, but it makes it very difficult when there are limited amounts of resources."

However, there are no quick or easy fixes to the issue.
"If you look across the state of Mississippi, in 2018, Mississippi hospitals did $1 billion of uncompensated care. Now that is cost, we have all these discussions about charges, that's cost to those hospitals, that is not charges, that is $1 billion dollars," said Moore.
He added that 45-46% of that is charity care and added that 64% of the patients in the state of Mississippi are either on Medicare or Medicaid.
"I've been in healthcare now for over 30 years," said Moore. "We had a transportation problem then when I first got into healthcare of being able to get the elderly to the appropriate venue of care. We still have it today. That has not changed. The problem that we are seeing develop now is that there are fewer services provided in those rural access points for those patients that are at home and live in those communities. We have certainly as good healthcare across the state of Mississippi as we have ever had and it continues to improve as far as the services go and what we are capable of doing in the state. If you look at a rural area, in order to keep their doors open they have had to decrease the cost to the point that it eliminates services that could have been very valuable to those communities."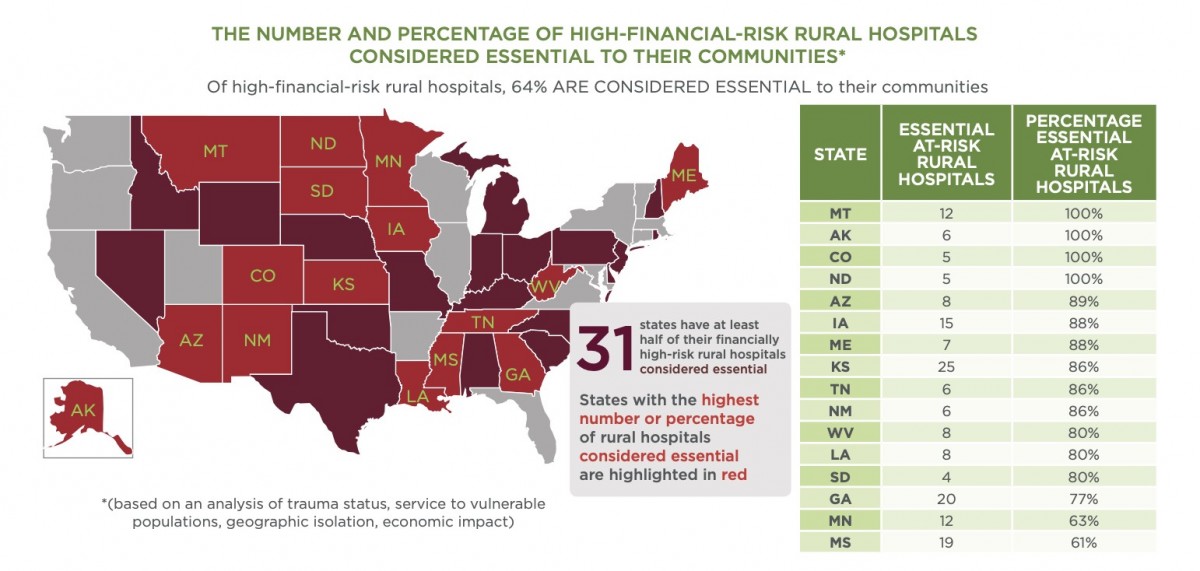 So how do the rural hospitals get more funding? Moore says a bi-partisan bill was introduced in D.C. to create a new Medicare classification which would allow rural hospitals to offer emergency and outpatient services but no longer has inpatient beds. He added that using more telehealth and virtual medicine is another area that they are looking at to cut back on costs.
"We are trying to work with several other states, Kansas being the lead state, on re-designing the rural hospital," said Moore. "Using more telehealth, using more of a virtual type medicine so that you could do follow up appointments via telemedicine/telehealth. Looking at additional services that could be offered from an outpatient perspective and limit your inpatient volume even more. You may actually have outpatient hospitals, which is exactly where I think we need to be. There needs to be an access to care for those patients out in rural areas where that shrinking population is and where the patient is dependent on someone else to get them where they need to be when they need to be there."
Stay up to date with all of Mississippi's latest news by signing up for our free newsletter here. 
Copyright 2023 SuperTalk Mississippi Media. All rights reserved.