According to findings in a recent report from the Foundation for Excellence in Education (ExcelinEd) and RMC Research Corporation, Mississippi students' achievement in English language arts (ELA) and reading rose and teachers' knowledge and skills in reading instruction improved after implementation of the Literacy-Based Promotion Act (LBPA). 
The report, "Mississippi's Literacy-Based Promotion Act: An Inside Look," contains several insights about the third-grade reading law's impact on the state's academic progress and teacher professional development. RMC Research conducted the study to better understand Mississippi stakeholders' perceptions of and experiences with the LBPA. The research included interviews of Mississippi Department of Education (MDE) staff and school district leaders in Sunflower County and Jackson Public Schools (JPS), a Kindergarten-3rd grade teacher survey and a survey of other district leaders.
Sunflower County and JPS leaders said they saw growth in all their schools, not just the schools that exited MDE intensive literacy support status. The report stated both districts saw great improvement across all performance levels of the third-grade Mississippi Academic Assessment Program (MAAP) ELA assessment. The districts decreased the percentage of students scoring at the lowest achievement level on the assessment, while increasing the percentage scoring at passing (Level 3) proficient (Level 4), according to the study.
"This study validates the results from the Regional Education Laboratory (REL) Southeast study that showed educators' knowledge increased following literacy professional development and the quality of instruction improved," said Dr. Carey Wright, state superintendent of education. "I believe the teacher support and effective classroom instruction in the early grades will have a long-term impact on student achievement in Mississippi. Helping students to become proficient readers will open doors of opportunity for them to graduate better prepared to reach their life goals."
Since Mississippi enacted the LBPA in 2013, the state's fourth-grade National Assessment of Educational Progress (NAEP) reading scores have substantially improved, the study showed. In 2013, 21 percent of fourth graders were proficient in reading, and by 2017, 27 percent of fourth graders were reading proficiently: a 6-percentage point increase.
Mississippi also decreased the percentage of fourth graders scoring below basic by 7 percentage points, going from 47 percent scoring below basic to 40 percent. Furthermore, Mississippi is second in the nation in learning gains. The following chart illustrates the progress made in fourth-grade NAEP reading achievement since Mississippi enacted the policy.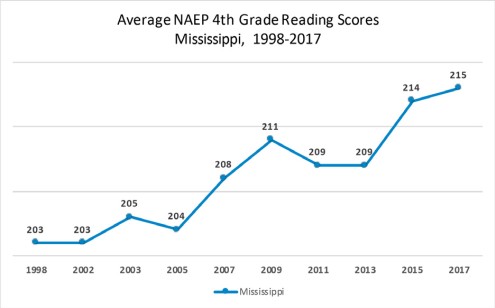 Over the past three years, the pass rate has steadily improved on the reading portion of the third-grade MAAP ELA assessment, going from 87 percent passing to 93 percent—a 6 percentage point increase. Also, overall student performance substantially improved on the third-grade MAAP ELA assessment. There are five performance levels on the assessment, Level 1 being the lowest and Level 5 being the highest. Since 2016, the percentage of students scoring Level 3 and above has increased more than 12 percentage points, with a nearly 10 percentage point increase of students scoring at Level 4 and above.
"Mississippi is a shining example of how placing a command focus on early literacy can lead to rising student achievement. The state's visionary policymakers and dedicated classroom teachers and school leaders are providing Mississippi's students with the strong foundation needed for maximizing learning potential and ensuring children have the opportunity for lifelong success," said Patricia Levesque, CEO of ExcelinEd.
The report concluded that the MDE monitored progress consistently and reported it to all stakeholders. MDE also is building on the positive aspects of its work. Schools and districts are active partners and are seeing the benefit of their efforts as more children succeed each year.
Stay up to date with all of Mississippi's latest news by signing up for our free newsletter here. 
Copyright 2023 SuperTalk Mississippi Media. All rights reserved.