The head of the Mississippi Department of Transportation said Thursday, that the states roads and bridges are in dire condition and that more funding is needed to fix the problems.
Speaking at the Department of Transportation, Commissioner Dick Hall said that if funds aren't appropriated soon, the roads will only get worse.
"The hard truth is, our roads are deteriorating faster than we have the money to fix them. The state has already passed a critical point. The longer these rural roads are ignored, the worst the situation will become and the more money it will cause the Mississippi taxpayer to fix," said Hall.
According to the Mississippi Department of Transportation, 30,000 highway miles are under their jurisdiction and 11,000 of those miles needs to be either replaced or repaired. Of the states 5,700 bridges, approximately 900 need to be reconstructed.
"Every day there is a delay, the cost goes up. We're talkin' about now having to rebuild things rather than just repave them," said Hall.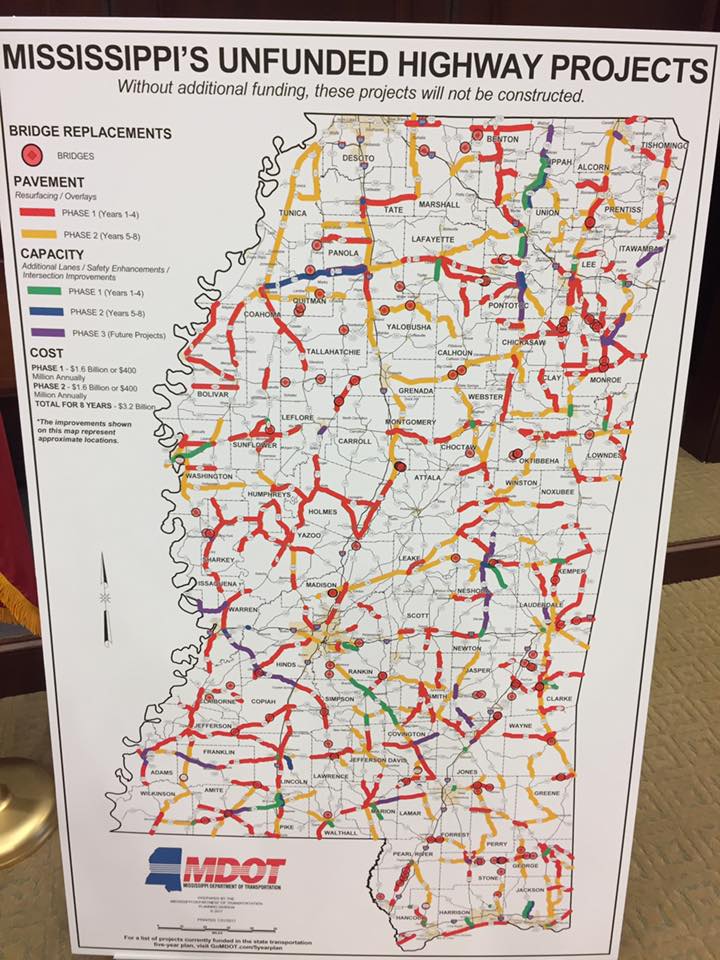 In order to fund what MDOT refers to as "Phase 1" of a 1-4 year plan to rebuild and expand Mississippi roadways, the department claims to need $1.6 billion over four years in additional funding.
Hall mentioned that an uptick on the states gas tax by one cent would bring in an additional $22 million dollars per year.
The state legislature is in charge of appropriating MDOT's budget and according to the Commissioner Hall, conversations with lawmakers are becoming more fruitful.
"I think many are starting to realize the size of the problem. And the more that it is realized, the more it becomes a problem politically," said Hall.
Hall also discussed how people's safety is at risk by not fixing certain roadways. Last year, 677 Mississippians died on the state's roadways. Hall said that if the road conditions continue to decline, the safety risk to the traveling public will continue to rise.
Earlier this week News Mississippi did a profile on the road problems in Jackson. Read that article here.
Full statement from Commissioner Dick Hall: