The Mississippi Department of Public Safety honored the lives of fallen troopers and Bureau of Narcotics agents who made the ultimate sacrifice in the line of duty during the annual Fallen Officers' Memorial Ceremony. The event is done each year as part of National Police Week.
"It is important for us to honor those who have paid that ultimate sacrifice for us to have and enjoy these freedoms that we enjoy today," said Colonel Chris Gillard of the Mississippi Highway Patrol.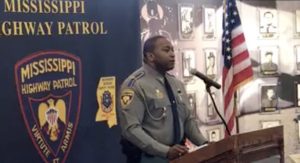 However, the ceremony was not just about the Highway Patrol. Instead, the focus was on all law enforcement. There were several mentions of fallen officer Robert McKeithen who died in the line of duty just over a week before the start of National Police Week.
"It's about honoring all those officers who don this badge. With this badge comes a lot of responsibilities," said Gillard. "Unfortunately, the grim reality of it has hit home recently with officer Robert McKeithen, giving his life and paying that ultimate sacrifice for the freedoms that we experience every day."

The ceremony took place at DPS headquarters with Speaker of the House Philip Gunn serving as the keynote speaker. Gunn spoke of his personal loss of his parents and sister to a car crash 31 years ago nearly to the day saying no one can understand tragic loss unless they have gone through it personally. Gunn offered scriptures from the bible as a comfort sharing the story of Job.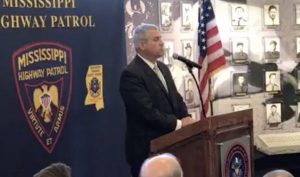 "I think this is instructive for us," said Gunn. "For me, there is only one way to get through this and that is to have God on my side."
Along with family members of the fallen officers, there was a large gathering of state and local law enforcement present at the event, as well as, state and local leaders.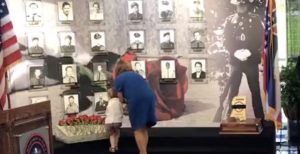 During the ceremony, the Anderson United Methodist Church Choir performed and the names of 28 Mississippi Highway Patrolmen and five Bureau of Narcotics agents were read aloud as family members placed a single rose at the memory wall in their honor. A wreath was laid by Speaker Gunn and First Lady Deborah Bryant. Bagpipes played Amazing Grace and the MHP Honor Guard offered a 21 gun salute. The somber tones of Taps echoed through the building as a final tribute to the fallen.
"It is incumbent upon us, those the living to never forget the departed," said DPS Commissioner Marshall Fisher. "These men made the ultimate sacrifice, but their families will sacrifice every day for the rest of their lives. It is never going to go away. We have got to keep waving the flag so that we can fold less of them."
Stay up to date with all of Mississippi's latest news by signing up for our free newsletter here. 
Copyright 2023 SuperTalk Mississippi Media. All rights reserved.