The musical ambassadors of the U.S. Army, the 41st Army Band, will present a free concert at the Biloxi Lighthouse Park Pavilion on Tuesday beginning at 6 p.m.
The band, which often performs in small teams and can sometimes include as many as three dozen musicians, will perform an array of musical ensembles, from rock to jazz.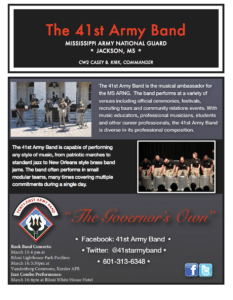 The concert Tuesday is being organized by Keesler Air Force Base.
The 41st Army Band is stationed in Jackson and is made up of more than three dozen soldiers from six states. The band trains throughout the year and performs at various venues and for local, state and national dignitaries.
"Military bands help to enhance relationships between our military and the community," said Angelique N. Smythe with Keesler's Community and Media Relations. "They also help build espirit de corps among service members."
The free concert will take place in the open-air pavilion overlooking the Mississippi Sound, just west of the Biloxi Visitors Center at 1050 Beach Blvd.
The band will also hold two performances on Wednesday, one at the Vandenberg Commons on the Keesler base at 5:30 p.m. and a jazz combo performance at the White House Hotel at 6 p.m.
Stay up to date with all of Mississippi's latest news by signing up for our free newsletter here. 
Copyright 2023 SuperTalk Mississippi Media. All rights reserved.