Following outrage surrounding a Facebook post made by the namesake of the Meek School of Journalism at Ole Miss, the process of a name change is underway.
In September, Dr. Ed Meek, a UM donor, posted a photo of two African-American students from the Oxford Square which was accompanied by the following post: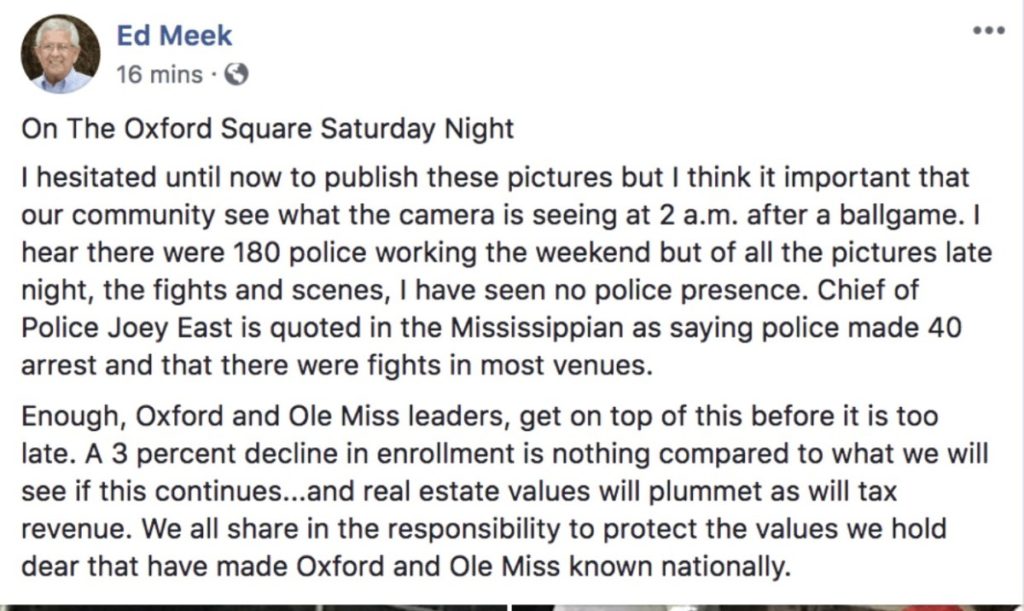 The post has since been deleted, but only after it was shared and seen by thousands. The university responded and denounced the post, and the journalism school staff called for a name change.
Shortly after, Meek formally asked that his name be removed from the building. The process was fast-tracked by Chancellor Jeffrey Vitter and is now moving forward.
"The proposal to change the name of the Meek School of Journalism and New Media has cleared all administrative steps required on our campus to change the name of an academic program," Chancellor Vitter said. "The faculty in the school voted to approve a request made by Dr. Ed Meek to remove his name from the school. The proposal was subsequently approved by the Undergraduate Council, the Graduate Council, and the Council of Academic Administrators. Shortly thereafter, I submitted the proposal to the IHL Board for expedited consideration at its October meeting."
Meek is an Ole Miss alum and served as a university employee for 37 years. It was in 2009 that Meek donated $5 million to the journalism school which led to it being named in his honor.
A new name for the building has not yet been chosen, and the IHL Board will discuss the name change at its meeting on the 18th.
Stay up to date with all of Mississippi's latest news by signing up for our free newsletter here. 
Copyright 2023 SuperTalk Mississippi Media. All rights reserved.