Working dogs or k-9 officers have discipline and loyalty that are second to none and the University of Southern Mississippi's Veterans Center is working to pair working dogs with student veterans and their families with their development of a program called "Operation Paws for Patriots". The program is the first of its kind and is aimed at helping bridge the transition from the military to life as a college student.
During their careers, working dogs serve as lookouts, search and rescue canines, guides, and mascots. While retired working dogs are often adopted as pets or even therapy dogs the well-trained companions prove to be excellent pets for service members and veterans.
"These canine companions provide moral support and more to student veterans and their families as they transition from the military to life as a member of the South Mississippi and USM communities," said Maj. Gen. (U.S. Army Ret.) Jeff Hammond, who serves as the Veterans Center director. "This program is exclusively designed to unite USM student veterans with a 'working dog' that serves to bridge the military transition to college student."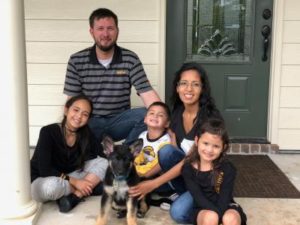 The "Operation Paws for Patriots" program was officially launched when Army veteran Dustin Simmons of Purvis donated a nine-week-old pure breed German Shepard to USM student veteran Gary Crispell. When his female German Shepard was preparing to deliver a litter of puppies, Simmons decided he wanted to give back to a student veteran.
"I have a lot of respect for veterans and wanted to give a puppy to one of our student veterans," Simmons said. "
That's when he and his mother reached out to the USM Center for Military Veterans, Service Members, and Families in search of a deserving student veteran. After identification, screening, and notification, Crispell said he was proud and honored to be the first recipient of a working dog from the Paws for Patriots program.
Crispell is a U.S. Navy veteran who served active duty for five years and in the transition from the military decided to apply his GI Bill to embark upon an advanced education and professional future in Science, Technology, Engineering and Mathematics (STEM). He is nearing completion of a doctorate in molecular biology and plans to enter the field of Medicine.
Crispell noted that he, his wife and children recently had suffered the loss of a family dog. When reached by Doug Robinson of the USM Veteran Center about the "Operation Paws for Patriots" donation, the family was overwhelmingly in favor of welcoming a new canine member into their home.
"The addition of "Major" to our family is nothing short of a truly wonderful blessing not only as a family pet, but is most helpful in relieving stress in my life," Crispell said.
Hammond said that he and the center extend warmest regards and appreciation to Simmons, his mother and the many supporters across the community who are making a difference in the lives of student veterans.