Veterinarians at Mississippi State University are helping an extra-small calf overcome health challenges associated with his premature birth, and the little bull is bringing attention to the College of Veterinary Medicine's compassionate care and expertise.
Weighing in at a mere 7.9 pounds when he arrived on campus, "Lil' Bill", as he is affectionately known, weighs only a fraction of the 50-80 pound average weight of a new calf.
His veterinarians have estimated that he was about a month premature, and he already has defied the odds by surviving as what is thought to be the world's smallest bull. He is being cared for by the university's CVM bovine experts that include Dr. Gretchen Grissett, assistant clinical professor and Lil' Bill's attending veterinarian. While Grissett and other team members are working to strengthen their tiny patient, they also have ordered extensive DNA tests to discover if he may have a form of dwarfism.
Lil' Bill came to MSU-CVM after his owners discovered him in their pasture and cared for him for a couple of days before seeking advanced care at MSU at the beginning of November. The cattle farmers were experienced, but allowed CVM to adopt Lil' Bill when they realized he would need continuing care at the university's veterinary hospital.
"The calf's owners really wanted us to save him, and I think they really wanted to keep him, but he was in really tough shape with a lot of respiratory issues when he came to us," Grissett said.
Like with premature babies, Lil' Bill's lungs were not fully developed, she explained.
Grissett said her patient has improved considerably over the last month, but he still isn't "out of the woods." He is being continuously monitored round the clock, and at this point, his prognosis is undetermined, although he has been able to stop taking therapeutic oxygen. A feeding tube also has been removed and radiographs and bloodwork indicate his lungs have improved, but Grissett said there are many unknowns about his condition.
Because of being born too early, Grissett explained that the team also is carefully monitoring his joints.
"Right now, Lil' Bill's bones are not fully developed so we have his legs splinted to provide adequate support," said Dr. Grissett. "Allowing too much activity on his joints could lead to long-term orthopedic issues for this little guy."
She added that many of the issues they are facing with him are, in fact, very similar to those experienced with premature babies.
"It often takes them months to grow and become as strong as they should have been at birth, and they commonly face developmental delays and other such problems—if they're fortunate enough to survive," said Grissett.
Grissett pointed out the good news that as Lil' Bill continues to grow and get stronger, he is behaving much like a typical calf.
"Other than sleeping a lot, which is normal for preemies, Lil' Bill behaves much like most five-week-old calves," she said. "Once awake, he trots around looking for attention, often head-butting team members to demand more milk!"
Grissett said she is feeling more confident with each passing week that the calf will make it, but she emphasizes that he still faces hurdles on his way to a full recovery. She said they'll know much more when they have the results of the genetic testing and the other detailed lab work.
"Most calves born more than three to four weeks premature do not have a great chance of survival," Grissett said. "Lil' Bill has already beaten the odds by making it past his one-month mark. He certainly has the will to survive. Our goal is to make sure he has the very best opportunity to do so."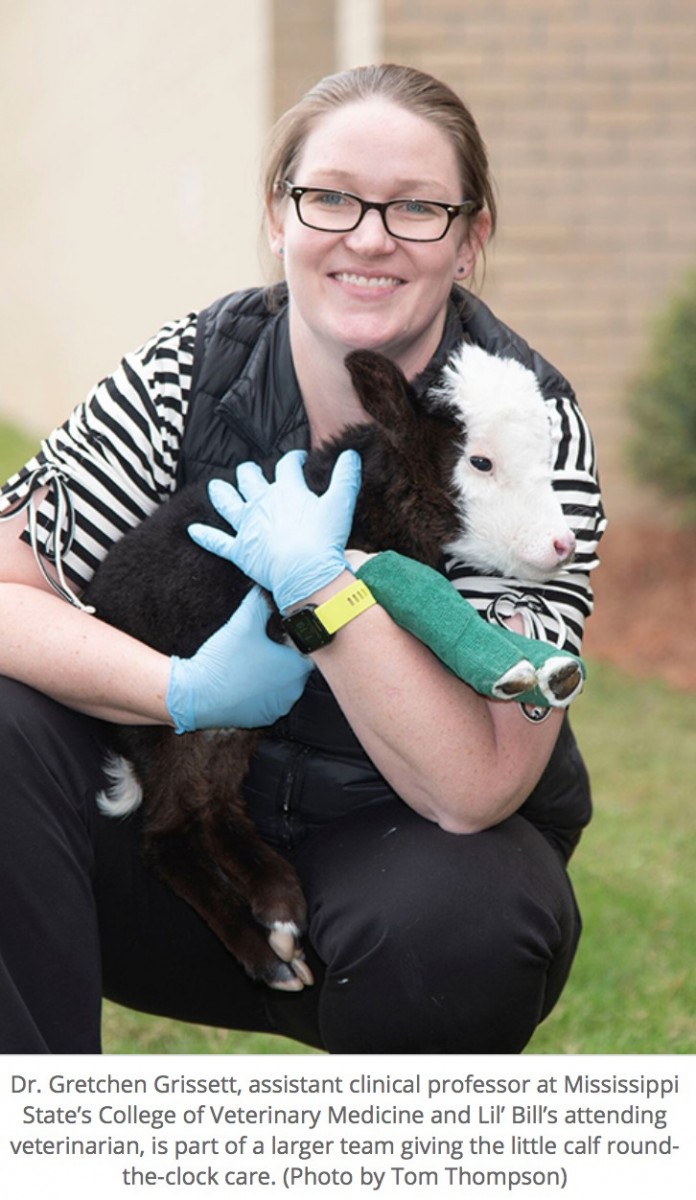 *Photo by Tom Thompson*