Friday saw light snowfall throughout northern Mississippi, tonight more areas across the state will see a bit more winter weather to accompany the dropping temperatures. A Winter Storm Warning is in effect until 6 p.m. on Tuesday for central and south Mississippi.
The national weather service in Jackson stated:
"Light snow is expected to occur across the area, beginning in the Delta on Monday night and spreading southeastward during the daytime Tuesday. 2 to 3 inches of snow is possible across the Delta, which may result in roads becoming snow covered and hazardous for driving. A dusting (in south-east Mississippi) to an inch to two inches of snow is possible, mainly along and northwest of the Natchez Trace corridor. Accumulations on bridges and other elevated roadways may result in slick spots."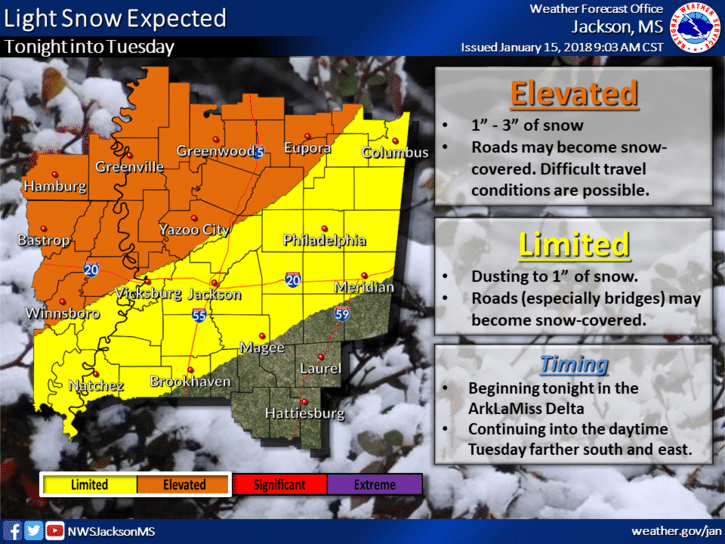 A warning was also issued out of Memphis which includes areas of north Mississippi. In the alert, it warns of freezing temperatures and other potential hazards.
"An arctic front will move through the Mid-South this afternoon into this evening. Light snow will develop today across the Missouri Bootheel and extreme northern portions of Arkansas and Tennessee, then shift south tonight into Tuesday. Snow will intensify over east-central Arkansas, northwest Mississippi into much of west Tennessee later tonight. Snow will taper off from northwest to southeast on Tuesday. Arctic air will rush into the region tonight, and wind chill values will drop to zero or below, mainly north of Interstate 40."
The warning for north Mississippi will run through noon on Tuesday.
With the onset of winter weather, the Mississippi Department of Transportation urges you to stay off of the roads if at all possible. If you must drive, remember the following tips:
Remember, ice will form on bridges and overpasses quicker than the road.
Slow down; should winter weather conditions become present, "black ice" can form.
Allow more space between the vehicle in front of you.
Brake early and gently to avoid skidding, and never slam on the brakes.
Avoid distractions, such as talking or texting on a cell phone.
Stay alert.
After the snow moves out, the colder temperatures will remain, according to the NWS. "Dangerous" cold is expected with temperatures below 15 degrees.
"Hard freeze conditions and single digit wind chill values can be expected across the region, starting tomorrow (Tuesday) and going through Thursday morning."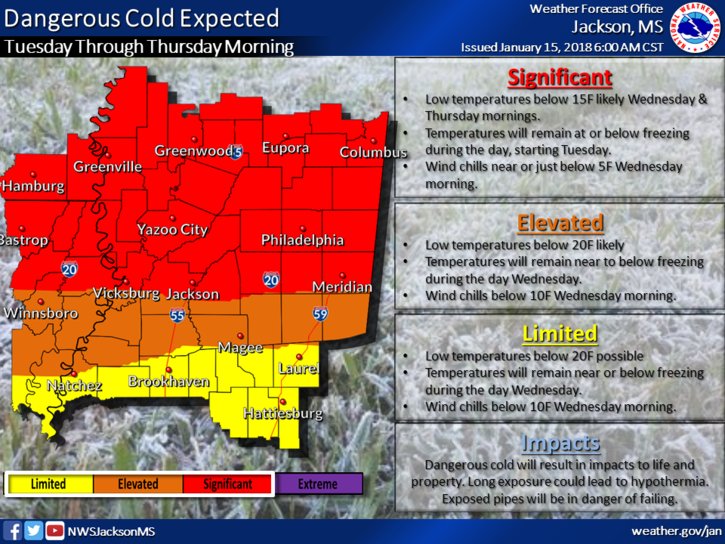 Stay up to date with all of Mississippi's latest news by signing up for our free newsletter here. 
Copyright 2023 SuperTalk Mississippi Media. All rights reserved.