After a six-week long operation led by the U.S. Marshal's Service, 270 individuals in South Mississippi have been arrested.
Titled "Operation Triple Beam", the U.S. Marshals partnered with local law enforcement across the area to execute the operation. Of the 270 individuals arrested, 90 were known gang members and several suspects were wanted in other states. Operation Triple Beam also resulted in the seizure of 50 firearms, including military-style assault rifles, illegal drugs valued at approximately $7,500, and approximately $26,000 in cash.
While the Marshals Service has conducted these types of initiatives elsewhere around the country, this is the first time Operation Triple Beam has been conducted throughout an entire U.S. Attorney's district and is believed to be one of the most successful Operation Triple Beams of this scale that the Marshals have ever accomplished since the program began in 2010. Attorney General Jeff Sessions commended those involved with the operation on their dedication to keeping Mississippi safe.
"When law enforcement officers work together, we get results," Attorney General Sessions said.
"The arrest of more than 270 people – including 90 gang members – throughout the Southern District of Mississippi is the result of collaboration between federal officers and our state and local partners. It's also an example of how customizing our strategy at the local level through the Project Safe Neighborhoods program helps us use our resources more effectively. I want to thank our Deputy U.S. Marshals and all of the task force members who played a role in these arrests. They exemplify the proven law enforcement methods that we will continue to prioritize going forward."
The operation began in early April and ran through May 17. During the operation, the Task Force, along with more than 25 other federal, state, and local law enforcement agencies, worked to target and arrest violent fugitives and criminal offenders who had committed or were committing crimes such as homicide, felony assault and sexual assault, illegal possession of firearms, illegal drug distribution, robbery, failure to register as sex offenders, and arson. Gang members arrested in the sting were known to be affiliated with Gangster Disciples, Vice Lords, Simon City Royals, Latin Kings, and the Aryan Brotherhood.
In the counties of Simpson, Pearl River, Hancock, and Jefferson Davis, approximately 300 registered sex offenders were individually checked for compliance, resulting in approximately 20 arrests for sex offender registry violations. Eight murder charges were also filed during the operation.
A news release from U.S. Attorney Mike Hurst's Office outlined a variety of the highest profile charges from the operation.
Case Highlights:

On April 10, three gang members in Jackson were arrested. Vice Lord member Jeremy Walker was arrested on state and federal firearm charges. During Walker's arrest, he was in possession of a substantial amount of marijuana. Gangster Disciple member Royce Green was arrested on charges of armed robbery and aggravated assault. Vice Lord member Tommy Kendrick was arrested on charges from the Jackson Police Department for shooting into an occupied dwelling. During Kendrick's arrest, he was in possession of a military-style assault weapon and in possession of marijuana.
On April 16, Simon City Royal member Richard Lee Schmidt was arrested in Pearl River County. Schmidt was arrested for failure to register as a sex offender.
During the week of April 16, Operation Triple Beam focused its resources in the City of Gulfport, targeting local street gang members. Gangster Disciple member Daniel Brown was arrested for being a convicted felon in possession of a firearm. Deondra Brandon was also arrested during this week for being a felon in possession of a firearm. Both of these individuals were in possession of semi-automatic pistols with extended magazines.
On April 17, Gangster Disciple member Jaquan Cater of Gulfport was arrested and was in possession of a semi-automatic pistol and a military-style assault rifle. Reginald Scott, a general with The Bloods street gang, was also arrested for failure to register as a sex offender.
On April 18, three Guap Gang Empire members — Javon Byrd, Walter Williams, and Christopher Rush — were arrested in Gulfport for federal firearms violations. These individuals were in possession of illegal weapons and narcotics at the time of their arrests.
On April 19, Marcus Dortch was arrested in Forest. Dortch was wanted out of Newark, New Jersey, on two counts of aggravated assault, robbery and weapon possession charges. At the time of his arrest, he was in possession of a 9 mm semi-automatic pistol.
During the week of April 23, three members of the "All Can Get It" (ACG) gang, Rajee Williams, Joshua Richbury, and Montarius Shabazz, were arrested in Biloxi for Possession of Marijuana. A military-style assault rifle was also seized from these individuals at the time of their arrest. Also during this week in Biloxi, Michael Brumfield was arrested for possession of a half- pound of marijuana with intent to distribute.
On April 26, Simon City Royal gang members Justin Johnson, Gary Mucha, and Alexi Shoemaker were arrested for possession of crystal methamphetamine.
On May 2, Vice Lord member Mark Tabrakus was arrested for possession of a stolen firearm and possession of a controlled substance with intent to distribute. Vice Lord member Marguell Swilley was also arrested for possession of Ecstasy and possession of a semi-automatic pistol.
On May 7, Jackson resident Joshua Hannah was arrested for the stabbing death on April 2 of his girlfriend's mother, Serenthia Harris, 61.
United States Marshal for the Southern District of Mississippi George White praised the collaboration between the many federal and state law enforcement agencies that took part in the operation to make a difference in our communities.
"This initiative gives the public a small glimpse of what law enforcement does on a daily basis," White said. "It's always a good ending when everyone makes it home safe. I couldn't be more proud of the men and women who worked diligently during this highly effective operation. This all-hands-on-deck approach was pivotal in the success of this operation. Many of these cases will be prosecuted in federal court. Furthermore, many of these investigations will lead to future arrests in the pursuit of dismantling the criminal element in the Southern District of Mississippi."
Hurst also noted that this couldn't have been done without a high-level of cooperation between all levels of law enforcement, and he said that this action sends a strong message to Mississippi criminals.
"I appreciate and commend the U.S. Marshals Service, its Deputy Marshals, Task Force Officers, and its leadership, for implementing Operation Triple Beam throughout the Southern District of Mississippi," said U.S. Attorney Mike Hurst. "By collaborating with and incorporating other federal, state and local law enforcement agencies into this initiative, Operation Triple Beam was able to aggressively and proactively target certain 'hot spot' areas in our district. Due to the hard work and collective efforts of these law enforcement officers, Operation Triple Beam has made a huge impact in our district, sending a strong message to the criminal element that there will be consequences for violating the law, while also reassuring our communities and our citizens that their safety and security is our highest priority."
Hurst went on to say that this operation will also have a lasting impact because of these arrests may have prevented.
"We can't stress enough the unknown impact that this operation has on our state. We don't know how many crimes may have been prevented because of this operation or lives that have been saved by taking these criminals off of the street and bringing them to justice."
Operation Triple Beam (OTB) was a joint crime reduction initiative of the following agencies: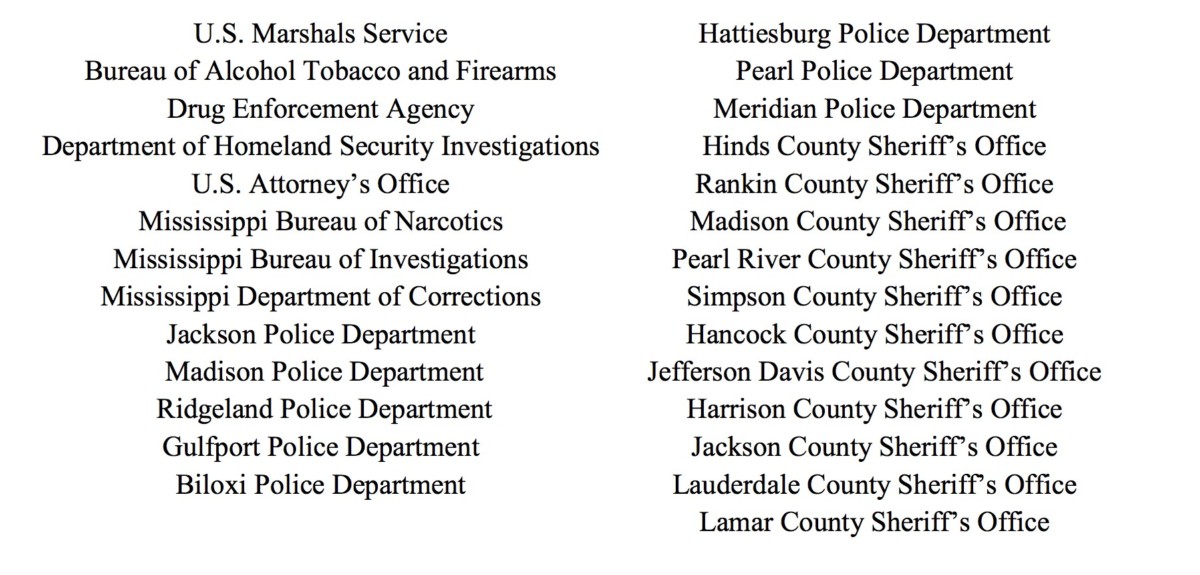 The strategy used in Operation Triple Beam has been applied by the U.S. Marshals Service and its law enforcement partners in 47 other cities across the country since 2010.
Stay up to date with all of Mississippi's latest news by signing up for our free newsletter here. 
Copyright 2023 SuperTalk Mississippi Media. All rights reserved.