Michael Aycox's name will be on the ballot on June 5th in Mississippi's 3rd Congressional District.
Aycox said Mississippians are tired of the typical established candidate within the democrats and republicans and he hopes to change that and create opportunity.
"I want to create a new face of the political spectrum," said Aycox. "My background is military and I want to focus on taking care of those that have been forgotten and the military veterans within the state."
He said that if you want somebody that will fight for you and fight for Mississippi, then he's your guy.
"If you want to be with the normal 'good ole boy system' then hey, you better pick somebody else," said Aycox.
Aycox's candidacy has not come without controversy, as he is Mississippi's  first openly gay candidate.
In an interview with with Queerty, Aycox stated that Bobby Moak, Chairman of the Mississippi Democratic Party, shouted to him that "we will not have a gay congressman in Mississippi".
However, Moak denies the claims and in a statement he said they have only spoken by phone once or possibly twice.
"Today I saw a statement attributed to me by a Congressional candidate for Mississippi's 3rd District, Michael Aycox. I have never met Mr. Aycox and only spoken to him by phone once or possibly twice. I never spoke the words he attributes to me or even brought up the subject of his sexuality. The Mississippi Democratic Party is the party of all Mississippians. We are working to elect Democrats and will support the nominees that emerge from the primaries for the House and Senate, regardless of their sexuality," said Moak.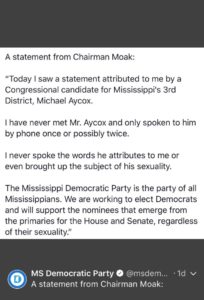 When asked, Aycox continued to stand behind his story and stated that his candidacy offers a chance for change.
"Moak is part of the oligarch and he served his state very well and the things I'll say about Representative Moak is just the fact that it's unfortunate he took that approach and we're going to take the high road here," said Aycox.
Aycox's primary opponent on Tuesday will be Michael Evans.
Evans is a State Representative, but not a politician. He and his wife, Heather, have operated a poultry farm in Kemper County for years, and he is a retired fireman. When it comes to the issues, Evans says that he is a "proud supporter" of second amendment rights, pro-life, and wants to work to fix the state's infrastructure.
"Mississippians deserve a real voice in Congress," Evans said. "It is time for serious leadership and representation in Washington, D.C. I believe my background as a firefighter, a farmer and a state legislator has prepared me to represent citizens of the Third Congressional District."