President Trump will not be coming to Mississippi on Friday.
As the potential threat from Hurricane Florence continues to grow, President Trump has decided to cancel his Mississippi "Make America Great Again" rally. The storm will not impact the Magnolia state, but the decision was made in an effort to focus on relief efforts along the Atlantic coast.
The President was set to speak to a gathered crowd inside of the Mississippi Coliseum in Jackson on behalf of Senators Cindy Hyde-Smith and Roger Wicker. In a statement, Governor Bryant noted that the safety of all Americans comes first as Florence approaches.
"We certainly understand that President Trump's first responsibility is the safety and security of the American people and appreciate his decision," Governor Bryant said. "MEMA leadership has already been in contact with their counterparts in the affected areas and stands ready to assist when that becomes necessary. I would ask all Mississippians to join me and Deborah in praying for those in the path of Hurricane Florence."
Hyde-Smith's campaign has also voiced their support for the President's decision.
"Cindy is honored to have President Trump's endorsement and support in this year's election. However, as our neighbors on the East Coast prepare for Hurricane Florence's landfall, we agree with the decision to cancel this Friday's rally. Mississippi residents understand what it's like to prepare for, endure and recover from a major hurricane," Melissa Scallan, communications director for the campaign said. "Our thoughts and prayers are with the people in the path of the storm."
Trump has already endorsed both candidates in their respective races with November's midterm elections just eight weeks away.
Trump endorsed Wicker ahead of June's primary election, a race which Wicker won convincingly.
Senator @RogerWicker of Mississippi has done everything necessary to Make America Great Again! Get out and vote for Roger, he has my total support!

— Donald J. Trump (@realDonaldTrump) June 5, 2018
In late August, Trump put his full support behind Hyde-Smith.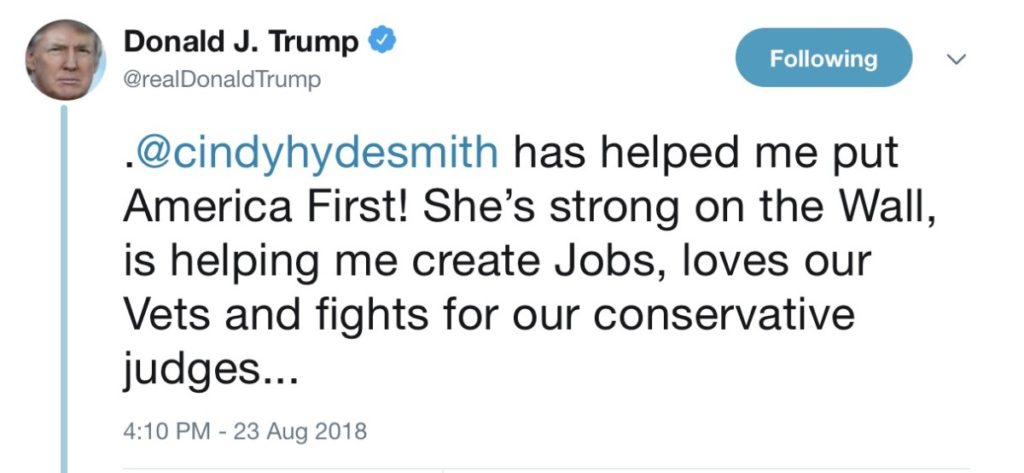 Wicker will face state Rep. David Baria (D) on the ballot, while Hyde-Smith faces several opponents in her race.
Following her appointment on the heels of Thad Cochran's retirement, Hyde-Smith must now take on state Senator Chris McDaniel (R), former congressman Mike Espy (D) and Navy veteran Tobey Bartee (D).
Because this race is a special election, no party affiliations will be listed on November 6th's ballot. Also, a candidate must get 50% of the vote to win. If no candidate reaches that mark, a runoff will be held on November 27.