It's hard to believe that we're already 9 weeks into the college football season. On Saturday, Mississippi State got a much-needed win in front of their fans, while Southern Miss dropped a conference matchup on the road. Check out a recap of both games below:
#16 Texas A&M: 13 Mississippi State: 28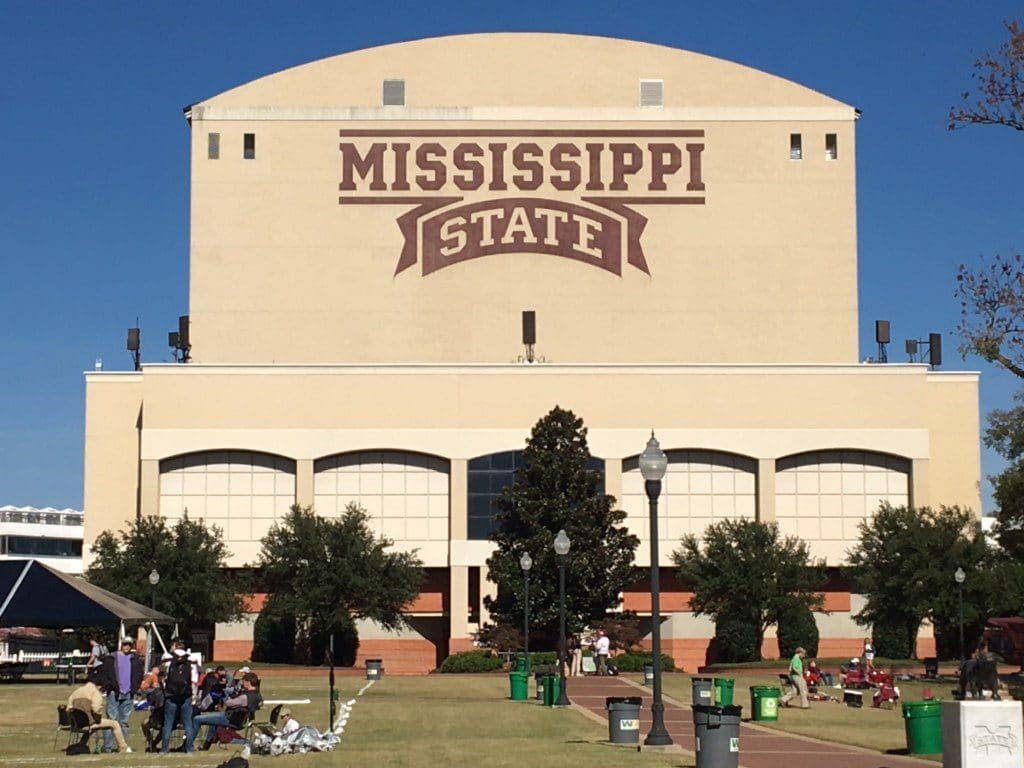 This was the performance from Nick Fitzgerald that the Bulldogs and their fanbase has been waiting for as the senior QB carried his team to a 28-13 win over Texas A&M.
Just one week after throwing 4 interceptions against LSU, Fitzgerald came out with something to prove, leading the Bulldogs to an opening drive touchdown. On the drive, Fitzgerald completed 6 passes including a 25-yarder to Stephen Guidry for a touchdown to grab a 7-0 lead.
The next points on the board came by way of an A&M field goal with 4:40 left in the first half. MSU would drive into A&M territory on their next drive, but with :43 seconds left in the half, they took a deep shot on a 4th and 3 and didn't convert. This gave way to quick TD drive for the Aggies, capped by a Kellen Mond screen pass to Quartney Davis for a score to give them a 10-7 lead heading into the half.
Just as they did on their opening drive of the game, the Bulldogs were able to execute on their opening drive of the second half, going 75-yards in 7 plays to regain the lead thanks to a 38-yard touchdown pass from Fitzgerald to Osirus Mitchell.
A long punt return by A&M gave them solid field position late in the 3rd quarter, but they couldn't break through the MSU defense and were held to FG and the MSU lead was cut to 14-13.
On their next drive, the Bulldogs faced a 3rd and 21 but converted as Fitzgerald connected with Guidry for 84 yards, and he took it down to the 2-yard line. Fitzgerald had his number called and he ran it in to finish the drive in the end zone.
The Bulldog defense continued to hold, and an Erroll Thomspon INT in the end zone late in the 4th gave the ball back to the offense to seal the deal. They would do just that when Fitzgerald went untouched for a 76-yard TD run to take a 28-13 lead.
The defense has been dominant all season, and last night was no different. Outside of the screen pass before the half, the Aggies couldn't create any big plays down the field. The A&M offense is at their best when they run the ball, and one of the SEC's top rushers, Trayveon Williams, was held to just 26 yards. Mond was forced to throw the ball 46 times, which clearly isn't in the Aggies best interest.
Leading up to this game, there was talk about backup QB Keytaon Thompson replacing Fitzgerald, but this 4 TD performance will likely quiet those whispers for now. Thompson's one appearance didn't amount to anything, and Fitzgerald played like the QB that Bulldog fans have seen in years past.
Throughout the week, Fitzgerald heard the noise but wasn't phased when game time rolled around.
"In this day and age when everything is at your fingertips on social media – we're all so connected, 24/7. It's hard to not see a lot of the hate. At the same time, I got plenty of messages from friends saying 'we support you, we love you, we have your back, keep doing you.' I have family, friends, and teammates who believe in me. It felt good to go out there and have a good game," Fitzgerald said.
Head coach Joe Moorhead has also taken heat in recent weeks for a conservative game plan, but last night, he stated that they were able to strike the right balance in order to be aggressive.
"This offense operates best when we run the ball successfully, Moorhead said. "People have to pressure us or commit numbers to the box. When they do and as we've done in the past, we throw the ball over their head. That's the part that was missing. Headed into the week and this game, we said we were going to do it. We're going to protect, we're going to run the routes and he's going to throw the ball. I think they fed off of that aggressiveness."
In the win, Fitzgerald tied RB Anthony Dixon for the most rushing TDs in Bulldog history with 42.

Quick Stats:
N. Fitzgerald: 14/22 241 yards 2 TDs. 16 car. 88 yards 2 TDs.
O. Mitchell 3 rec. 130 yards 1 TD
J. Andrews: 7 tackles, 2 sacks
Up Next: 
The Bulldogs welcome Louisiana Tech for their final non-conference game of the season.
Southern Miss: 17 Charlotte: 20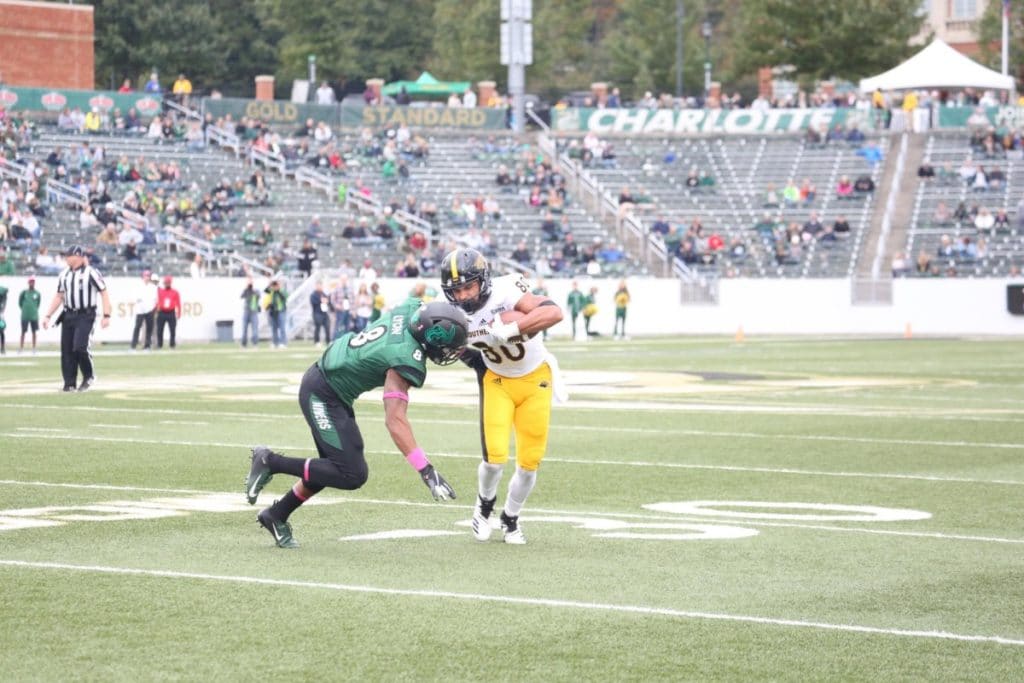 Southern Miss fell below .500 with their loss to Charlotte, and turnovers were the story of the day for the USM offense. 
Already trailing 7-0, USM looked like they were headed on a drive to tie the game. Down at the 49er 23-yard line, QB Jack Abraham didn't see Charlotte's Juwan Foggie who undercut a route and took it 79 yards the other way for a pick-6. 
Down 14-0 late in the 2nd quarter, the Golden Eagles were back in Charlotte territory, but Foggie picked Abraham off once again, however, the brutal half wasn't over yet. On their next drive, USM took the ball down to the 7-yard line. Abraham took a shot into the end zone and was picked off for the third time. 
Abraham would start the second half and the USM offense was able to pick up a FG to cut the lead to 17-3, but his day would end after their next drive that ended with a turnover on downs. Tate Whatley would replace him in the 4th quarter and led two TD drives that got USM close, but it was too late. 
After Whatley's second TD pass, USM failed to recover an onside kick and Charlotte held on for the win. 
The USM defense was able to keep the Charlotte offense at bay, but the 49ers were able to use the turnovers and good field position to their advantage to do just enough as the game went along. 

J. Abraham: 21/30 210 yards 3 INT
T. Whatley: 6/8 87 yards 2 TDs
USM rushing: 34 car. 129 yards 
Up Next: 
The Golden Eagles return home to face Marshall. 
Stay up to date with all of Mississippi's latest news by signing up for our free newsletter here. 
Copyright 2023 SuperTalk Mississippi Media. All rights reserved.