Governor Bryant has ended the speculation surrounding his appointment to Senator Thad Cochran's seat in the U.S. Senate and has chosen Cindy Hyde-Smith, Commissioner of the Mississippi Department of Agriculture. Hyde-Smith now becomes the first woman sent to Washington D.C. on behalf of the Magnolia state.
Previously, the Governor stated that he would wait until after Cochran's retirement became official on April 1st to announce his selection. The race for Cochran's seat has been thrown back into the headlines following state Senator Chris McDaniel's decision to run for the seat, which could have served as a catalyst in the appointment process. At a press conference in her hometown of Brookhaven, Governor Bryant described what made Hyde-Smith the right choice for the appointment.
"She has the intestinal fortitude that can make things happen, that can stand and make difficult decisions, that can overcome the challenges of the day. She is a conservative Republican, elected twice to statewide office. She has served with honesty, distinction, and determination," Governor Bryant said.
Hyde-Smith has served in her current role with the MDA since 2011 and previously served as a state Senator for 12 years. Hyde-Smith is now a Republican but served as a Democrat for the first 10 years of her term representing District 39. Despite the shift in party affiliation, she said that her conservative record speaks for itself. During her time in the legislature, Hyde-Smith earned the highest grade for a strong pro-business and fiscally conservative voting record from the Business and Industry Political Education Committee. Hyde-Smith thanked Governor Bryant for the trust that has been placed in her as she steps into this new role, and she seemed to welcome running on her voting record as she called back to it during her speech.
"The good thing about being in the legislature; there's a paper trail," she said. "It's a long paper trail, and they record every vote that we have. I have a record of Conservatism. I have a record of accomplishments and getting things done for you, and that's exactly what I will do for you as your U.S. Senator."
During the 2016 presidential campaign, Hyde-Smith co-chaired the Trump campaign's Agriculture Advisory Committee. Hyde-Smith's connection with Trump and Governor Bryant will bode well for her when the special election cycle begins to ramp up. In her speech, Hyde-Smith detailed her positions which align with many of the President's campaign promises.
"I am honored to be put in the position to maintain the military, to rebuild the military to the strength that we need, to support our troops & our veterans, secure our borders, improve access to affordable healthcare and that includes repealing Obamacare. I also promise to fight to protect the rights of the unborn child, and to never wavier from protecting our second amendment rights and all of our constitutional freedoms," Hyde-Smith said.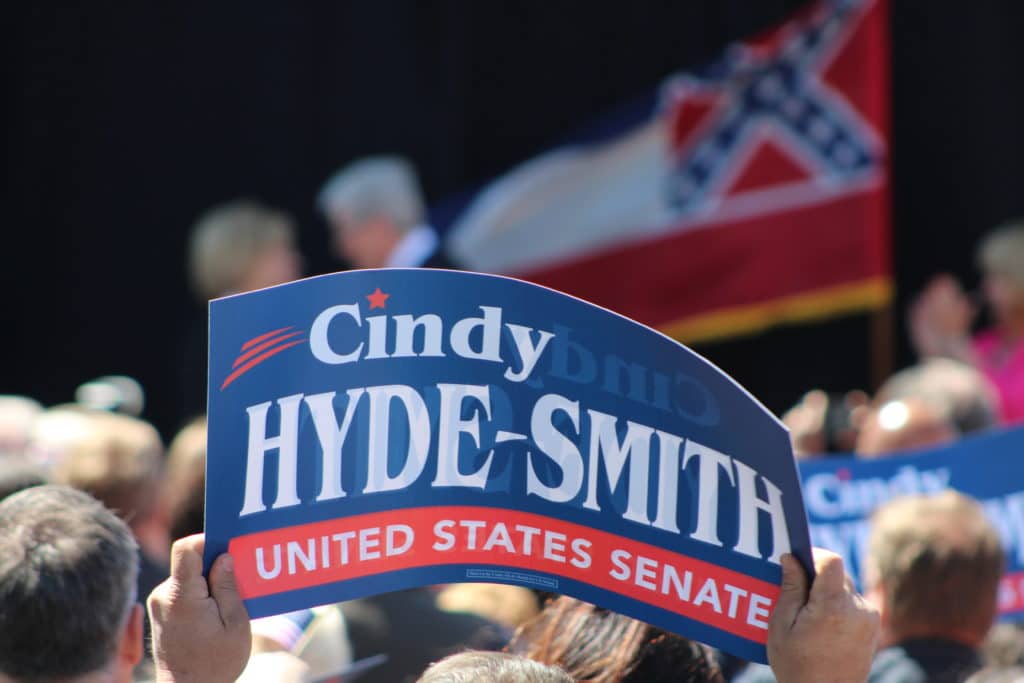 McDaniel has publicly opposed the appointment and continues to claim that the "Washington establishment" influenced the process. During the announcement, Governor Bryant seemingly responded to that claim by stating "this decision is mine and mine alone." After she stepped away from the podium, Hyde-Smith was not quite ready to discuss the upcoming race, but during her remarks, she said she is ready for the "rough days" ahead. While she didn't discuss specifics about the race, she did say that she looks forward to her campaign.
"It'll be more exciting that I can come back and explain what's going on in Congress today, what happened this week, and the current things," she said. "I'm just going to do my best to be the best candidate I can possibly be, and to represent these people the best that I can represent them."
Hyde-Smith did take a moment to reflect on what the appointment means, not only to her as the first woman from Mississippi to go to D.C., but also for everyone watching what's going on.
"The history of this moment is not lost on me, Governor. I assure you, I realize the significance of this. This appointment is certainly not all about me, it's about every young person, just like my daughter, who can now realize that people like Governor Phil Bryant acknowledge the competence, the character and the sincere call of duty in all people. Just like our Governor has shown that the son of a diesel mechanic & a homemaker can be an outstanding leader of our state, I hope I can inspire young people to achieve their goals because the American dream is alive and well in Mississippi," Hyde-Smith said.
Senate Majority Leader Mitch McConnell commended the Governor on the appointment and congratulated Hyde-Smith.
"I hope colleagues will join me in welcoming Cindy Hyde-Smith, who will join us in the Senate in April," McConnell said. "Gov. Bryant made an excellent choice to serve the people of Mississippi in the United States Senate. Commissioner Hyde-Smith has had a long outstanding career of public service in Mississippi, first in the state senate and most recently as the first female Commissioner for Agriculture and Commerce."
Cochran's retirement becomes official on April 1st, and Hyde-Smith's appointment takes effect on April 2nd. The special election for the seat will take place in November and the term ends in 2020.
The Governor will have one more appointment to make as he must now find a replacement for Hyde-Smith in the Department of Agriculture.
Watch the full announcement below: