More than 4,000 Mississippi National Guard soldiers are leaving their homes for a year as part of Operation Spartan Shield.
The 155th Brigade, based out of Tupelo will leave for a three-month training deployment in Fort Bliss, Texas followed by nine-months overseas.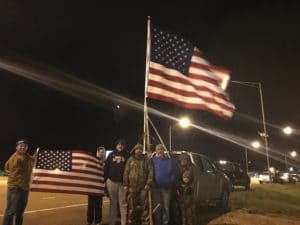 The city of Kosciusko gathered in the early morning hours today to line the highways waving American flags as the 2-114th bravo battery troops were escorted by American Legion Riders, and Patriot Guard Riders, and law enforcement officers all the way to the airport in Jackson.
Roy Bell is the father of one of the soldiers being deployed and understands the sacrifice more than most people. Roy was a member of the same unit his son is deploying with and did two tours in Iraq with the Kosciusko unit back in 2004-2005 and again from 2009-2010. His son, Roy A. Bell joined the unit in 2015.
The unit itself is comprised of soldiers from Kosciusko and Winona.
"We were really proud of all the support," Bell said. The community has always supported us every time we deployed and when we come back, so I knew there were going to be a lot of people out there supporting the troops just like they have always done."
Many community members gathered at local businesses and sipped on coffee as they waited to cheer for the troops as they passed by on their way out of town.
"I think it's so important because these people, these guys, these men and women, they invest in our community and it is the least that we can do to see them off after they will be gone for a year where they will be gone from friends and families," said Dillon Myrick, Senior Airman with the Air National Guard. "They will miss holidays, birthdays, and anniversaries. As a town, it is just great to come together to see these men and women off."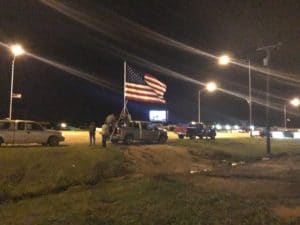 The city of Kosciusko hosted a family day for the troops last week and Kosciusko's Mayor Jimmy Cockroft said they wanted to do something to honor them on the day of their departure as well.
"We started trying to put something together for these troops as they went out of town and we realized that it would be 5:15 in the morning," Cockroft said. "We were a little worried about the crowd, but I was very pleased. The city had over 100 flags that we gave away last week and we had a nice crowd and a good send off this morning for our local troops."
Cockroft encouraged others to remember the families as their soldiers are away.
"Please remember the families in your prayers as they have sent these soldiers off for a little over a year, and try to be there for them if you can while their loved ones are gone," Cockroft said.
The 155th Armored Brigade Combat Team is headquartered in Tupelo and has battalion headquarters in six other Mississippi cities as well as one in Kansas City, Kansas.
1st Battalion, 155th Infantry Regiment – McComb
2nd Battalion, 198th Armor Regiment – Senatobia
2nd Battalion, 137th Infantry Regiment – Kansas City, KS
2nd Battalion, 114th Field Artillery Regiment – Starkville
1st Squadron, 98th Cavalry Regiment – Amory
106th Support Battalion – Monticello
150th Engineer Battalion – Meridian
Video courtesy of Ronny Henderson: