The life and music of the legendary Leonard Bernstein will be celebrated with a concert of his music Tuesday (Nov. 6) at the University of Mississippi's Gertrude C. Ford Center for the Performing Arts.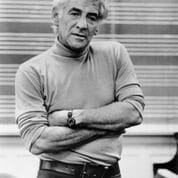 Bernstein would have turned 100 years old in 2018 and the Ole Miss concert is part of a global celebration for the composer who was best known for his creation of the Broadway scores for West Side Story, On The Town, and Peter Pan.
Alexander Bernstein, the maestro's son, will be in attendance, joined by guest conductor Dennis Shrock, several soloists, the Bernstein Festival Orchestra and the UM Chorus, directed by Donald Trott.
"Leonard Bernstein was the flamboyant and charismatic Music Director of the New York Philharmonic Orchestra for eleven years beginning in 1958, after which he was active as guest conductor with most of the leading orchestras in the world," said UM Music department chair Dr. Robert Riggs. "He is perhaps best known now for having composed the music for the Broadway shows 'On the Town' and 'West Side Story.' However, he was a prolific composer, and I recommend our concert as a wonderful opportunity to hear several of his other beautiful works."
"Bernstein at 100: A Musical Celebration," is set for 7:30 p.m. and includes several works, including "Chichester Psalms," which Bernstein composed 1965 for the Chichester Cathedral in Sussex, England. The work is based on texts from Psalms 23, 100, 108 and 131. Written in three movements, it features a full orchestra, a full chorus, and a boy soprano, guest soloist Emmanuel Tsao, of Memphis.
The concert also includes selections from two of Bernstein's best-loved works, "Peter Pan" and "Candide."
"Peter Pan" was completed in 1950 and opened that same year on Broadway, but the show did not include Bernstein's full score. In 2000, conductor Alexander Frey created a new production after finding the original full score, which included several never-performed songs, including "Dream with Me," which will be part of the Ford Center program.
Soprano Stefanie Moore, of Santa Monica, California, will sing Wendy's role, and Bradley Robinson, UM associate professor of music, will be Captain Hook.
Based on Voltaire's novella, "Candide" was originally conceived by Lillian Hellman as a play with incidental music. Bernstein's enthusiasm for the idea of expanding the piece into an operetta persuaded her to rework it as a libretto.
Many lyricists reworked this piece through the years, and it remains a Bernstein fan favorite. For the Ford Center performance, the chorus and orchestra will present "Best of All Possible Worlds" and "Make Our Garden Grow."
Besides the concert, Ole Miss will host two related lectures that will offer glimpses into Bernstein's career. Both lectures are free and open to the public.
The first is set for 1 p.m. Monday (Nov. 5) in Nutt Auditorium, features guest conductor Shrock discussing "Chichester Psalms." The second, at 2:30 p.m. Tuesday (Nov. 6) in Nutt Auditorium, features Alexander Bernstein speaking about his father in "Leonard Bernstein and Artful Learning."
"For our Bernstein celebration, I am thrilled that Alexander Bernstein is able to join us," said Dr. Donald Trott, Director of Choral Activities at Ole Miss. "He and his two sisters, Jaime and Nina, have been traveling the globe attending many, many events.  We are so fortunate to hear about his father from this unique perspective and in addition, to hear about Bernstein's educational legacy, as Alexander is the current president of Artful Learning."
Tickets for "Bernstein at 100: A Musical Celebration" are available from the UM Box Office only or at 662-915-7411.  Reserved seats range from $18 to $25 for the general public and $10 for Ole Miss students.