Dr. Ben Carson and Governor Phil Bryant. Photo courtesy of Phil Bryant/Twitter
A health care summit in Mississippi's capital city has attracted a big name speaker. 
Governor Bryant took to Twitter to announce that Dr. Ben Carson has decided to attend the 'Governor's Health Care Economic Development Summit' in Jackson next month. The Governor stated that the summit will address how healthcare can be an economic driver through community planning and development, and highlight the state's successes in building a robust healthcare economy.
"Before joining @realDonaldTrump's administration, Secretary Carson was a pioneer in the medical field…I am so grateful Secretary Carson has agreed to attend," Governor Bryant tweeted.
Dr. Carson served as Director of Pediatric Neurosurgery at the Johns Hopkins Children's Center for nearly 30 years and ran for President in 2016 before joining the Trump administration as the Secretary of Housing and Urban Development. 
The summit will piggyback off of a study conducted by the Mississippi Healthcare Solutions Institute which aimed to identify the leading factors in sustained success in healthcare and how that can tie in with economic growth. The findings of the MHSI's study showed several areas that can contribute to Mississippi's success. 
Workforce Development
A healthy, productive population enhances the prospects of business attraction, retention and growth.
Quality of Life
Accessible, affordable healthcare improves the lives of Mississippians and provides a better quality of place because of availability of quality services, as well as jobs and opportunities from all the facets of the healthcare system.
Business Sustainability
Healthier workers will reduce lost time due to illness and will increase productivity, improving Mississippi's competitiveness, growth and sustainability.
Creation of Economic Wealth
Growth of a statewide healthcare industry cluster and collaboration across this economic sector will contribute jobs and encourage wealth creations.
The organization was created in 2012, and in a statement on the summit's website, the Governor said that the state is already moving in the right direction. 
"We are already succeeding," Governor Bryant said. "Mississippi is pioneering a health care clustering concept that is attracting new medical investment and development throughout the state, and twelve Mississippi communities have developed master plans that include targeting medical investment as a major component for economic growth."
Mississippi hospitals account for 5.7% of all state-wide employment, with a total economic impact of $5.8 billion. On an individual level, the site states that each doctor creates an economic impact of $2 million in his or her community.
The summit will also touch on the importance of growing fields in healthcare such as Telehealth. UMMC's Telehealth program was recently praised as a model for the FCC's new $100 Telehealth program, which was announced by Senator Roger Wicker and FCC Chairman Brendan Carr. 
Related: Wicker, FCC announce $100 million Telehealth program
The full list of speakers for the summit, which is set for August 16th, can be seen below: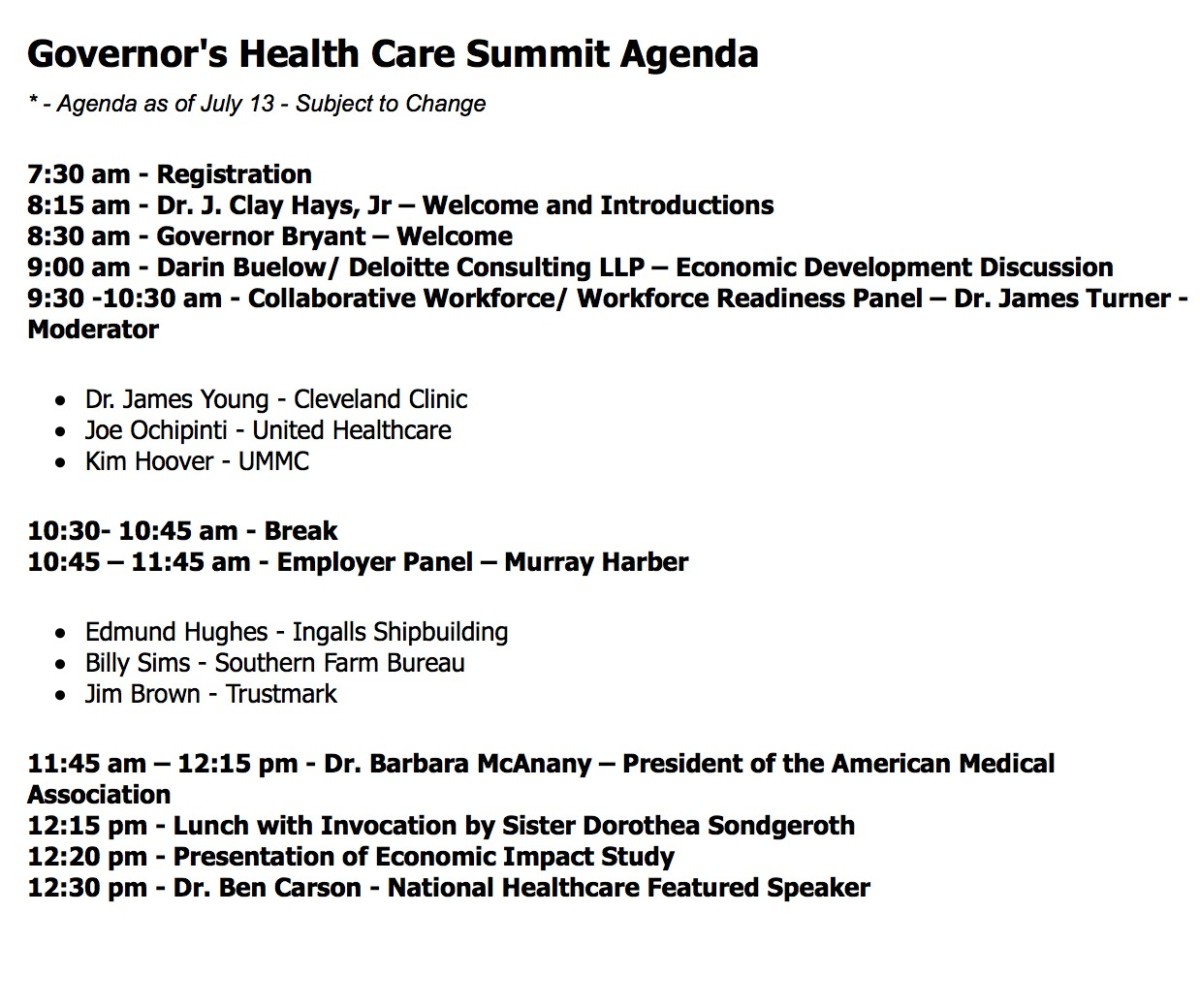 For information on how to register for the summit – click here