Senator Wicker was back in Mississippi this afternoon along with FCC commissioner Brendan Carr to announce the creation of a new $100 million Telehealth Program titled "Connected Care".
Carr traveled to Mississippi earlier this year and upon learning about the telehealth services offered through the University of Mississippi Medical Center, he returned to Washington wondering what more could be done across the country to ensure specialty healthcare for those in rural areas.
"What we saw when we were here in February was that there's this new movement in telehealth that there's an idea that you're no longer limited to the brick and mortar confines of a facility to get cutting edge, high-tech care," Carr said.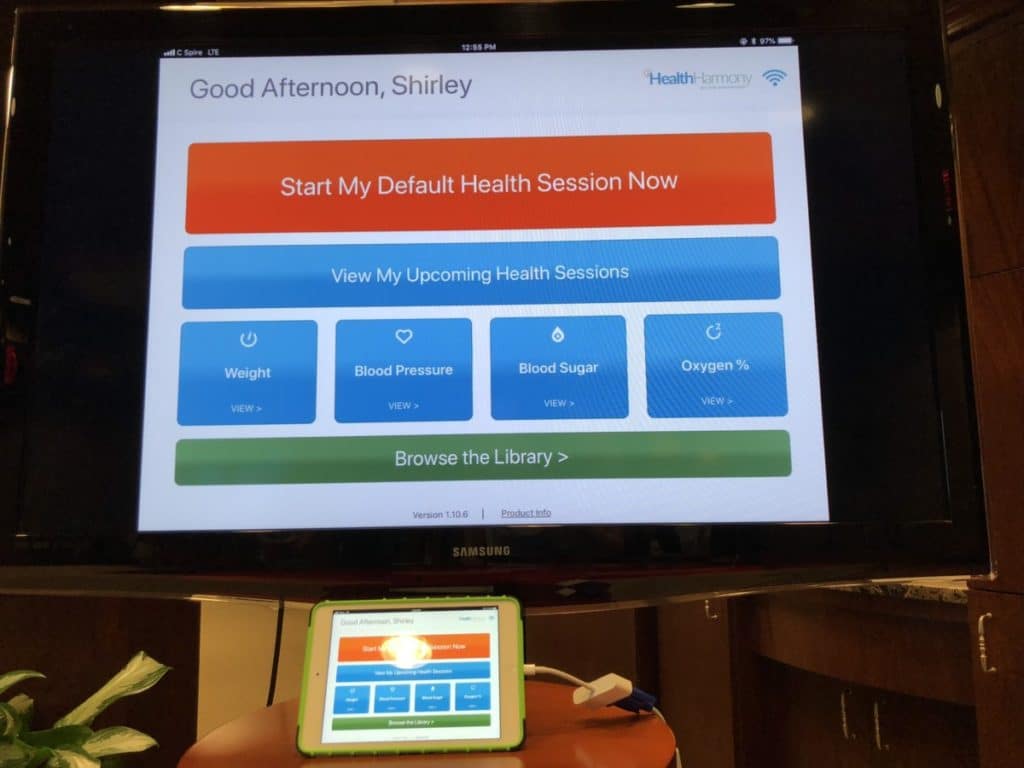 The FCC's program will budget up to $100 million to help fund pilot projects in rural areas across the country with UMMC's program serving as a model. Carr and Wicker visited Ruleville this morning to work hands-on with patients who use the program. 
UMMC's program has been recognized as just one of two centers of excellence, and Senator Wicker noted that he hopes to see the program continue to expand and is pleased to see the FCC take notice. 
"I'm glad to be in the state that has small towns and rural communities, but out of necessity it has made us try to be a pioneer of telemedicine," Wicker said. It's good to be recognized, and it's good to see people build on this."
Shown through a demonstration, UMMC's program operates through a tablet that intuitively follows along with the health and status of a patient with a chronic disease such as diabetes. Through questions and educational tools, while also measuring vital signs and blood pressure, the program aims to indicate a patients status on a day-to-day basis. 
"They still go to offices, but we're taking care of them in between. We are that set of eyes on patients between their visits so that we know when something when awry, when they ate the pecan pie or when things got out of control. Then we help them get back, then we present that information to the nurses and doctors," Executive Director Michael Adcock said.
Adcock noted that the need for growth remains as over 50% of Mississippians are more than a 40-minute drive from specialty care and these programs can serve those communities. 
In an op-ed, Wicker and Carr discussed the importance of telehealth and the role that it can play in our country. 
"Telemedicine might date back to the very first phone call ever placed.  On March 10, 1876, Alexander Graham Bell voiced his now famous first words, "Mr. Watson, come here, I want you."  Watson would later circulate a rumor that Bell placed that first call for medical assistance after having spilled the phone's battery acid on himself.
Whether Watson stretched the truth, or not, there is no doubt that telemedicine now plays a central role in the delivery of healthcare in this country.  That is why we are announcing today the launch of the "Connected Care Pilot Program."  This new program will aim to reduce health care costs and spending by supporting technologies to connect patients and caregivers over the internet, particularly in rural and low-income communities."
The piece also highlighted the success of one of the UMMC pilot programs, which was able to reduce A1C (an indicator of blood sugar level) by 1.7% in the patients using the remote patient monitoring system. According to Wicker and Carr, just a 1% reduction is known to reduce cardiovascular death by 45 percent.
The FCC will vote to approve the funding in August, and in their announcement, a few specifics regarding the program were included. 
Budgeting for $100 million in USF support
Targeting support to connected care deployments that would benefit low-income patients, including those eligible for Medicaid or veterans receiving cost-free medical care
Supporting a limited number of projects over a two-or-three-year period with controls in place to measure and verify the benefits, costs, and savings associated with connected care deployments
The FCC's announcement also included that the state of Mississippi saved over $700,000 during the pilot program in the Delta due to a reduction in hospital readmissions, and discussed what this could mean if it becomes more widespread. 
"Assuming just 20% of Mississippi's diabetic population enrolled in this program, Medicaid savings in the state would be $189 million per year."
Carr and Wicker both recognize the importance of growing broadband networks in rural areas to ensure the growth of telemedicine. In Mississippi, C Spire provided the proper connection for the Delta program. Carr noted that companies will not always be able to provide such a service for free and they must continue to work to find solutions.
Nationwide, over 60 clinical specialties are benefiting from remote patient monitoring, including maternal and fetal care for high-risk pregnancies, pediatric cardiology, opioid dependency, as well as cancer, transplant, and stroke patients.
To check out the full press conference, check out the video below:
Stay up to date with all of Mississippi's latest news by signing up for our free newsletter here. 
Copyright 2023 SuperTalk Mississippi Media. All rights reserved.