People are firing back at State Auditor Shad White over a recent audit of the state's child education programs in Mississippi that receive either state or federal funds.
The report says that outside-the-classroom spending increased while there was a decrease in students and teachers. White said if the spending had decreased at the same rate as enrollment, Mississippi would spend $358 million less on outside-the-classroom costs today.
RELATED: State Auditor: Outside-the-classroom spending too high
The Parents' Campaign, however, says White's report is an "egregious misrepresentation" of the facts saying he is selectively presenting the numbers in an attempt to shift the blame for the legislature failing to pass a meaningful teacher pay raise.
"Our statewide elected officials are continuing their relentless attack on public education," said a statement from the Parents' Campaign. "The latest hit piece was distributed yesterday by State Auditor Shad White in an apparent attempt to give political cover to legislative leaders for their refusal to pass a meaningful teacher pay raise.

The premise of the auditor's missive was that local school districts, which the Legislature has underfunded by more than $2.5-BILLION since FY2007, should have come up with the funds themselves to provide a better teacher pay raise. If the state auditor is trying to figure out why Mississippi teachers aren't getting a fair shake, I suggest he take a look at the priorities of our state leadership during the years he references in his release."
Pete Smith serves as Chief of Communications and Government Relations at the Mississippi Department of Education and responded to White's audit saying the money goes directly to the local school districts and that the MDE does not have a say on where the money is allocated.
"The MDE does not spend this money," said Smith. "These are monies that are funded by the legislature that goes directly to districts and local districts set their budgets with their superintendents and their local school boards using the state-mandated teacher salary scale and by considering the administrative and operation cost needed to support teachers and students, so it's not money that the department of education has spent."
From Fiscal Year 2007 to Fiscal Year 2017:
• Cumulative inflation was 18.2%
• State funding for the entire state budget (all agencies, including PreK-12) increased by 39%
• State funding for public education (PreK-12) increased by 9.54%
• MAEP funding increased by 12.27%
• State funding for the rest of the state budget (all agencies excluding PreK-12) increased by 50%
• Within the K-12 funding bill, state funding for lobbyists' vendor projects increased by 500%
*Data from the Parents' Campaign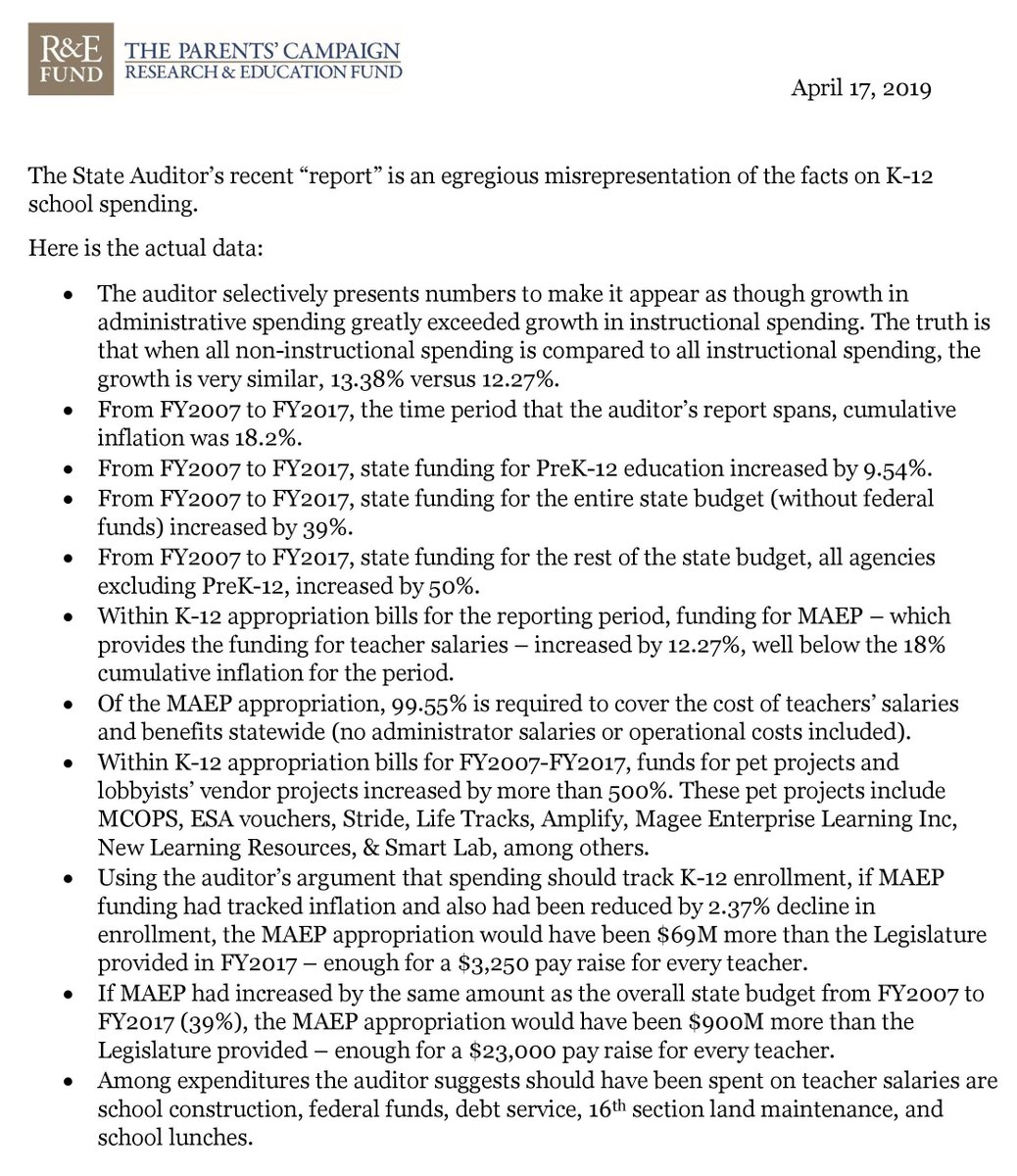 Stay up to date with all of Mississippi's latest news by signing up for our free newsletter here. 
Copyright 2023 SuperTalk Mississippi Media. All rights reserved.