Earlier this month, family and friends mourned the loss of sixth grade Southaven Middle School student, Andrew Leach, who took his life due to continuous bullying.
Captain Mark Little with the Southaven police department said they are investigating any and all claims from the family and working with the School Administrators to see if any State Statutes were violated.
Patti Herrington, who lost her son, Conner, in 2011 due to suicide, started Firelfy Outreach, where she speaks at schools around the state hoping to save and impact young lives by sharing her story of how suicide impacted her life and by giving young people a real picture of the aftermath of suicide.
"Younger people have not learned to process through, so when something devastating happens to them, the first thing they think is, 'I'm just going to take my life', but when I tell my story, lives are saved," Herrington said. "I have kids come up to me all the time and say 'Ms. Herrington, I was going to take my life today but because of your story I'm not going to take my life', and there's so many stories it's just unbelievable of what comes when I go speak to these kids."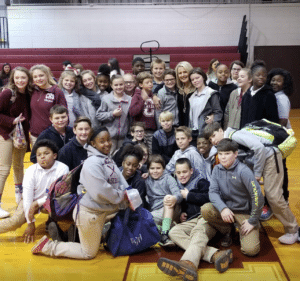 Herrington said what she really does is encourage kids to make good choices because their choices directly impact their life and the lives of others.
"I talk to them about bullying and looking at that other person from a different set of eyes, because what happens often times is when we meet people, no matter what age you are, we sum people up and we put them in a box of who we think they might be, but I say to them, 'get out of that box, get to know that person, and walk in love and forgiveness because you never know what that other person is going through', and I just talk to them about making better choices," said Herrington.
She also asks them to commit to the ten promise pledge she has that says to be a firefly, be a light in the darkness and to take a stand against bullying and suicide.
The ten promise pledges are:
I promise I will use my words to heal and not hurt.
I promise to never bully another person whether at school or on social media.
I promise that if I see someone being bullied, I will not be silent.
I promise to walk in love and forgiveness.
I promise to never see myself or anyone else as inferior to others.
I promise to always believe the best about others.
I promise to never alienate or gossip about others.
I promise to never inflict harm on myself or others.
I promise to always ask for help when I need it.
I promise to do unto others and I would have them do unto me.
"I give out bracelets to the kids and it's just amazing how the bracelets and the promises make these kids so excited to commit because kids really want to make changes," said Herrington. "They don't want to be ugly to other kids but sometimes kids bully or whatever situation so it's just amazing the difference it makes in their hearts and their lives."
Herrington said it's just a heart and a passion she has that she can't describe.
She said if  you are interested in having her speak at your school, visit her website at fireflyoutreach.com and email her.