Families First for Mississippi has announced a partnership with KLLM Trucking Driving Academy and the Mississippi Department of Human Services. The partnership began when John Davis, Executive Director of MDHS along with Jim Richards, President of KLLM Transport and Dr. Nancy New Executive Director of Families First for Mississippi sat down to discuss ways to bring more stability to Mississippi's workforce and their families.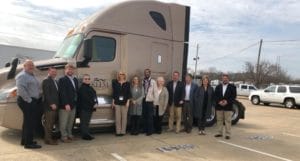 Davis said that MDHS was taking the band-aid approach and not looking at the overall issues. However, with the new partnership, they are looking to change that with a holistic approach to helping families.
"We used to look at a symptom, fix that symptom, and then not look at the overall problem," Davis said. "When we took a generational approach a couple of years back, we realized that in order to remove barriers from families lives, we needed to partner with others and that includes other outside entities and industries. We believe that a lot of the barriers can be eliminated by making a true, livable wage."
Davis said KLLM first opened their truck driving school in 2012 as a way to ensure that their drivers were properly trained to their standards. With anywhere from 500-800 people going through their nine-week driving academy each year, KLLM pays for each students tuition, housing, meals, even their permit so that the person is not out of pocket any money.
"We are taking people that are unemployed and are on government subsidies, teaching them a skill and providing them a job so that now they are a person who is actually contributing to society, versus a drain on the government and on the economy," Richards said. 
While Richards said they are able to provide jobs for the head of the household, their families often suffer.
"Being a truck driver over the road is a very difficult job with the fact that you are away from home two and three weeks at a time, so what is left is the rest of the family left with a void," Richards said. "The mom is left at home trying to raise two or three kids and trying to pay all the bills, those types of things."
Richards said the difficulties that the families face at home on a daily basis are something that Families First is able to help with. While New said the goal of Families first is to get families stabilized and working so that they can ultimately become self-sufficient, she said that by partnering with MDHS and KLLM, they will be able to help additional families become independent of government resources.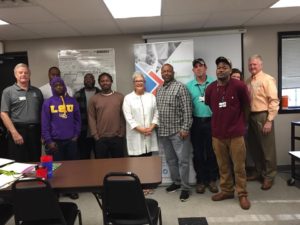 "Families First comes in and provides a support network and teaches classes for the remainder of the family," Richards said. "Whether it would be teaching the wife how to pay the bills, the son maybe didn't get a high school degree, helping him get his GED, so they are basically providing a support structure for the family while the mom or dad is out on the road driving a truck."
New said they are excited about working with and helping these families through KLLM and MDHS.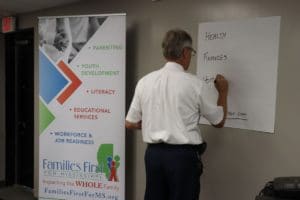 During the fourth week of the training academy, Families First starts assessing the needs of the families and teaching courses that will help meet their needs when their loved one is on the road. New said that Families First gets the contact of each family so that they are able to stay in touch with them throughout the family members' time away on the road.
"We are not trying to be everything to everybody," New said. "Our job is to connect the dots, not duplicate things, but find the right partners."
Families First began working with their first group of students at KLLM on April 18th, 2018. New commended KLLM on their vision for not only their employees but also for their employees' families.
"Oftentimes people are so busy with trying to run their business, and trying to make ends meet, and trying to do the right things, but not looking beyond all of those responsibilities and obligations to get beyond that to the families, and ask what the families need," New said.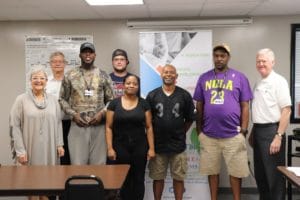 Richards added that they have heard positive feedback from the students in the KLLM classes, but the true test of whether the program is working or not will not becoming from numbers. Instead, it will come in the form of success stories, great family stability and happiness in the home and workplaces which will, in turn, benefit the workforce.
"The feedback has been very positive," Richards said. "A lot of times the people that are here, they have obviously tried other jobs at other places and not done well, etc. but they have never seen this type of support network for the rest of the family."
He said that they believe this partnership with Families First and MDHS will also lead to a lower turnover rate for their company.
"It's a very difficult job and people just don't stay in it very long," Richards said. "The average driver turnover in our industry is well over 100%, so we basically turn over our entire workforce once every year."
While New said that KLLM is the example, they hope there will be various companies across Mississippi that will soon start offering similar partnerships and she said that other states are beginning to take notice.
"No one has taken on the initiative and the task, no state, to do what we are doing," New said. 
In the end, New said they want to better the economy and the workforce. Not only in Mississippi but around the U.S.
"Not only are we offering a person an opportunity to be productive in society, but the rest of the family who may be having issues too," New said. "There is now a way for those people to better themselves."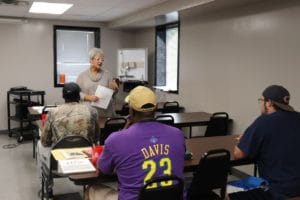 Davis brought it back to the heart of the matter saying that empowering families to become self-sufficient remains the key to guiding Mississippi forward.
"What we hope is that Families First will continue to grow as a model to be barrier busters and to eliminate those issues that create hardships in families lives so that they can be successful," Davis said. "We recognize that in order for us to get to the point of being truly who we are called to be, then we are going to have to help that family get to that second, third, and fourth job so that they can make livable wages and find it through independence and through self-sufficiency. At the end of the day, we would love for families to say we don't need human services anymore because we have got what we need to be self-reliant."