When you think of spring football in April down in Mississippi, you don't think of rainy conditions and 35-degree temperatures, but that was the scene in Oxford earlier today as Ole Miss wrapped up spring practice with the annual Grove Bowl at Vaught-Hemingway Stadium.
Spring games aren't about the final score, but rather about finishing the 15 days of spring practice on a high note and executing a small selection of the playbook with efficiency. To that end, there were highs and lows for the Rebels on both sides of the ball. On a high note, QB Jordan Ta'amu looked to be in command of the offense, and his chemistry with D.K. Metcalf is continuing to develop; exemplified by a 53-yard touchdown connection on the third drive of the game.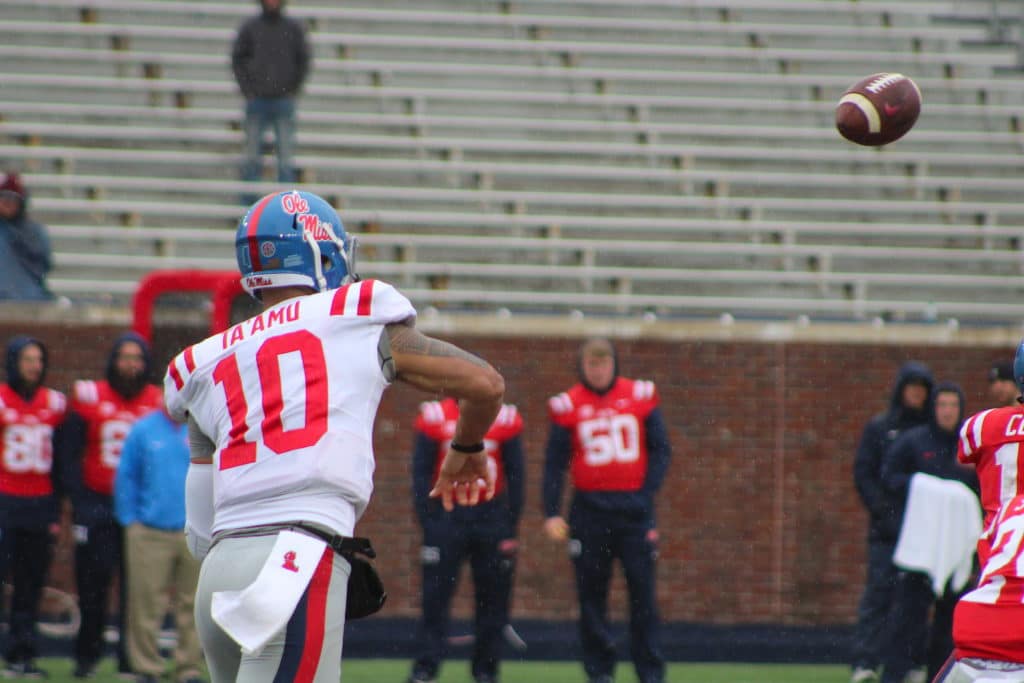 The two would connect for another TD, this time on a goal-line fade. Several other of the Rebels' weapons on the outside did not play, so the offense wasn't operating at full strength. WRs A.J. Brown and Demarkus Lodge did not play in the spring game. TE Dawson Knox was also out, but this allowed a trio of TE's to step up. Gabe Angel, Octavious Cooley, and converted QB to TE Alex Faniel combined for seven catches on the day. Ta'amu finished 12-20 for 190 yards and the 2 TDs. After the game, head coach Matt Luke talked about his QB and how he is becoming the true leader of this Rebel team.
"I'm just impressed with him. I just want to continue to work on getting with the receivers and just getting it down to cohesion with the receivers and just continue to build on being the leader of the team. That's what you see. Everybody is rallying around Jordan, so I just want him to continue to be that leader, and I thought he did a great job with that in the spring," Luke said. 
Luke also mentioned that he was impressed with the running game in today's spring game. Seven players combined for 154 yards on the ground, which is not spectacular, but for a team that struggled to run the ball at times last year, this is a building block. Newcomers Scottie Phillips, Armani Linton and Isaiah Woullard all showed flashes of how they can assist the Rebel running game.
Things got a bit messy when the second-team stepped on the field. As is the case with many young players in their first game action, QB Matt Corral struggled. The 4-star freshman finished 6-16 for 36 yards and 2 INTs. The second-team offense never quite found their rhythm, but OC Phil Longo says that this is the time to make mistakes, and this is not unusual to see from young players as they get their feet wet.
We have some young guys and walk-ons against experienced players, so that was a little more of a learning curve with the twos. So that may be a little more similar to what we saw last spring. All in all, it was good to get some young guys reps because at some point this season we're going to need some of them to win a football game, " Longo said.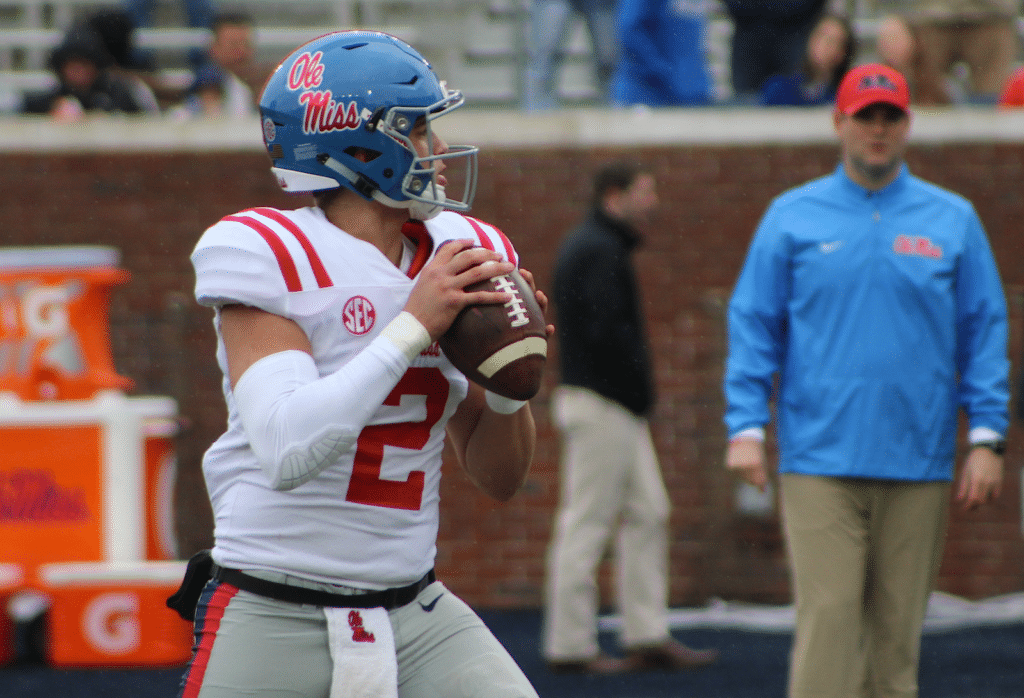 Question marks remain on the defensive side of the ball for Ole Miss, and nothing seen in a spring game is going to silence any doubters. Mohamed Sanogo, Joshua Clarke and Detric Bing-Dukes could make for an intriguing trio of LBs when the season begins. On the back end, Chucky Mullins award winner C.J. Moore will provide veteran leadership for the younger guys. DC Wesley McGriff noted that this offseason has been all about the details and truly focusing on coaching confidence among the unit.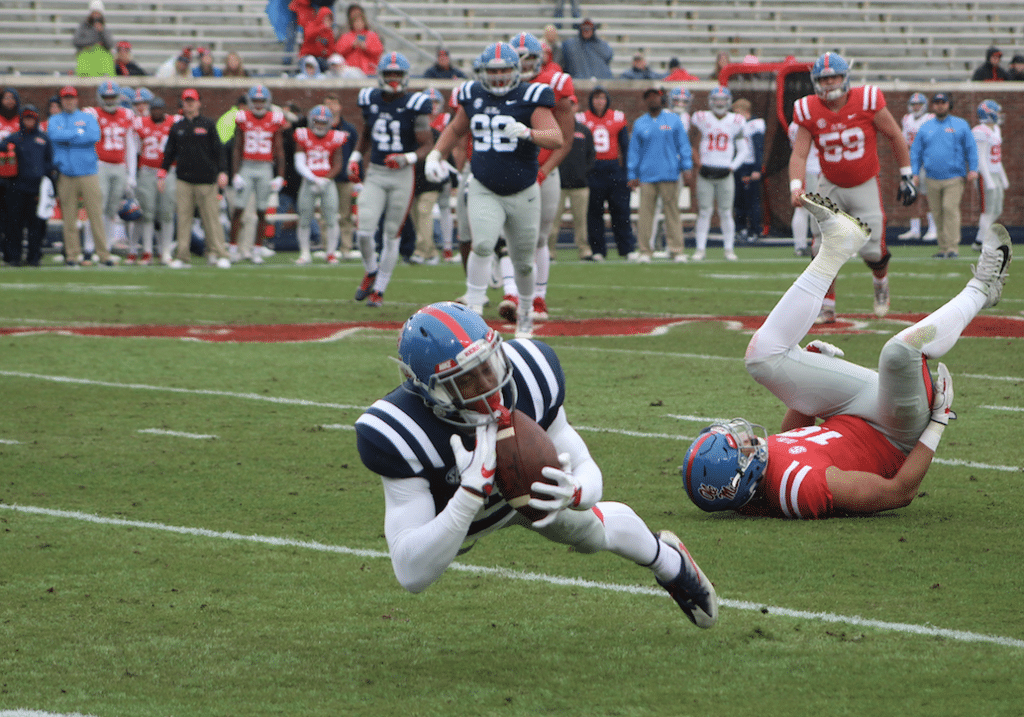 "One of the biggest things we were able to do in spring ball was letting them slow it down in walk-through mode and teaching mode. You try to get so many reps in and you try to get quality reps in, but you have to realize players are different. Some guys can go from the meeting room to the field and execute a play, some need to go more in the meeting room and walk-through. I think we did a better job as a staff on walking through the players on the field and meeting with them and teaching them. Instead of running 80 snaps, let's run 50 quality snaps," McGriff said. 
While there were a few missed tackles, and CB D.D. Bowie did get beat deep by Metcalf for the TD, McGriff said that this allows for teachable moments in the film room.
The defense did "win" the game 27-21 after starting with a 27-0 lead. Ta'amu led the offense on their 3 TD drives. As the spring finishes up, Luke is happy with where his team is heading into the offseason.
"We got a whole off-season and summer and then another fall camp to build on it, but I did really see a lot of progress," Luke said.
At the end of the day, you can't overreact one way or the other to a spring game, and every team has work to do before week one rolls around. For Ole Miss, if they can truly find ways to improve the defense and find a consistent running game, they should be able to improve from last year's 6-6 campaign. Off-the-field, Ole Miss awaits the final ruling on their appeal of the 2018 bowl ban handed down by the NCAA.
Ole Miss opens the 2018 season against Texas Tech in Houston on September 1st.
Stay up to date with all of Mississippi's latest news by signing up for our free newsletter here. 
Copyright 2023 SuperTalk Mississippi Media. All rights reserved.