The Mississippi Emergency Management Agency has announced that a Hurricane Watch and Tropical Storm Warning are in effect for the Mississippi Gulf Coast.
Gordon Update-Along #MississippiGulfCoast and surrounding areas a #StormSurgeWarning and #HurricaneWatch is currently in effect. Conditions are EXPECTED still within the next 36 hours or less. #HeavyRainfall, 3 to 5 feet #StormSurge and #TropicalStorm force winds expected. #MSWX pic.twitter.com/ut09VMts51

— MSEMA (@MSEMA) September 3, 2018
The National Hurricane Center said that Tropical Storm Gordon has been formed in the upper portion of the Florida Keys.
A Hurricane Watch means hurricane-force winds are possible within the next 48 hours. A Storm Surge Warning means there is a danger of life-threatening inundation, from rising water moving inland from the coastline, within the next 36 hours.
Tropical Storm Warning already issued for the Mississipi Gulf Coast, meaning tropical storm conditions are expected within the next 36 hours or less #Gordon #mswx https://t.co/GKMCQLXbbD

— MSEMA (@MSEMA) September 3, 2018
The storm is expected to reach the southernmost part of Mississippi by late Tuesday evening on Sept. 4th. Projections show the storm will then begin moving inland Wednesday the 5th.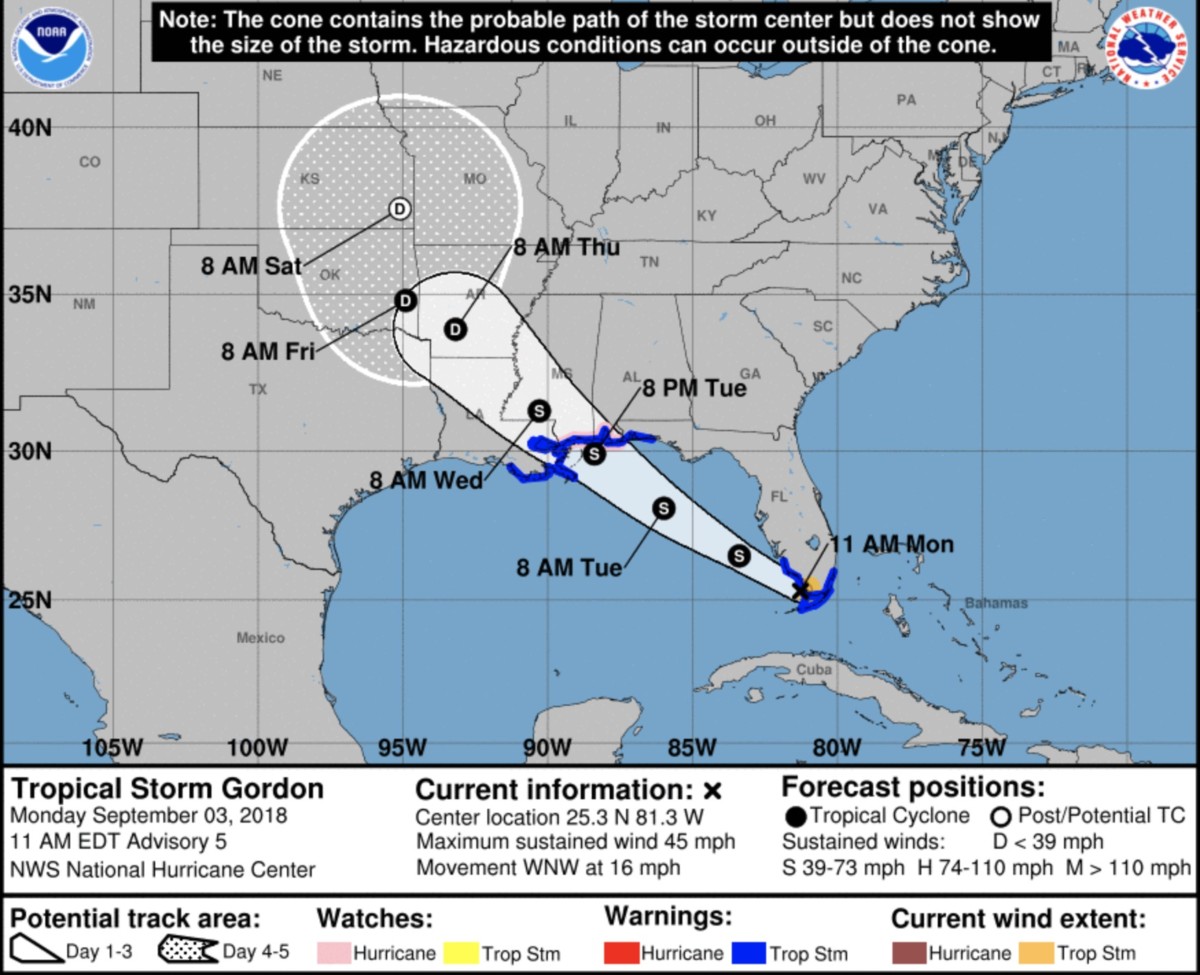 Coast leaders have begun preparations for Gordon and self-serve sandbag stations have already been set up by both Harrison County EMA and Jackson County EMA.
Harrison County Locations:
Long Beach- Harbor @ Pavilion- Hwy 90
Gulfport – Courthouse Road Pier Parking Lot-Hwy 90
Harrison County Road Department -10076 Lorraine Road (Hwy 605) Gulfport
Diberville – Harrison County District One Work Center-10085 Doris Deno/Rodriquez
Biloxi – Biloxi Fire Station # 9, 9370 Oaklawn Road
Biloxi – Popp Ferry Soccer Fields- 2150 Popp Ferry Road
Gulfport – Orange Grove Community Center – Dedeaux Road
Gulfport – Fire Station on  42nd Avenue
Gulfport – Intersection of Hewes Avenue and Glover Street
Jackson County Locations: 
Ocean Springs – West Division Roads Dept – N. Washington Ave. (Hwy 609)
Vancleave – Central Division Roads Dept. – 8500 Jim Ramsey Road
Moss Point – East Division Roads Dept – 10825 Hwy 63
Moss Point – Escatawpa VFD – 3801 Sentinel Drive
Moss Point – Behind Central Fire Station – 4204 Bellview St.
Pascagoula – Jackson County Fair Grounds Barn
Gautier – Behind City Hall – 3330 Hwy 90
Ocean Springs – Ocean Springs Public Works – 712 Pine Drive
St. Andrews Fire Dept – 1401 Elm Street
Fort Lake Fire Dept – 10701 Forts Lake Road
Stay up to date with all of Mississippi's latest news by signing up for our free newsletter here. 
Copyright 2023 SuperTalk Mississippi Media. All rights reserved.