As reporters, we are tasked with covering a multitude of stories; some good, some bad, and some that will simply break your heart to pieces. In my lifetime, I have served as witness to an execution, covered the disappearance and senseless murder of a Yazoo County mother, father, and son, and have reported on the untimely deaths of many of our law enforcement officers.
Oftentimes we don't share the acts of kindness our officers and first responders provide daily, such as changing a tire on the side of a road, helping a senior citizen out of a bathtub, comforting a child who was removed from a home, or supporting a family who just lost a loved one.
Wednesday night, while attending the 9th Annual Fallen Law Enforcement Officers Candlelight Vigil in Jackson, I was saddened as I thought of those we have lost and of those who were left behind, but I was also reminded of what is good.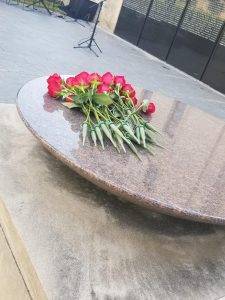 Standing in view of the Mississippi State Capital were men and women, in full uniform, proudly representing the Highway Patrol, Department of Corrections, Department of Wildlife, officers from numerous sheriff and police departments throughout the state, and countless others who serve and protect. Attorney General Jim Hood spoke to the crowd and said, "Thank God for the people who are wired to run to the fire. Our human nature leads us to run away, but there are those who run toward the fire to protect us."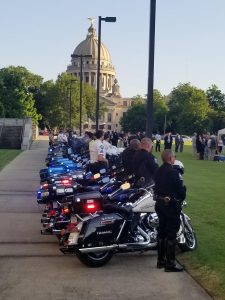 During the memorial, we mourned and honored the men and women who were taken from this world too soon. I looked at the faces of the families who lost loved ones in the line of duty and recognized a lady I haven't seen in over ten years. I did not know her brother was one of the fallen. Isn't it sad how we can lose touch with those we come to know? As I grow older, I realize "moments" are fleeting.
I had the honor of meeting Byram Police Chief Luke Thompson and watched his two little girls, smiling, holding hands, and looking upon the dignified procession of officers who proudly walked before us. The faces of his daughters, and the families surrounding me, was a reminder that life remains.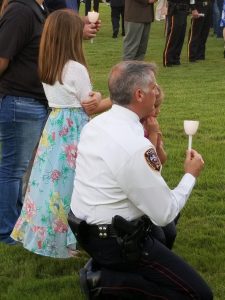 One by one, family members placed a rose below the wall which was engraved with the names of the officers who are no longer with us. As the choir sang Hallelujah, their voices seemed to drift high into the clouds. The sun was setting as blue and silver balloons were carried away from a child's hand into a breathtaking sky. A beautiful wreath was placed at the wall, candles glowed in honor of the fallen, and echoing across the grounds was the sound of the rifle salute followed by the chilling notes of Taps in a final farewell.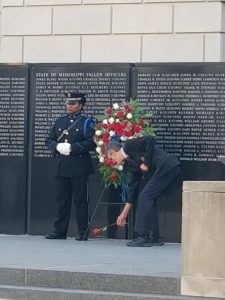 As the memorial came to an end, Chaplin Trey Hammond with Crossroads of Life Church in Byram said, "Death closes the eyes of the dying, but opens the eyes of the living". He then began his prayer with the words, "I want to pray life over you." Hammond continued the benediction asking for hope and commitment, and praying that the call we receive in life, will be seen all the way through with everything within us, knowing it is not in vain.
In that moment, I knew. Although the ones who passed before us are greatly missed, life is what we are given, and life is what we should so graciously receive.
I was humbled and thankful, for life, and for the honor and service of those brave men and women.
Stay up to date with all of Mississippi's latest news by signing up for our free newsletter here. 
Copyright 2023 SuperTalk Mississippi Media. All rights reserved.