The 2019 legislative session is underway and lawmakers are talking about expanding Medicaid in the state. While Republican leadership has said they will not support an expansion of Medicaid in the state, Democrats say it is needed as rural hospitals are closing across Mississippi.
"Medicaid is eating our budget up, it truly is," said Senator Angela Hill. "I've asked PEER for some new numbers on cost per head of Medicaid to see if it is continuing to skyrocket. In five years it went up 17.8% per person. When I came in the Medicaid budget was $520 million for the state support. It's $1.5 billion over the six years that I have served so it tripled.
Hill added that at the current trajectory it has an unsustainable growth and applauded the efforts of the Mississippi's Division of Medicaid to reduce spending and deficits in their 2019 and 2020 budgets.
RELATED: Medicaid asks to reduce budget by $15M 
"It's something that we have to think about," Hill said. "We had fewer people on Medicaid, but yet the budget was going up. Back during the ObamaCare enrollment when they went through healthcare.gov through the "woodwork effect" we absorbed something like 150,000 new people right off the bat and it skyrocketed the budget, I think then it went back down, however, as the numbers were down the cost was still up."
She added that the legislature has to look at whether or not Medicaid management is actually reducing the cost of Medicaid.
"The way I look at it is the cost per person," Hill said. "You average out the Medicaid cost, divide it by the number of people, get an average cost per head, and then you look at that over a 5-6 year period and you will see what is actually happening."
Hill said the last numbers said had were from 2012-2016.
"We don't have enough taxpayers in the state of Mississippi to finance the growth rate of Medicaid cost and it's not the number of people, it's the actual cost," Hill said.
A recent poll by Millsaps College and Chism strategies polled whether Mississippians wanted an expansion of Medicaid and the Affordable Care Act. The results were definitive, over 60% of Mississippians want the expansion of Medicaid to happen.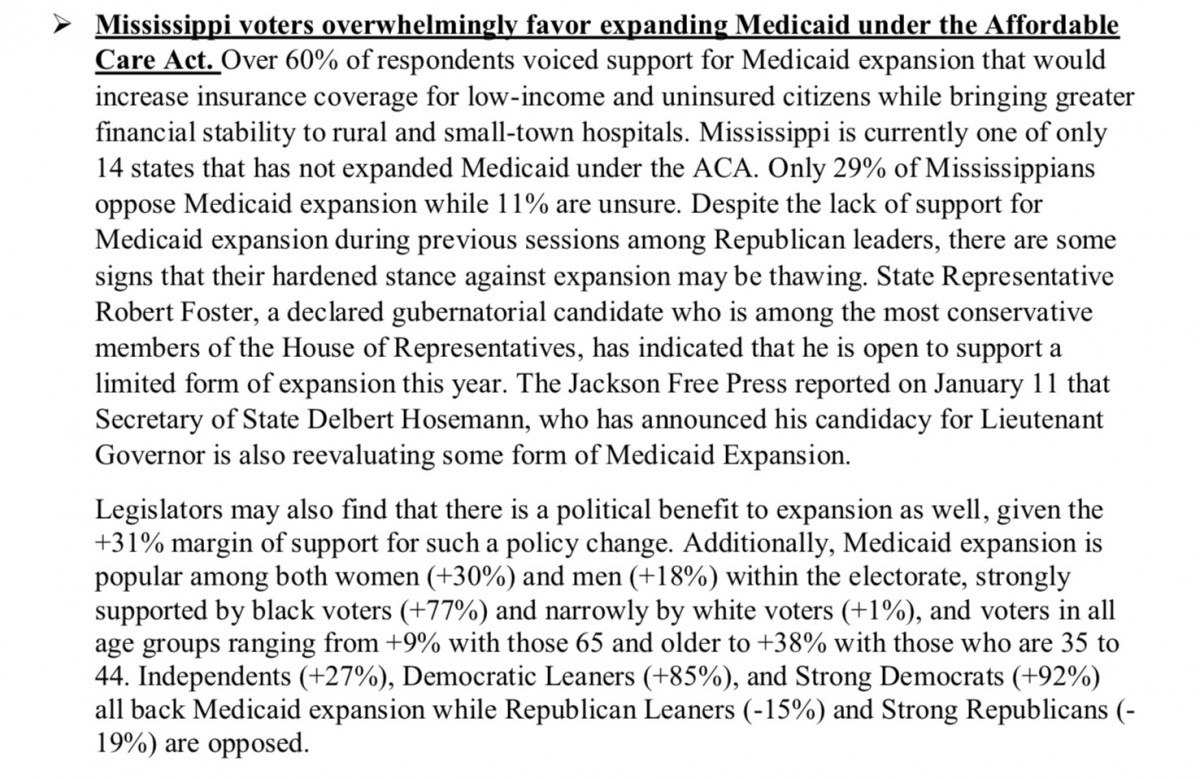 Representative Robert Johnson said four hospitals have closed in the past five years and five more are threatening closure and expanding Medicaid would ensure that Mississippians continue to have access to local trauma centers and proper healthcare.
"Even though the Medicaid budget is growing one of the reasons it is growing is because people are still getting sick and people still need healthcare," Johnson said. "Part of what people don't recognize the Medicaid budget growing is the cost of hospitals, Medicaid is absorbing the healthcare that they are providing and no one is paying for them so it comes out of the Medicaid budget. But, if you expand Medicaid and provide coverage, we are already subsidized at a greater than 80% rate. If you expand it at first instance it will probably be close to 100[%], but it will be no less than 90[%]."
Johnson continued adding that they need to get healthcare back into the rural communities and said the best way to do it is to make sure that it is being funded properly.
"Healthcare provision creates jobs," Johnson said. "If you really want to boost the economy, you start creating medical jobs, whether its people sitting with people, nursing assistants and I'm not just talking about professionals, I'm talking about everything associated with it, so it pays you back."
Hill added that there are ways to lower the cost of Medicaid such as passing a law similar to Kentucky where certified and registered Nurse Anesthetists do not have to have Anesthetist sign off on their chart, thus taking a large chunk of money out of the healthcare equation so that they will be able to operate independently.
"We still have the collaborative agreement with nurse practitioners where some of them are paying $5,000 a month to a Doctor to sign their charts," Hill said. "…27 other states out there have independent practices for nurse practitioners and that could be cost savings for healthcare if that cost is reduced back to the consumer."
Whether the left or the right will win the argument has yet to be seen, however, Johnson said one thing is certain. They will be handling the topic before the session ends.
"The reality of it is its good political speech to say 'we want to keep control of the budget,'" Johnson said. "But, when we consider that people are running for office people need to respond to what the public wants and if a hospital closes during the session then you are going to see some action and that very well may happen."