The Mississippi Department of Education is kicking off 'Attendance Awareness Month' in September with a statewide campaign to promote regular school attendance.
The MDE's 'Strive for Less than Five' campaign challenges students to have no more than five absences over the course of the entire school year.
Mississippi's campaign is part of a national movement to reduce chronic absenteeism, which is defined as missing 10 percent of the school year for any reason.
Students who miss an average of two school days per month due to excused or unexcused absences or suspensions are considered chronically absent.
The MDE produces an annual school- and district-level report of chronic absenteeism. The latest report, published in February 2018, showed that 14.2 percent of Mississippi students were chronically absent in the 2016-17 school year. 
"The research is clear about the negative effect that chronic absenteeism has on student achievement," said Dr. Carey Wright, state superintendent of education. "If children are not in school, they are not learning. Starting as early as preschool and kindergarten, chronic absence can leave 3rd graders unable to read proficiently, 6th graders struggling with coursework and high school students off track for graduation."
Similar to national trends, Mississippi's chronic absenteeism rate is high in kindergarten (13.6 percent), tapers off in early elementary years, and increases steadily throughout middle and high school. The rate peaks in grade 12 at 30.1 percent.
Chronic absence differs from average daily attendance (ADA), which is the average number of enrolled students who attend school each day. A school's ADA does not reveal how many students are chronically absent. A school can have an ADA of 95 percent or higher while having a chronic absence rate greater than 10 percent.
Attendance patterns exhibited early in the school year often predict what will occur later in the year. Researchers at Mississippi KIDS COUNT examined the effect of having excessive absences in the month of September. They found that Mississippi students who had missed between two and four days in September were five times more likely to be chronically absent for the year than students who had missed less than two days. The KIDS COUNT study backs up the findings of other national studies.
"School leaders need to examine their data to identify the students who are struggling the most with maintaining regular attendance," Wright said. "We encourage schools to partner with parents and communities to ensure that all students are in school every day learning."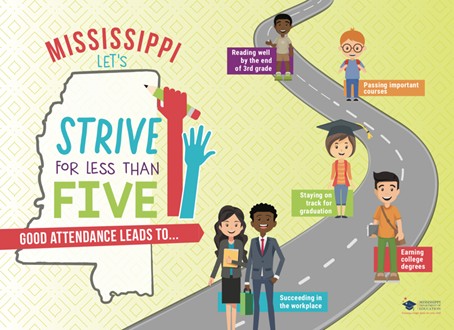 The MDE has distributed Strive for Less than Five yard signs and push cards to school attendance officers to help spread the word about the attendance campaign.
Stay up to date with all of Mississippi's latest news by signing up for our free newsletter here. 
Copyright 2023 SuperTalk Mississippi Media. All rights reserved.