The Mississippi Department of Education is asking for feedback from the public in an effort to strengthen Career and Technical Education programs in the state.
A series of public meetings will happen during the Mississippi Succeeds Career and Technical Education Listening Tour to gather public feedback for Mississippi's plan to meet the requirements of the federal Strengthening Career and Technical Education (CTE) for the 21st Century Act.
The law reauthorizes the Carl D. Perkins CTE Act of 2006 and is referred to as Perkins V which aims to increase access to high-quality CTE programs that meet the changing needs of students and employers.
The MDE and the Mississippi Community College Board (MCCB), with assistance from the Mississippi State University Research and Curriculum Unit, will develop the plan to implement the law.
"This listening tour is an opportunity for stakeholders to provide input on the state's plan to prepare students for success in their chosen careers while meeting the needs of Mississippi employers," said Dr. Carey Wright, state superintendent of education. "We want to hear from a diverse range of stakeholders, including educators, parents, students, and business and industry representatives."
The statewide tour will allow stakeholders and planners to discuss key tenants of the new law, including:
Requiring extensive collaboration among state- and local-secondary, postsecondary, and business and industry partners to develop and implement high-quality CTE programs;
Introducing a needs assessment to align CTE programs to locally identified, in-demand, high-growth, and high-wage career fields;
Strengthening CTE teacher and faculty pipelines, especially in hard-to-fill program areas like Science, Technology, Engineering and Mathematics (STEM);
Promoting innovative practices to reshape where, how, and to whom CTE is delivered;
Expanding the reach and scope of career guidance and academic counseling; and
Shifting responsibility to states to evaluate program quality and optimize student outcomes.
Dr. Wright said the states are expected to see more autonomy and flexibility when administering their CTE programs under the new law, which goes into effect July 1, 2019. The law is also expected to help students more efficiently advance through CTE curriculum, create opportunities and access for historically underserved students in rural and low-income areas, and streamline efficiency and funding.
The schedule of statewide meetings is as follows: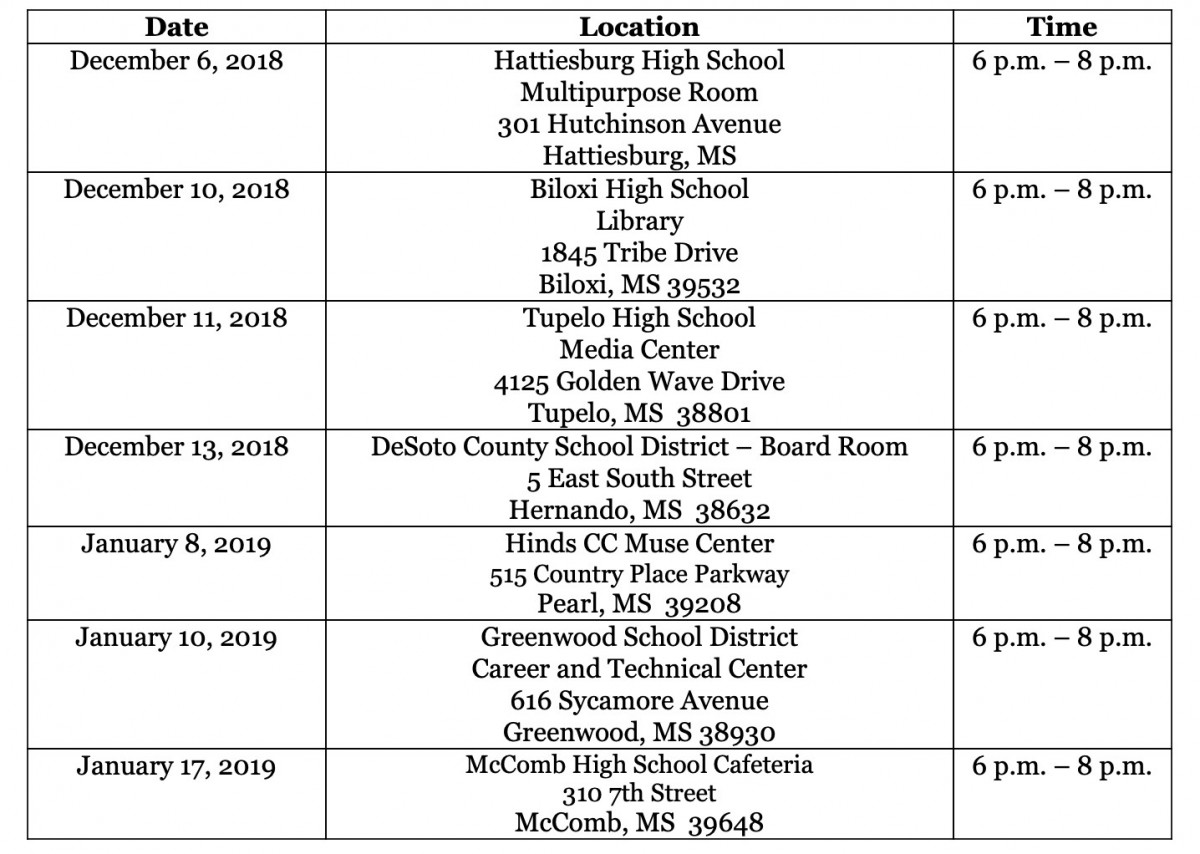 Stay up to date with all of Mississippi's latest news by signing up for our free newsletter here. 
Copyright 2023 SuperTalk Mississippi Media. All rights reserved.