Chronic Wasting Disease (CWD) is a contagious neurological disease affecting deer, elk and moose. It causes the brain to degenerate into a spongy mass, resulting in emaciation, abnormal behavior, loss of bodily functions and death.
Imagine mad cow, but in deer. It may not be transmittable to humans (public health officials are still researching the effects), but it's still dangerous, highly contagious and should terrify hunters. That's why the Mississippi Department of Wildlife, Fisheries and Parks is asking for your help in securing deer samples for testing.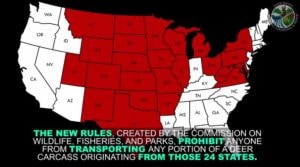 Mississippi isn't known for harboring CWD, so why are wildlife officials looking for help?
Illegal deer importation.
From January of 2009 through December of 2012, Coleman Virgil Slade, 70, Dewayne Slade, 44, of Purvis, and Don Durrett, 72, of Aspermont, Texas conspired to import white-tail deer from Texas to the Slade's land in Lamar County. Texas deer have been identified as carriers of CWD. In January 2017, the massive storms that spawned 24 tornadoes ripped through Lamar County, destroying the fencing used to contain those illegally imported deer.
Officials fear those animals could be contaminating Mississippi's white-tail deer population.
Thankfully, white-tail deer populations rarely roam far, making the study area quite small: only about 5 miles around the area near Hattiesburg. Beginning this month, officials will be making contact with local landowners as hunting season begins.
Public health and wildlife officials advise hunters to take the following precautions when
pursuing or handling deer and elk that may have been exposed to CWD:
– Do not shoot, handle or consume any animal that is acting abnormally or appears to be
sick.
– Wear latex or rubber gloves when field dressing your deer.
– Bone out the meat from your animal. Don't saw through bone, and avoid cutting through
the brain or spinal cord (backbone).
– Minimize the handling of brain and spinal tissues.
– Wash hands and instruments thoroughly after field dressing is completed.
– Avoid consuming brain, spinal cord, eyes, spleen, tonsils and lymph nodes of harvested
animals. (Normal field dressing coupled with boning out a carcass will remove most, if
not all, of these body parts. Cutting away all fatty tissue will remove remaining lymph
nodes.)
– Avoid consuming the meat from any animal that tests positive for the disease.
– If you have your deer commercially processed, request that your animal is processed
individually, without meat from other animals being added to meat from your animal.
More information on chronic wasting disease here.
Stay up to date with all of Mississippi's latest news by signing up for our free newsletter here. 
Copyright 2023 SuperTalk Mississippi Media. All rights reserved.