Mercedes Ricks is a restaurant owner in Magnolia, Mississippi with a fascinating life story that has many unlikely parts to it. After first coming to America illegally in 1999 at the age of 18, Mercedes worked diligently to legalize herself and is now a proud supporter of President Donald Trump.
"I always think about with the immigration and especially right now with the illegal immigration, they forget that word illegal," said Mercedes during an interview on the Paul Gallo show. "Mind you, I swim across the Rio Grande 30 years ago, which I was one of the illegals. I always told myself. If I ever want to grow in this great country, there are two things that I must do. Learn how to speak English and legalize myself."
She adds that when she came to America illegally she didn't call attention to herself as others are doing today.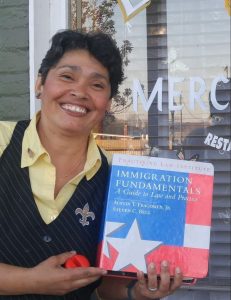 "Today with the DACA situation, all these people had the opportunity to come legal in the previous administration and they didn't do it," said Mercedes. "Then whose fault is that now? It's Trump's fault? No."
When she visits her native country of Columbia, Mercedes says she is often asked by her friends how they can come over and be comfortable.
"I say look, I work every single day of my life," she says. "America gives you the opportunity to grow, but it is not for you to come and take care of them."
Regarding the process that she went through to become legalized, Mercedes says she believes those looking to come over now have to respect the legal steps needed to become an American Citizen.
"We came here for one reason, to live the American Dream," said Mercedes. Jobs, they forget that word, J-O-B-S, We have plenty of jobs everywhere. I have been living in Magnolia for 13 years and have never before seen jobs everywhere looking for employees. During the previous administration, I used to work three days a week because we couldn't afford it. Now we are working seven days a week and I love it every minute because I am an immigrant and that's what I came here for."
As for La Mariposa, Mercedes says they have six different menus ranging from Cajun and Creole to Mexican and even an all American menu featuring 17 different burgers.
"You got the money, we're here to serve you," Mercedes says through her laughter. "Remember, the dollar says In God we trust."
Mercedes is a member of the LGBTQ community and hosts regular drag bingo nights at La Mariposa. While some may believe she would receive criticism for being a lesbian in rural Mississippi, Mercedes says that's not the case as she has a successful business with many supporters and has created roots in Magnolia.  She recently served as an Alderman at large for the town from 2013-2017. However, with all of her accomplishments, Mercedes remains humble and excited to experience the American Dream each day.
"People tell me my story is great, but I don't see it that way," she says. "I just see it as I have to do, what I have to do."
Stay up to date with all of Mississippi's latest news by signing up for our free newsletter here. 
Copyright 2023 SuperTalk Mississippi Media. All rights reserved.