Recovery from Hurricane Harvey will be a long and arduous task, but Mississippians and Texans are coming together to help.
Two Houston Astros pitchers are partnering with Ivey Mechanical and Helping hands from Kosciusko in an effort to Stuff the Semi to help victims of Hurricane Harvey.
Rachel Hawkins, the coordinator of the effort is originally from and Texas said she felt the need to help in some way.
"My cousin, who is in Texas as well, started messaging Houston Astros players asking if they would help us with the shipping and the logistics," said Hawkins.
Hawkins said that when two of the Astros answered things started to take shape.
"Lance McCullers Jr. and Joe Musgrove, two pitchers for the Houston Astros, said that if Kosciusko would stuff the semi, they would take care of all the shipping and logistics.
"Locally we have Ivey Mechanical company helping us," said Hawkins. "They are based out of the southeast of the United States and they have many locations and Ivey does a whole lot for our community. We've also partnered with Helping Hands Ministry. They help feed and clothe the people in Kosciusko and Attala County and have done that since 1987."
Hawkins continued.
"These two companies along with the Houston Astros players, it just all fit," said Hawkins. "It happened extremely fast and the outpouring of wanting to help has just been overwhelmingly phenomenal and we are very excited."
Hawkins said the community has also gotten involved and are looking forward to stuffing the semi.
"There's been a ton of outpour from our community of wanting to help do something and so it gave us the opportunity to stuff the truck, stuff a semi truck full of supplies and donations, and everything to get it down to Texas and to the people that need it," said Hawkins.
Hawkins said people can drop off donations at 514 North Wells Street in Kosciusko Friday, September 1st 7 a.m. – 7 p.m., Saturday 8 a.m. – Noon, Monday, 8 a.m. – Noon, Tuesday, 7 a.m. – 7 p.m., and Wednesday 7 a.m. – 7 p.m.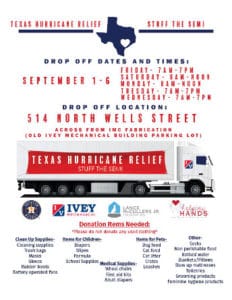 Reeds Metals in Brookhaven is also sponsoring an event to collect cleaning supplies to help with Harvey clean up.
"Everybody wants to help, but it's so hard to find out where to take the stuff and how to get it to the right place at the right time," said Bernie Reed, President, and CEO of Reeds Metals.
Reed said they are reaching out to the public schools to get the word out.
He said people in the Meridian, Tupelo, and Brookhaven areas can send supplies to school with their children where they will be picked up Friday, September 8th.
Cindy Hyde Smith, Commissioner of Agriculture said volunteers will accept cleaning supply donations from 8:30 a.m. until 11:30 a.m. Friday, September 8th at The Farmers Market in Jackson.