This week Mississippi is going purple to recognize National Crime Victims' Rights Week. The Office for Victims of Crime is an agency within the Department of Justice and has declared April 7-13 National Crime Victims' Rights Week (NCVRW). Marsy's Law for Mississippi has been traveling the state in an effort to educate and inform local and state elected officials, as well as voters throughout Mississippi, about the need to strengthen the rights of victims in our state.
In honor of NCVRW, the Governor's Mansion in Jackson, the Hard Rock Casino in Biloxi, and the Lee County Courthouse in Tupelo were lit in purple for a 24-hour period beginning at dusk on Monday the 8th until dusk on Tuesday the 9th. Mississippians in the Northern, Central and Southern part of the state will be reminded about the importance of having a real debate to ensure that crime victims in Mississippi will have the same rights no matter the city or county they live in.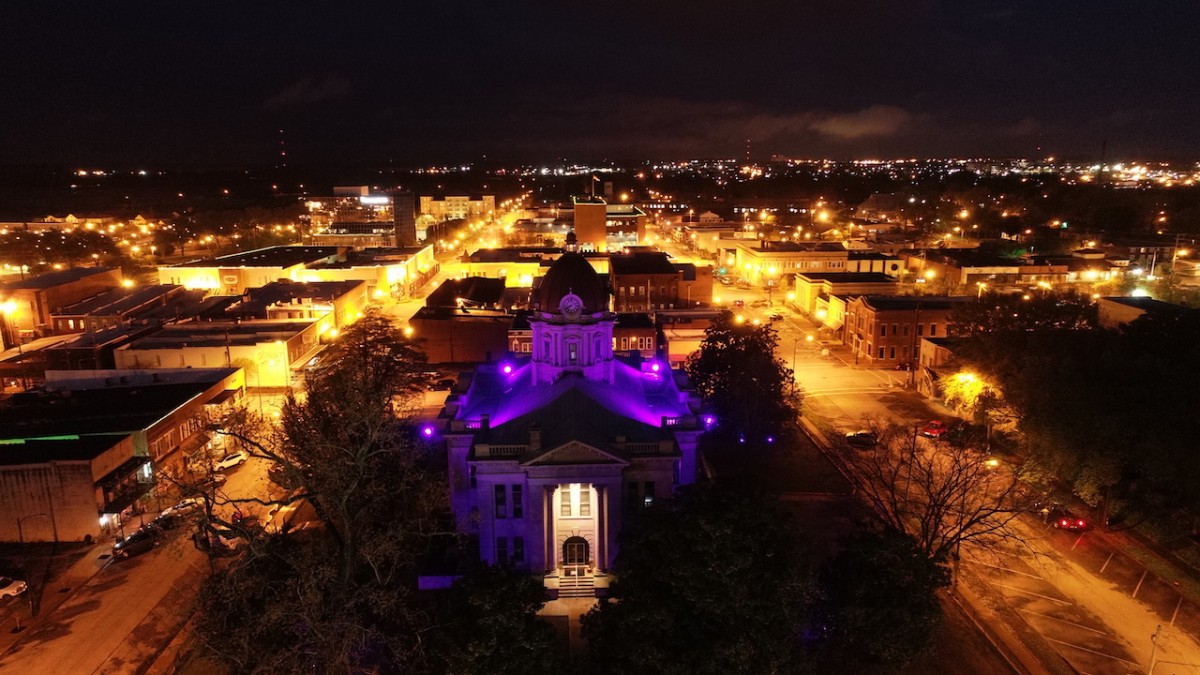 The focus of Marsy's Law for Mississippi is to update and strengthen existing crime victims' rights overwhelmingly approved by voters in 1998. In addition, Marsy's Law would give crime victims the right to be notified when an offender escapes or absconds from probation or parole and the right to confer with prosecutors. It also specifically grants victims the legal standing to address the court and ask to have their rights enforced in cases when those rights have been ignored.
Attorney General Jim Hood along with other victims' rights leaders presented four awards honoring Mississippi crime victims and those who are advocates for victims in our state. The awards were presented at the annual Mississippi's Crime Victims' Rights Awards Ceremony, which held the theme "Honoring our Past: Creating Hope for our Future."
"We've seen a number of individuals go really above and beyond the call of duty," said U.S. Attorney Mike Hurst. "They've helped victims get to court, staying with victims so that they feel protected, making sure that the victims have their day in court and are heard."
The award recipients included the following:
The Attorney General's Crime Victim Compensation Division presented the following award:
Distinguished Service Award: Brenda Hendricks, Billing Specialist II, University of Mississippi Medical Center – Brenda was recognized for her diligence in providing the division with billing documentation essential to processing the requests for medical expenses from victims of violent crimes.
The Mississippi Coalition for Survivors of Homicide presented the following 2019 Amy Clayton Awards:
The Amy Clayton Justice Achievement Award: Investigator Bill Lott, Lieutenant, Starkville Police Department – Lt. Lott was recognized with this award for his tireless dedication in solving the 1990 "Labor Day" murders of Betty Jones and Kathryn Crigler, whose killer was finally identified and arrested in 2018 after testing the DNA of more than 60 people.
The Amy Clayton Victim Service Award: Joy Jones, Bureau Director I, VAWA Administrator, Office Against Interpersonal Violence – Jones was recognized for her many years of exceptional work in assisting victims of violent crime. Victim advocacy has been Jones' chosen profession since 2001, where she has served in many different capacities such as grant coordinator and shelter director for Care Lodge in Meridian, Deputy Director of the Crime Victim Compensation Division with the Mississippi Office of the Attorney General, volunteer for the Mississippi Coalition for Survivors of Homicide, and Violence Against Women Act grant administrator for the Mississippi Department of Health, Office Against Interpersonal Violence.
The Amy Clayton Volunteer Award: Danny and Lisa Mann, volunteers for the Mississippi Coalition for Survivors of Homicide – After the murder of her father in 1989, Lisa and her husband, Danny Mann, began volunteering at Shafer Center for Crisis Intervention in Hattiesburg, Mississippi, and the Mississippi Coalition for Survivors of Homicide.  Lisa is now a full-time

employee of the Shafer Center, coordinating their efforts for victims of homicide, and both she and Danny continue to use the insight they have gained from their personal experience as homicide survivors to bring awareness to victim issues and provide supportive services to victims of violent crime.
Paula Granger, Training and Technical Assistance Coordinator of the Mississippi Coalition Against Domestic Violence, presented the Image of Resilience Survivor Award: Shavonne Osborne – Shavonne is a survivor of domestic violence who has used that negative situation to give a voice to the voiceless by helping other victims through her volunteerism with domestic violence organizations.
"I speak for many in the attorney general's office in saying how thankful I am for each of these award recipients for using their time and talents to assist victims of crime in our state," General Hood said. "One of my proudest efforts during my time as attorney general has been helping victims and making sure our office is staffed with and collaborates with people who truly care about someone in their darkest moment. I'm incredibly appreciative of the hard-working staff in our office's Bureau of Victim Assistance who spend each day doing whatever they can to make sure victims receive the financial assistance and direct services needed during the aftermath of a violent crime."
*Photos courtesy of Marsy's Law for Mississippi and Clearwater Group LLC.
Stay up to date with all of Mississippi's latest news by signing up for our free newsletter here. 
Copyright 2023 SuperTalk Mississippi Media. All rights reserved.