The Mississippi Highway Patrol and Mississippi Department of Education have teamed up on a safety campaign to ensure children get to and from school without incident. 
Members of the Highway Patrol were joined by MDE and students to encourage drivers to be more aware when driving around a school bus.
"When kids are getting on the bus you have to pay attention to everything especially other cars," said longtime driver Philip Nelson, the Director of Transportation for the Brandon District. "A lot times people have their phone out and aren't paying attention, or they see the bus and just want to get past or around and so they go on by and aren't really paying attention."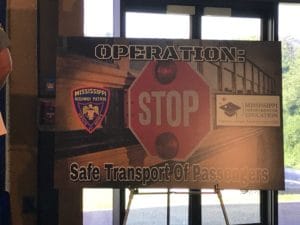 Colonel Chris Gillard with the MS Highway Patrol said a survey was conducted across 30 states from January till now and they found that 78,000 vehicles that were passing stopped school buses.
"As you can see there is a huge need to make sure we play our part to make sure our most valuable assets make it home and then back to school safely," said Colonel Gillard.
Highway patrolmen will be seeking out areas with school buses to monitor that other motorists are obeying traffic laws when school buses are loading and dropping off students. Officials said visibility of those patrol cars will begin immediately.