Mississippi showed a significant increase in 8th grade Reading on the 2017 National Assessment of Educational Progress (NAEP) compared to 2015 scores, tying with Washington state for the greatest gain of 4.4 points in average score on the Nation's Report Card.
The 8th grade Reading scale score rose from 252 in 2015 to 256 in 2017, which is considered statistically significant. The 8th grade Reading proficiency rate in 2017 was 25 percent, up from 20 percent.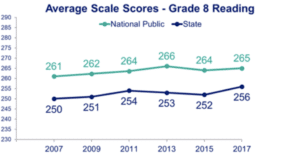 Overall, Mississippi proficiency rates for 2017 in 4th-grade reading and math and 8th-grade math was not significantly different than in 2015, reflecting the national trend of flat results. The 4th-grade Reading score in 2017 was 215, compared with 214 in 2015, with a proficiency rate of 27 percent.
The 4th-grade Mathematics score was 235, compared with 234 in 2015, with a proficiency rate of 31 percent. The 8th-grade Mathematics score remained at 271 in 2017, with a proficiency level of 22 percent.
"Commitment to higher academic standards, intense focus on literacy, effective professional development and hard work of teachers and administrators resulted in Mississippi students maintaining progress on the NAEP assessment and significantly increasing performance in 8th-grade reading," said state superintendent of education Dr. Carey Wright. "We cannot let up on higher expectations for students."
Lieutenant Governor Tate Reeves along with Governor Phil Bryant added their congratulations to educators and students saying that the education reforms in Mississippi are working.
"We couldn't have made these strides without the hard work of Mississippi teachers, administrators, parents, and students," said Lt. Gov. Tate Reeves.
NAEP is known as the nation's report card and is the largest nationally representative assessment of what America's students know and can do in various subject areas. NAEP assessments are administered every two years to a random sample of students. In 2017, Mississippi students in 112 districts and 256 schools participated in the NAEP assessment.
Mississippi was the only state to see increases in scores by fourth and eighth graders from 2013-17. We were also one of only four states with significant improvement in math scores in at least one grade. Our innovative education reforms are working. #MississippiProud https://t.co/lA7uWlM3Mp

— Phil Bryant (@PhilBryantMS) April 10, 2018

Most subgroups' performance remained flat in NAEP proficiency since 2015. This includes students with disabilities, African Americans, females, and economically disadvantaged students. The one exception is the performance by Hispanic students.
In 4th grade mathematics, Hispanic students saw a 10-point increase in average score, from 229 in 2015 to 239 in 2017. This score was achieved with more students being tested in 2017 than in 2015.
Over a 10-year span, Mississippi has achieved extraordinary outcomes on the NAEP assessment, surpassing the national average in score gains in both tested subjects and grades.
10-Year Trend on Mississippi NAEP scores 
 
Reading 2007 to 2017
 
 
4th Grade 2007
4th Grade 2017
+/-
8th Grade 2007
8th Grade 2017
+/-
MS
208
215
+7
250
256
+6
Nation
220
221
+1
261
265
+4
 
Mathematics 2007 to 2017
 
 
4th Grade 2007
4th Grade 2017
+/-
8th Grade 2007
8th Grade 2017
+/-
MS
228
235
+7
265
271
+6
Nation
239
239
0
280
282
+2
Mississippi NAEP Highlights 2007-2017:
Mississippi is 4th in the nation for gains in 4th-grade math.
Mississippi is 7th in the nation for gains in 8th-grade math.
Mississippi is 2nd  in the nation for gains in 4th-grade reading
Mississippi is 12th  in the nation for gains in 8th-grade reading
Although Mississippi showed marked improvement in 8th grade Reading and maintained gains in 4th grade Mathematics and 8th-grade Mathematics and 4th Reading in 2017, the state remains in the bottom tier for each tested subject and grade. In addition, the achievement gap that exists between economically disadvantaged students and their more economically advantaged peers, as well as African-American and Hispanic students, remains large in Mississippi, as it does in the nation.
"Mississippi's NAEP scores affirm that we are moving in the right direction for improving academic achievement, but we still have more work to do to ensure every child, regardless of race, poverty-level or disability, has the same opportunity to excel," said Wright. "That's why our state's strategic plan places an intense focus on improving educational outcomes in all subgroups of students."
Stay up to date with all of Mississippi's latest news by signing up for our free newsletter here. 
Copyright 2023 SuperTalk Mississippi Media. All rights reserved.