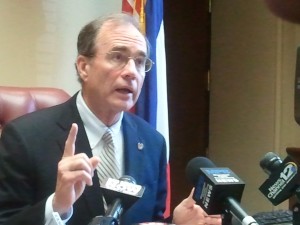 JACKSON, Miss. — Today's US Supreme Court Ruling striking down the section of the Voter Rights Act requiring some states to get federal approval before making changes to its voting laws has given Mississippi the go ahead on voter ID.
The process for implementation of Constitutional Voter Identification begins today.  It will be conducted in accordance with the Constitutional Amendment adopted by the electorate, funded by the Legislature, and regulations as proposed by the Secretary of State," said Mississippi Secretary of State Delbert Hosemann.
That process includes training circuit clerks statewide and making sure all registered voters have an acceptable form of ID.  "We have a memorandum of understanding with the Mississippi Department of Transportation to provide free transportation to every single citizen who wants to go to get a voter ID.  …And we have free ID in 92 circuit clerks offices across the state," he explained.
Hosemann says the Voter ID law could be in place as early as next year's June 3 primary elections.