Mississippi voters are beginning to think about the upcoming August primary and November general elections, which will feature all legislative and state elected offices on the ballot. The April 2019 Millsaps College/Chism Strategies State of the State Survey sought input from voters on issues expected to come into play during the election season.
"In our seventh quarterly survey, we decided to take the public's pulse on a number of issues that we believe will prove to be significant in the upcoming August primary election and November general election," said Dr. Nathan R. Shrader, assistant professor of political science and director of American Studies at Millsaps College. "There certainly appears to be an appetite for reform and change when it comes to raising the minimum wage, restoration of voting rights, the future of the state sales tax applied to groceries, and how to fund infrastructure projects. However, opinions are mixed when it comes to deciding how to best move forward. We also see unflinching support for policies like required vaccinations, the need to spend more on infrastructure improvements, and support for rural hospitals."
The latest survey finds some areas of agreement on issues such as raising the minimum wage in Mississippi, the importance of rural hospitals, restoration of voting rights for felons, infrastructure funding, and required vaccinations for children. Meanwhile, voter reaction is considerably more mixed regarding the state's general direction, the state legislature, abortion legislation, how to fund infrastructure improvements, and the state sales tax on groceries.
Overall, 72 percent of Mississippi voters support raising the state's minimum wage, which is currently set at the hourly federal minimum of $7.25, while just 24 percent oppose an increase. A plurality of 36 percent back raising it to $10.00 per hour, 19 percent favor $15.00 per hour, and 17 percent want it set at $12.50 per hour. For the seventh consecutive quarter, voters have identified "fixing our state's roads and bridges" as the top priority for Mississippi leaders, while 79 percent say the state is not spending enough on infrastructure projects like roads and bridges. Mississippians also overwhelmingly back current state laws that require parents to vaccinate their children, with 74 percent favoring such an approach and 18 percent in opposition.


Meanwhile, voters are split regarding the state's trajectory, with 37 percent believing the state is headed in the right direction and 35 percent saying it is heading in the wrong direction. The survey was conducted just days after the legislature adjourned and found that 43 percent disapprove of the state legislature's job performance, while just 26 percent approve. Voters are slightly more likely to approve of the work being done by their own legislators (42 percent) compared to those who disapprove (38 percent).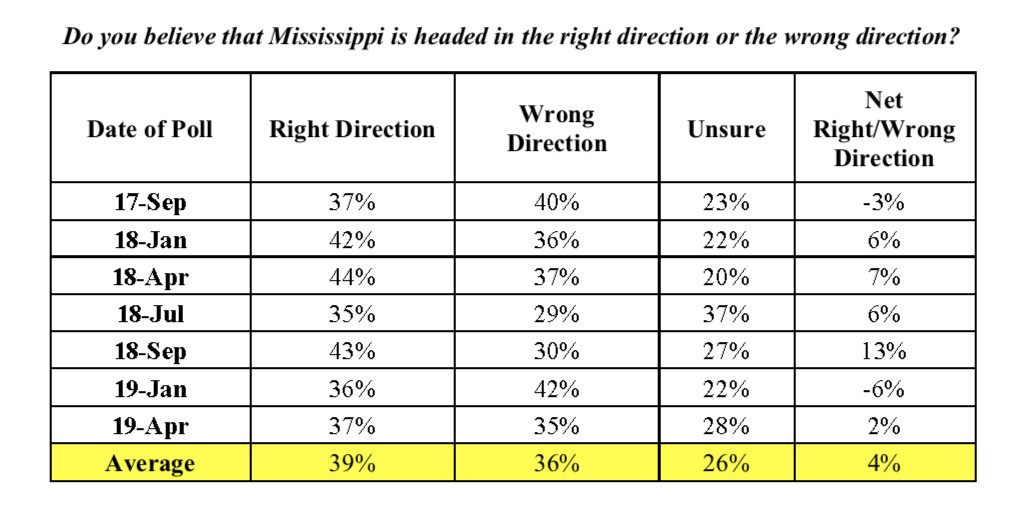 Mississippi voters feel strongly about the well-being of the state's rural hospitals and plan on determining how they will vote this November with the issue in mind. 56% of respondents say that the preservation of Mississippi's rural hospitals will be "very important" in determining how they vote this November, compared to 25% who said this will be "somewhat important" and just 10% who say it is "not very important."
Fixing the state's roads and bridges remains the top priority for Mississippians for the seventh consecutive quarter. Nearly 80% of voters agree that the state is not spending enough money on transportation infrastructure projects like roads and bridges, but are divided on how to pay for upgrades. Over a quarter of Mississippi's voters say that elected leaders in Jackson ought to be prioritizing fixing the state's roads and bridges above other policy priorities.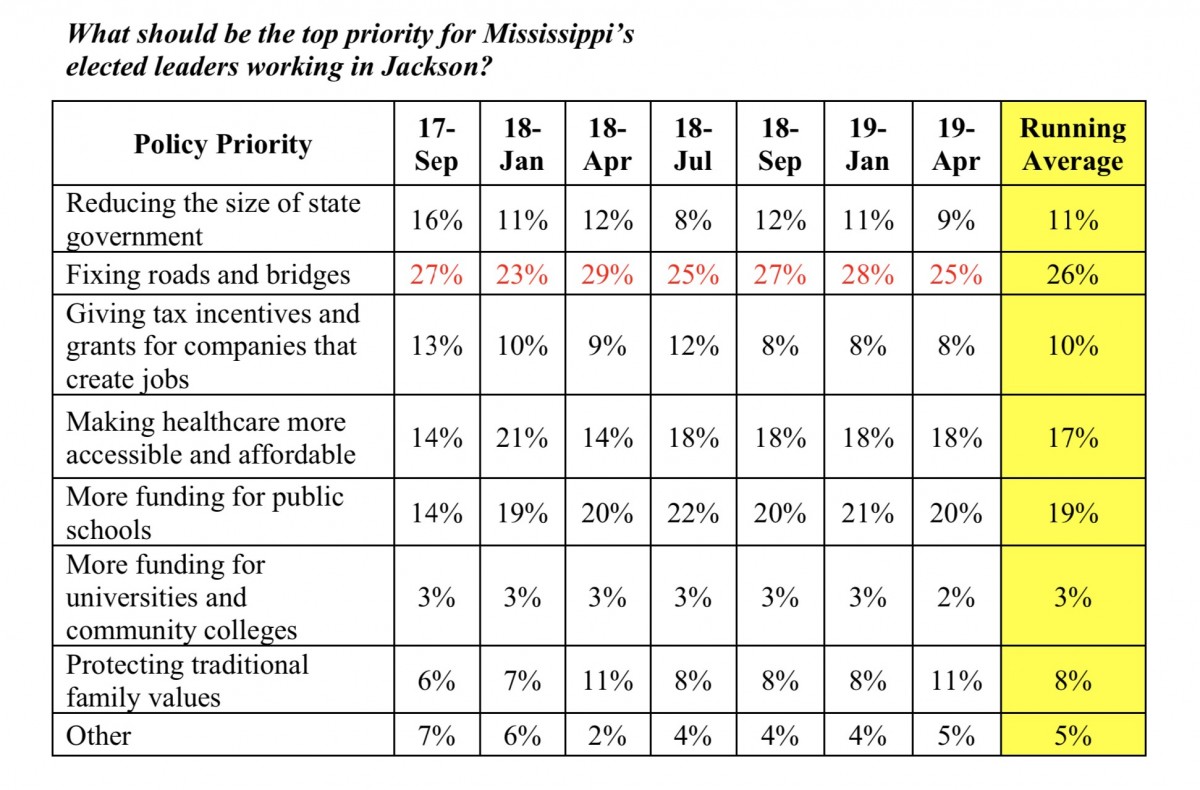 A strong, bipartisan majority of Mississippians, 74%, think that parents should be required to vaccinate their children as opposed to just 18% who believe that parents should be allowed to refuse to vaccinate their children.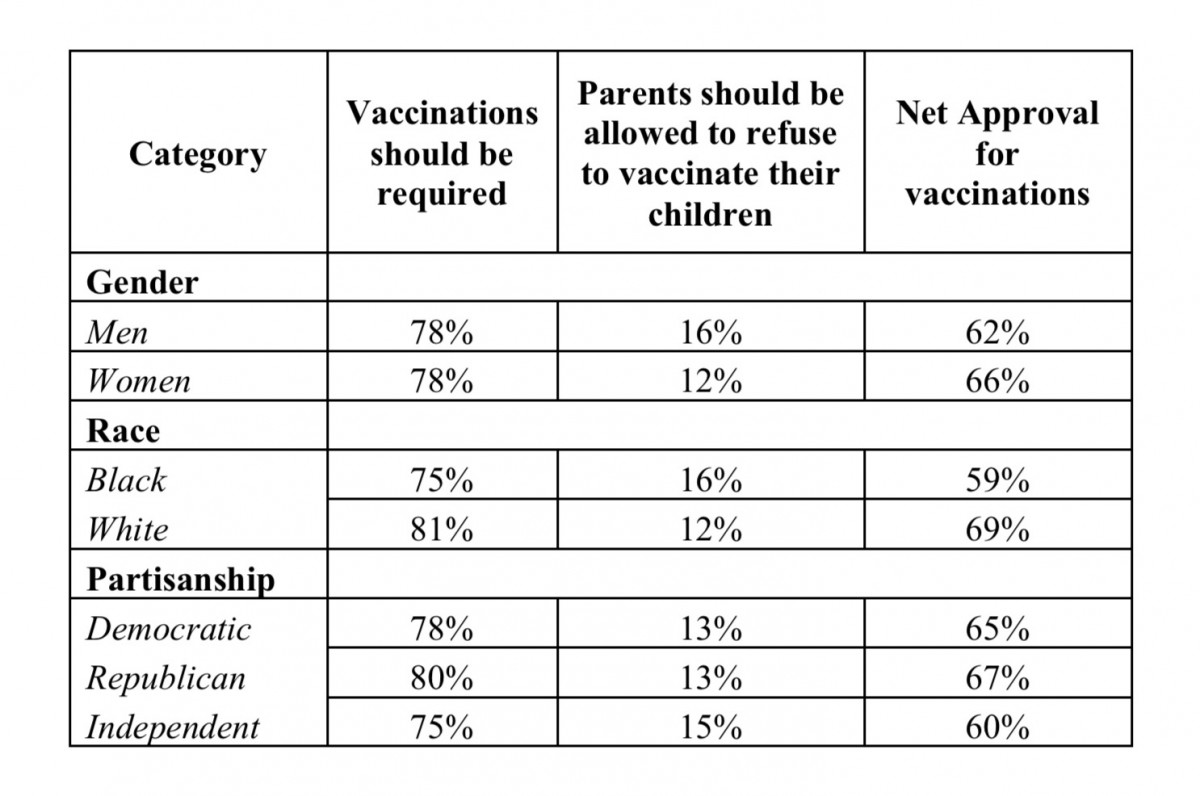 Voters are also divided on whether the state should have proceeded with controversial abortion legislation that will likely be tied up in the federal courts.
Mississippi voters express mixed feelings about the legislation, which even supporters acknowledge will face a legal challenge later this year,  eventually costing Mississippi taxpayers who will have to pay to defend the state's position. A number of voters, 43%, believe that decisions about abortion are best left to the woman and her health care provider, 38% say that the state should spend whatever it takes in court to defend the new law even though it will likely be struck down, and another 20% say that they are pro-life, but feel that defending legislation that may prove to be unconstitutional is a waste of taxpayer funds.
Stay up to date with all of Mississippi's latest news by signing up for our free newsletter here. 
Copyright 2023 SuperTalk Mississippi Media. All rights reserved.