The Mississippi Alcoholic Beverage Control has uncovered a large-scale moonshine operation in Hancock County.
Early Tuesday, ABC agents executed a warrant on Hubert Dedeaux Road in the area.  When they arrived, agents discovered 66-year-old Donnie Ray Cuevas in the process of cooking moonshine. Cuevas was promptly arrested and charged for possession of an illicit distillery.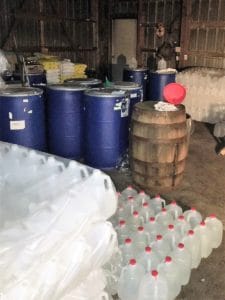 The search resulted in the seizure and destruction of:
200-gallon stainless steel cooker
Copper condenser
Approximately 300 gallons of moonshine whiskey
800 gallons mash
2600 pounds sugar
624 gallon jugs.
It is estimated that the loss of federal and state taxes from this operation is $3,360 a week.
Bond has not been set at this time.  The investigation is ongoing, and the ABC stated that more arrests are possible.
This is the second moonshine bust to occur in Hancock County since June. Agents previously recovered nearly 80 gallons of moonshine and hundreds of pounds of unprocessed materials from a property on Dummy Line Road.
Stay up to date with all of Mississippi's latest news by signing up for our free newsletter here. 
Copyright 2023 SuperTalk Mississippi Media. All rights reserved.