Photo courtesy of MSU Athletics
Last night, the #18 Ole Miss men's basketball team played their first game as a ranked team since 2013, and they lost to LSU.
#24 Mississippi State dropped their first two games in SEC play, and they were able to get a much-needed win last night over Florida at home.
Below, you'll find a recap of both games from SportsTalk Mississippi's Beat Reporters Brian Scott Rippee (Ole Miss) & Brian Hadad (MSU).
LSU: 83 Ole Miss: 69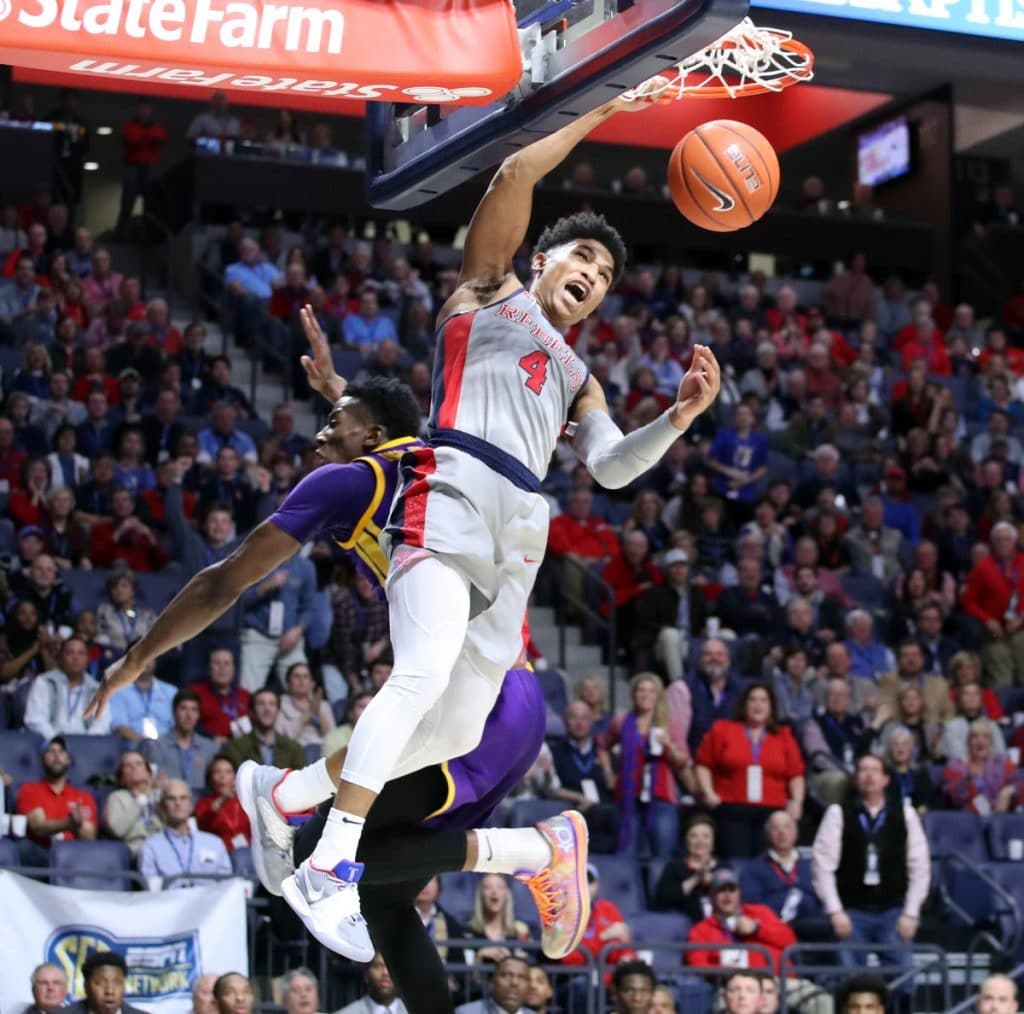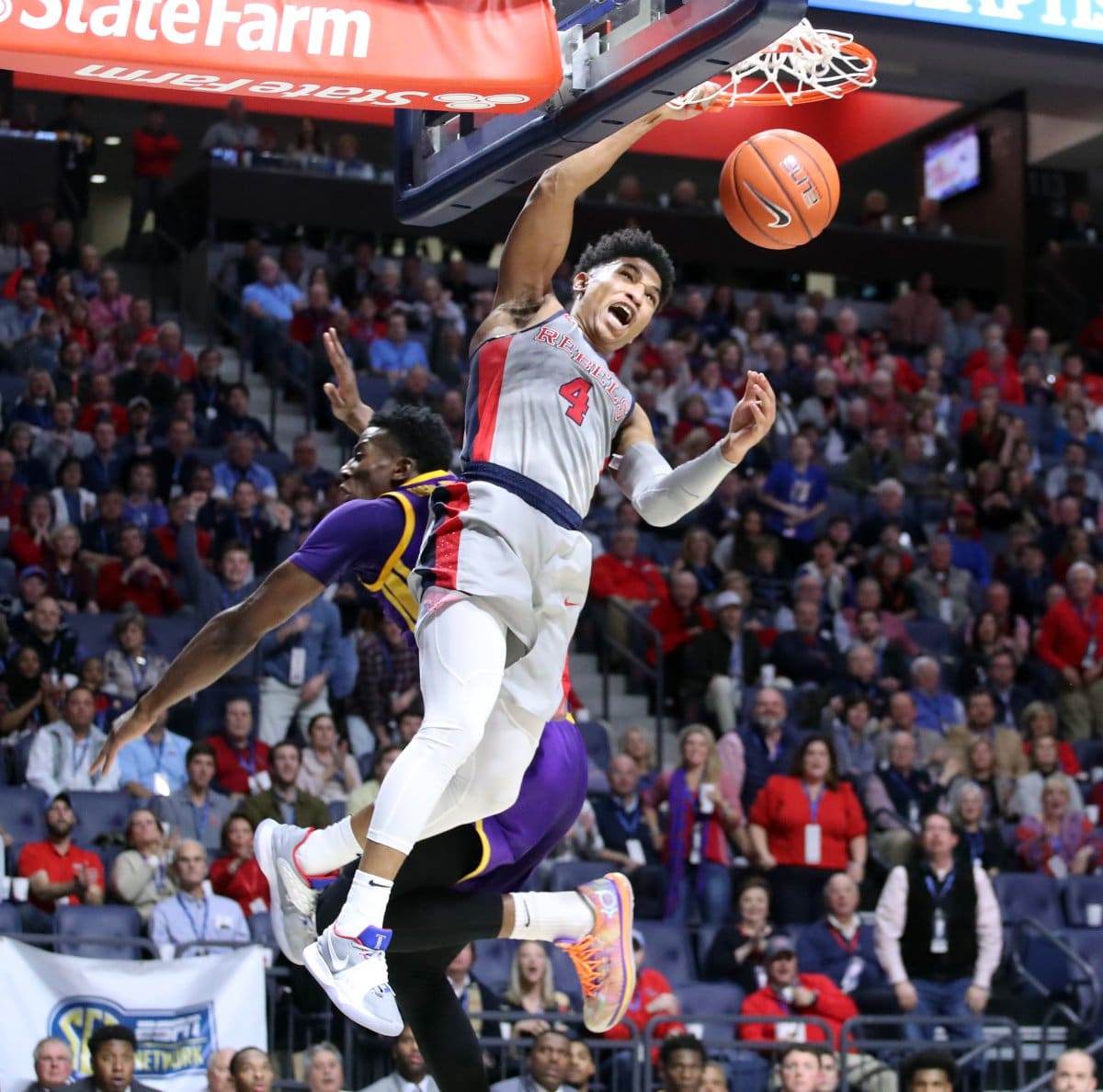 Story by Brian Scott Rippee 
Ole Miss gravitated back towards the earth a bit in its 83-69 loss to LSU on Tuesday night at The Pavilion.
The Rebels ran into a team that is long, athletic and talented in the low post. Ole Miss struggled to finish around the rim and its shot selection was poor.
"We had no ball movement," Kermit Davis said. "Didn't trust the offense in the first half. The ball never really got off the ground and we were dribbling for shots. (Karvell) Bigby-Williams dominated the game at the rim. We couldn't get anything off around the rim."
Terence Davis led Ole Miss with 21 points n 8-of-20 shooting, a stat line reflective of how the night went for Ole Miss, inefficient from the field and frustrated by the length of the Tigers. Breein Tyree had 11. Tremont Waters had 20 points and nine assists for LSU, including a couple of three-pointers that squashed any sort of momentum the Rebels tried to garner in the second half after they fell behind.
Both teams limped to a 31-31 tie in the first half before LSU began to impose its will in the second half of the game, jumping out to a lead that swelled as high as 12 points. The Tigers turned Ole Miss over 16 times, snagged 14 steals and scored 32 paint points.
"That is the hardest I have seen LSU guard," Kermit Davis said. "I have watched like five tapes and it isn't even close. That is the hardest I have seen play and the hardest I have seen them guard. Their team had a purpose. We just got intimidated around the rim."
Bigby-Williams scored 14 points and pulled 10 rebounds. He was a force around the rim defensively and frustrated Ole Miss off the bounce. Terence Davis certainly felt Williams' presence.
"Bigby-Williams, oh my god," Terence Davis said. "He is long. I don't know if he is a McDonald's All-American or not, but how many boards did he have? Ten? Four offensive? That is where they won the game. They got extra possessions."
Toss in an uncharacteristically bad night from the free throw line and Ole Miss was left to deal with an unkind result. It shot 9-of-17 from the line for the game.
"They have been killing people from the foul line," LSU head coach Will Wade said. "I mean they were outscoring teams 61-37 in SEC from the free throw line. Everyone gets caught up in the three-point shooting, but that is the margin in their wins. We wanted to control the foul line and the only way you do that is attack, force them to foul you and then defend without fouling. We win by 13 and the free throw margin is 11 points. That is where the margins have been for Ole Miss."
So, what does this mean for Ole Miss? Well, to put it simply, it ran into a team that was better than them in the low post — something that was thought to be this team's weakness heading into the year — and got exposed. Bigby-Williams' presence inside was overbearing and his rim protection stymied the Rebels' guards trying to get to the rim off the bounce. It was Ole Miss' first loss since Nov. 24 after reeling off 10 consecutive victories. The Rebels are 13-3 (3-1) with a home game against Arkansas on Saturday. Picking off two ranked teams last week increased their margin for error by a wide margin.
But where does this team lack much margin for error? Depth, and especially health. Kermit Davis said after the game that Devontae Shuler has been hobbled with a foot injury for "about a week-and-a-half," and has not practiced much. Terence Davis said he believed Shuler was dealing with some sort of stress fracture.
"We don't have much margin for error with two or three of those guys," Kermit Davis said. "It is just one of those games for us, but we are going to have to let it go and get ready for Arkansas."
Shuler is the most invaluable piece on the team. His ability to play the point allows Breein Tyree to play off the ball. Ole Miss is a better team when this happens and undoubtedly struggles more offensively when Tyree is forced to play point guard. With freshman Franco Miller out for the season, Tyree is the de facto backup and will have to play more point if Shuler is forced to miss time.
"Breein is going to have to play there," Kermit Davis said. "We need him off the ball more, but he is going to have to play there some. Devontae is tough and he is going to try."
Kermit Davis said they will evaluate Shuler and decide what to do moving forward. He noted D.C. Davis will likely see time at point guard too.
As for now, Ole Miss is forced to rebound from its first dose of adversity in quite a while.
"We will respond," Terence Davis said. "I will make sure of that."
Florida: 68  Mississippi State: 71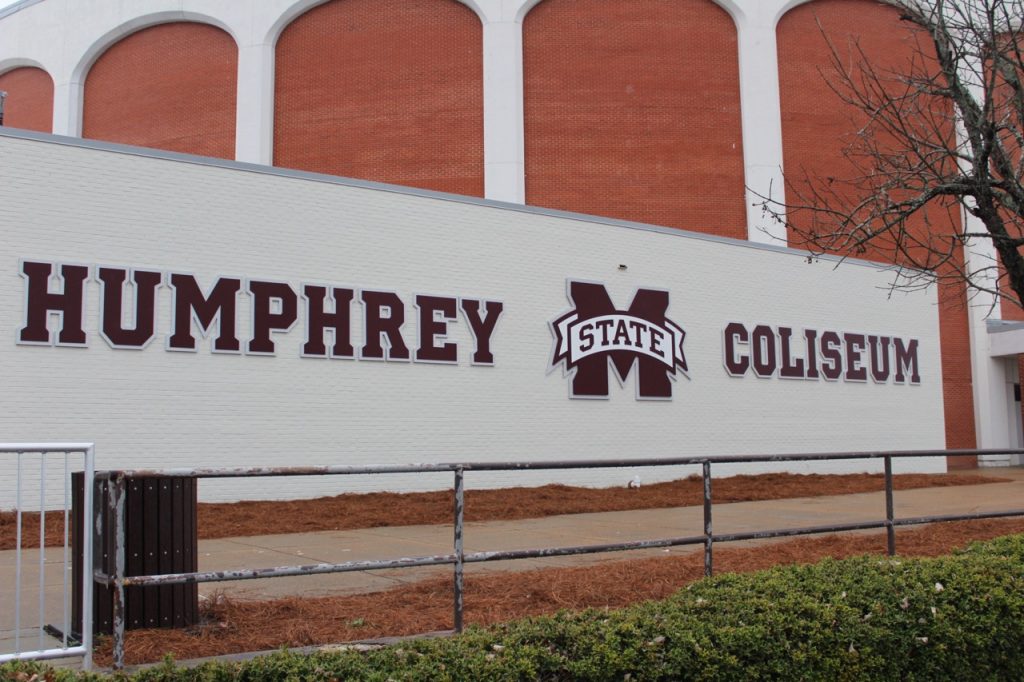 Story by Brian Hadad
Mississippi State wasn't quite in must-win mode Tuesday night, but a third straight defeat to open SEC play would have been a bitter pill to swallow. Instead, the Bulldogs tasted a sweet victory, winning a back and forth contest over the Florida Gators 71-68. State shot the ball at a great 53% clip, including 58% from behind the three point line, but 12 offensive boards and 15 MSU turnovers kept Florida in the game. In the end, Bulldog senior guard Quinndary Weatherspoon took control, scoring with 3.6 seconds remaining and drawing a foul to give the Bulldogs the final margin.
THE PLAYER
GAME WINNER by yours truly @IAM_QUINN11 pic.twitter.com/ELakydv4Fu

— MSU Men's Basketball (@HailStateMBK) January 16, 2019
Quinndary Weatherspoon knows a thing or two about game winning shots, as this one gave him five for his career. Ben Howland drew up a play to give either Weatherspoon or point guard Lamar Peters a chance to drive to the rim and get the bucket. In the end, Peters deferred to the senior, and the decision paid off. Florida had a chance with 3.6 seconds remaining, but the Gators came up empty, sealing the game up for the maroon and white.
THE PLAYER
Lamar Peters DISTGUSTING crossover 🤢 he got 16 at the half 💰 pic.twitter.com/Yqb6JwW0Fx

— VERSACEBOYENT (@VersaceBoyEnt2) January 16, 2019
The closing seconds belonged to Weatherspoon, but the first half was all Lamar Peters. He went on a personal 11-0 run that pushed the Bulldog lead to 8, finishing with 16 points in the first 20 minutes of the game. Peters didn't have a bucket in the second half, but his presence freed up some shots for his teammates, and he dished out 6 assists. MSU has showed at times this year it can win when Peters isn't at his best, but it sure makes it easier for the Bulldogs when he is.
HOW BIG WAS THIS WIN?
Howland: "This was really important."

— Brian Hadad (@brianhadad) January 16, 2019
Ben Howland was right. 0-2 in the conference is manageable, 0-3 with four of your next five games on the road is a much taller task. Like I said at the beginning of this post, it wasn't a must-win game, but it was as close as you can get in mid-January. It was easy to tell the Bulldogs were lacking some confidence coming into this game, now with a win, we'll see if this team can grab hold of some momentum entering what appears to be a difficult stretch.
WHAT'S NEXT?
Commodores return home for a three-game home stand with South Carolina leading things off Wednesday.

📃| https://t.co/PYUxpVqqjF
📺| @SECNetwork
💻| https://t.co/Mno6if7tEA
🎙| https://t.co/5Mok8J7xGz
📊| https://t.co/Hhj0RXWAO4 pic.twitter.com/y7RGoAt0Om

— Vanderbilt Men's Basketball (@VandyMBB) January 15, 2019
Vanderbilt will take on South Carolina on Wednesday before they welcome the Bulldogs to Memorial Gymnasium Saturday night. The Bulldogs haven't won in Nashville since January 2012, when Rick Stansbury was still on the bench. State dropped a heartbreaker to the Commodores a season ago, with a Riley LaChance three-pointer coming with .5 left being the margin of defeat in an 81-80 decision. Vandy sits at 9-6 overall, 0-3 in conference, and are missing their star player, freshman point guard Darius Garland, who is out for the season with a meniscus injury. The Commodores were 4-0 before his injury, only 5-6 since. Mississippi State will look to make it two wins in a row in conference play and get back to .500 with a road trip to Kentucky looming.
We'll talk about this in much greater depth on the Thunder & Lightning Podcast and SportsTalk Mississippi on Wednesday.
Stay up to date with all of Mississippi's latest news by signing up for our free newsletter here. 
Copyright 2023 SuperTalk Mississippi Media. All rights reserved.