Week two of the college football season is upon us, and teams across Mississippi are looking to follow up a high-scoring week one with more dominant performances.
#18 Mississippi State @ Kansas State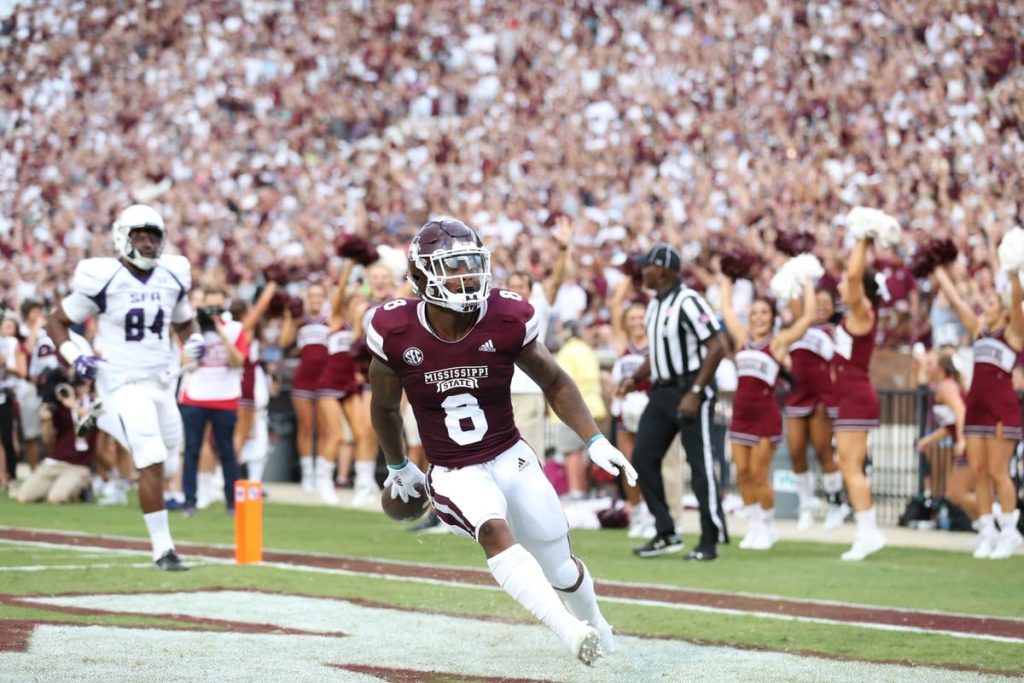 A 63-6 rout of Stephen F. Austin was exactly the start to the Joe Moorhead era that the #18 Bulldogs were looking for in week one. The only thing missing was QB Nick Fitzgerald, who was serving his one-game suspension. Fitzgerald will return as MSU takes on Kansas State for their first road game of the 2018 season. 
Before the season, Moorhead told Fitzgerald that he has Heisman-like aspirations for him this season, and now we get a chance to see the senior operate in the new offense. Keytaon Thompson stepped in and didn't miss a beat last week. The offense scored on their first play, and showed flashes of what made Moorhead a sought-after candidate in the offseason. With weapons like Kylin Hill and Aeris Williams in the backfield and a talented group on the outside, the Wildcat defense may be on their heels all game long. 
The Bulldogs were dominant on defense in week one, led by the d-line, which may be one of the best in the country. Montez Sweat picked up where he left off in 2017 with two sacks and 3.5 TFL. His counterpart, Jeffrey Simmons, also had a big day with 3.5 TFL as the team totaled 17 of them. The opponent gets significantly better this week, but the game can be controlled in the trenches which bodes well for the Bulldogs. 
For Kansas State, they narrowly pulled out a 27-24 victory over South Dakota in week one. The Wildcats can play better, and they showed that they won't quit as they scored 15 in the fourth quarter to complete their comeback. A player to watch for KSU is WR Isaiah Zuber, who took a punt back for a TD and caught the eventual game-winning pass from QB Skylar Thompson late in the 4th. 
While Moorhead was impressed by KSU on both sides of the ball, he knows that there are three phases in football. 
"Although the offense and defense are both very impressive units, they are awesome on special teams. They coordinator, Sean Snyder is in his eighth year. They are one of the top special teams units in the country. Looking at last year, they had a 95 -yard punt return for a touchdown. Zuber had an 85-yard punt return last week in the fourth quarter, and he's averaging almost 50 yards per return," Moorhead said.
Kick-off from Bill Snyder Family Stadium is set for 11:00 a.m. 
Southern Illinois vs. Ole Miss: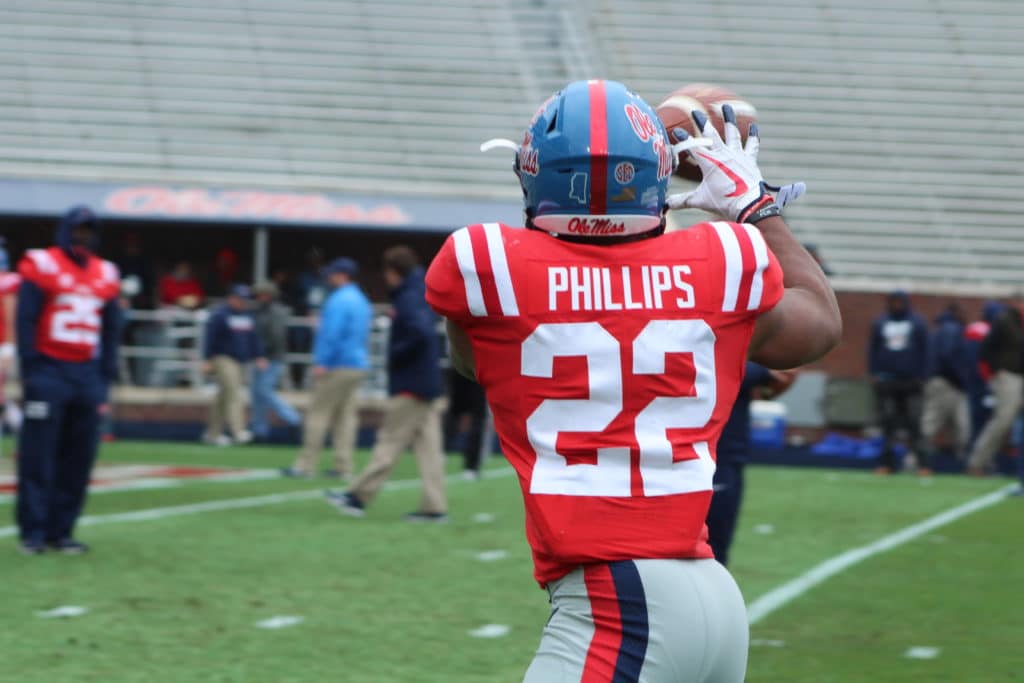 Ole Miss traded jabs with Texas Tech before pulling away to get to 1-0. This week, they'll most likely get a chance to play some younger guys as Southern Illinois comes to Oxford. Last week against TTU, the Rebel offense showed why they're considered one of the most dangerous units in the country, scoring on their second play from scrimmage. The receiver room was expected to show out, but not many expected the breakout performance from RB Scottie Phillips. The JUCO transfer exploded for 205 yards and 2 TDs, including several long runs to gash the Red Raider defense. 
This week, look for the Rebels to continue to establish their run game. This will be highly important as they open SEC play against Alabama next week. Demarkus Lodge played a big role in last weeks win, but he may be out with a  concussion. This will open up more targets for Braylon Sanders, and other rebel wideouts. With the loss of Lodge, TE Dawson Knox could also see more targets. 
On defense, injuries to DB Jaylon Jones (torn ACL) and LB Kevontae' Ruggs (concussion) will force the Rebels to iron out a new rotation. It appears that senior Detric Bing-Dukes will get more reps in Ruggs' absence after playing a majority of the snaps in 2017. With Jones out for the year, expect to see more of Jalen Julius, Javien Hamilton and other younger Rebels in the defensive backfield.  
As for the Rebels' opponent, SIU took down Murray State in week one by a 49-10 final. In the win, the Salukis forced six turnovers and scored 3 defensive TDs. Since taking over the starting role, Rebel QB Jordan Ta'amu has protected the ball, so the SIU defense will be another good test for the senior QB. 
The Rebels are eager to play in front of their home crowd, and with Alabama on the horizon, head coach Matt Luke knows they cannot look past SIU. 
"Home openers are great," Luke said.  "We are fired up to get back into the groove and play in front of our home fans, excited about that and the challenge with Southern Illinois. They had a big win over Murray State 49-10. It's pretty impressive anytime you get six turnovers and three for scores. They have a senior quarterback, good running back and a wide receiver Raphael Leonard from here in Mississippi, so I'm sure he'll be fired up. We need to be ready to go, but excited for the challenge and excited to be back home."
Kick-off from Oxford is set for 3:00 p.m.
Louisiana Monroe vs. Southern Miss: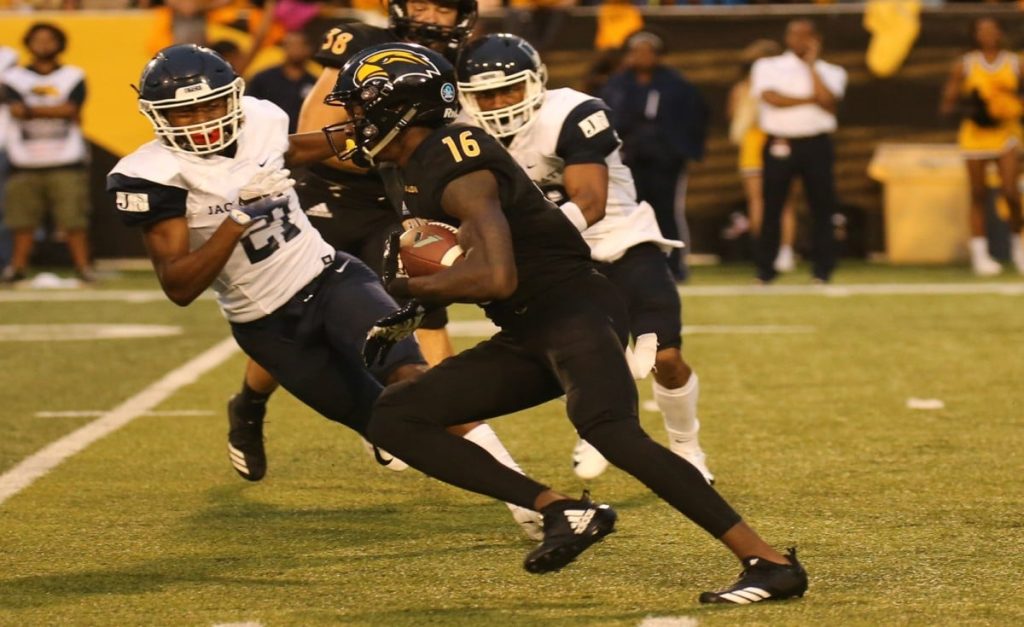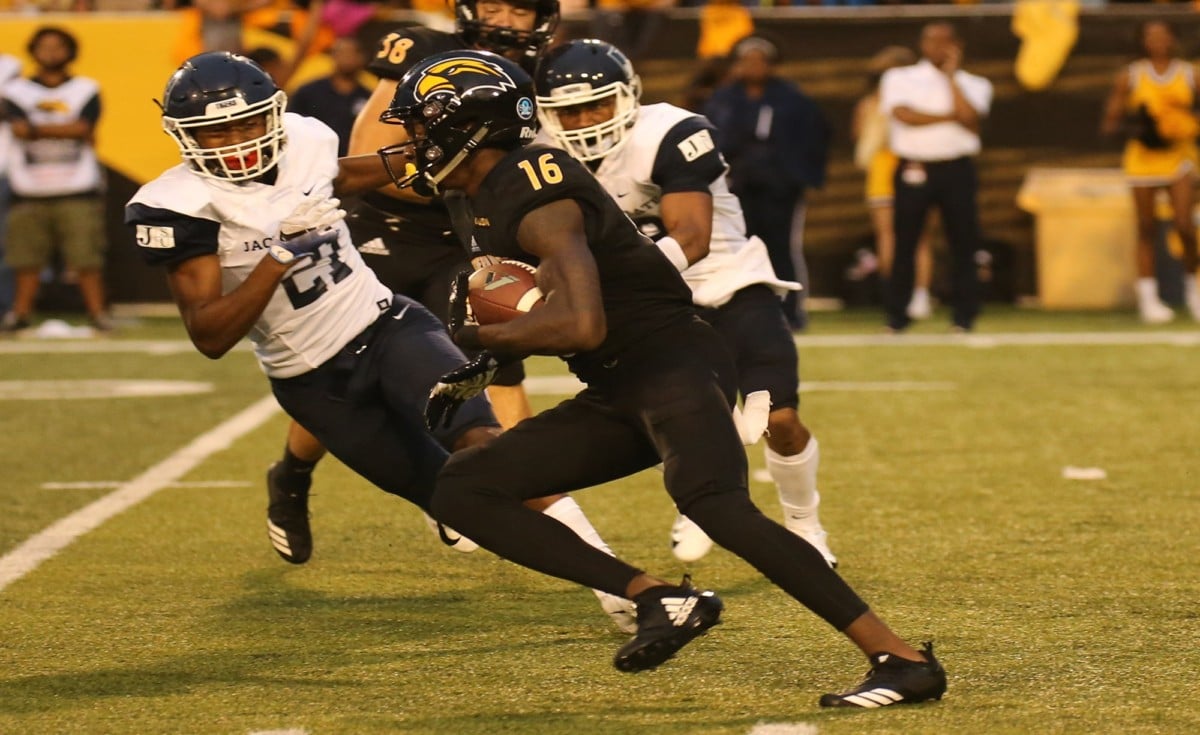 Week one saw the Golden Eagles jump all over Jackson State as they won 55-7 behind QB Jack Abraham. The JUCO transfer got the start in the wake of Kwadra Griggs' suspension, and he rewarded head coach Jay Hopson's faith in him by tossing 4 TDs. 
"He understands you have to do it week in and week out. He's a level-headed young man and he understands it's one game. I was pleased," Hopson said after the win. "He moved us well and he managed the game extremely well, so I was really proud of his effort. Jack was a winner at Oxford and he's proved a lot of great things and he had a really good game today."
Last year, USM took down ULM 28-17 thanks to a big day from RB Ito Smith, who is no longer in Hattiesburg. 
Abraham's favorite target last week was WR Quez Watkins, who caught three TDs and he returned a punt for a TD. Someone will need to replace Smith's production this year, so look for this duo to continue to build chemistry this week before conference play begins. 
Defensively, USM never allowed JSU to get in a rhythm, and they'll try to do the same against ULM this Saturday. The Skyhawks got strong performances from QB Caleb Evans and RB Derrick Gore in a week one win over Southeastern LA. Evans threw for 356 yards and 2 TDs, while Gore rushed for over 100 yards. Hopson knows that there isn't a glaring week spot on the ULM offense. 
They're a tough football team who will make it a four-quarter game," Hopson said. "It'll be that way from this game and onward. We know from here on out, we have to come ready to play. They have a real good dual-threat quarterback, and they have a lot of talent at the skill positions. They're good up front and are well-coached."
NFL legend & Southern Miss alumnus Brett Favre and ULM alumnus & Philadelphia Eagles Head Coach Doug Pederson will serve as honorary captains for this matchup. 
Kick-off in Hattiesburg is set for 6:00 p.m.