We've reached week 10 of the college football season. Mississippi State is one week away from a matchup with Alabama, but they can't look past this week's opponent. Ole Miss is back from a bye week, and after the most recent off-the-field developments, they'll try to focus on football. Southern Miss is back after an unsuccessful road trip, and they'll try to get back in the win column. Check out a preview of all three games below:
Louisiana Tech @ #18 Mississippi State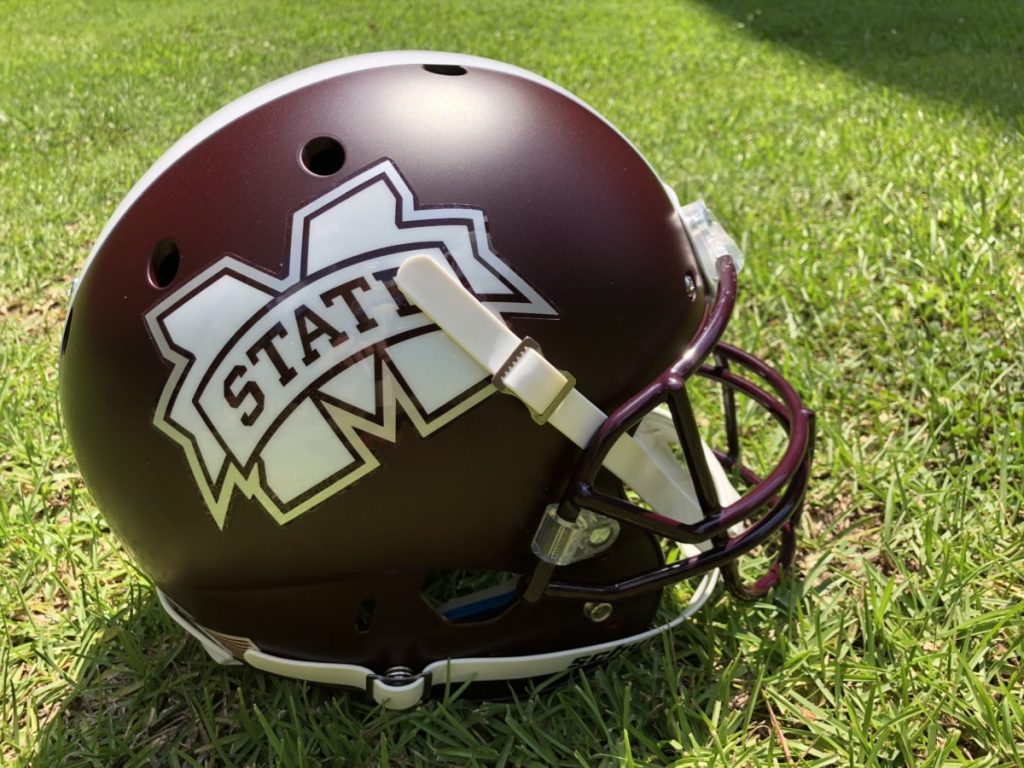 One week after their upset win over #16 Texas A&M, #18 Mississippi State gets a perfect opportunity for a tune-up game against Louisiana Tech at home. 
The ups and downs for Nick Fitzgerald have been well-documented all season long, but last week was a high point as the senior QB accounted for 4 touchdowns in the win over the Aggies. In their loss to LSU, the team totaled just 59 yards in the air but rebounded with 240 yards last week. Earlier this week, head coach Joe Moorhead stated that they hope to strike the right balance on offense moving forward. 
"I think it goes back to the balance aspect of wanting to run [the ball] and pass it with equal effectiveness and if one of the two parts are going to get shut down, being able to lean to other part. The pass game was what was missing, for whatever reason, I just felt going into [the Texas A&M] game that you have to remember what got us here, and that's what we're going to be moving forward," Moorhead said.
The MSU offense was without RB Kylin Hill last week, and Moorhead said that he remains day-to-day. It may not be the worst idea to hold him out this week ahead of a matchup with #1 Alabama coming up next. Aeris Williams is more than capable of flanking Fitzgerald in the backfield and providing a steady pace in the ground game. 
Montez Sweat and the Bulldog defense suffocated the Aggies last week and didn't allow them to play to their strengths. Louisiana Tech's RPO-style of play is common in today's game, but it does allow for the potential of big plays if you get caught over-committing to stopping the run or the pass. The Louisiana Tech offense was able to put up 21 points on LSU in a loss earlier this season, so they've proved they can move the ball on an SEC defense. 
"They were very competitive against LSU," Moorhead noted. "We discussed with our team the need to compete against the standard and not an opponent. Consistent habits will yield consistent results. We need to have a great week of practice, play with tremendous effort and execute our scheme with precision, one rep at a time for four quarters, and if that occurs, the score will take care of itself."
Tech QB J'Mar Smith is a Mississippi native and may be playing with something to prove. To do so he'll need help from his offensive line. Smith has been sacked 22 times this season and with Sweat and Jeffery Simmons coming after him, Smith may not have a long time to sit in the pocket. 
Kickoff from Davis Wade Stadium is set for 6:30. 
South Carolina @ Ole Miss
Coming off of their bye week, Ole Miss welcomes South Carolina to Oxford. 
The last time the Rebels took the field was in a losing effort against Auburn, and throughout the game, the offense was a non-factor and the defense was worn down before giving way in the second half. 
For a Rebel team that has been dealing with injuries on both sides of the ball, a bye week may be just what they needed. It was clear in the Auburn loss that they're still working to find a way to replace the production of D.K. Metcalf on the outside. 
"Given the open date, we've looked at a couple of different things—moving A.J. Brown outside some, putting Elijah Moore inside some, maybe a few more two tight end sets with Dawson Knox and Octavious Cooley on the field at the same time," head coach Matt Luke said. "There are a lot of different areas we can come in, we just have to figure out what our best is. What you don't want to do is have all of your receivers play 75 snaps and not be at their best at the end of the game."
Giving up nearly 500 yards per game, the Ole Miss defense is one of the worst in the country coming into the game and ranks last in the SEC against the run. South Carolina hasn't been explosive offensively behind QB Jake Bentley, averaging 236 ypg in the air and 163 ypg on the ground. Ole Miss DC Wesley McGriff knows that RB Rico Dowdle will be the key to setting up the rest of the offense for South Carolina.
"They'll run the ball, run the ball and then take their shots," McGriff said. "Their RPO's stand out. They'll run split zone, run the split zone and then throw the glance route off of it. They do just enough to get your linebackers going downhill and they'll throw it behind them."
Just one day ago, Ole Miss learned their final fate from the NCAA. The Rebels won't be playing in a bowl game this season regardless of their final record, but they'll have to put that news in the rear view mirror and focus on the task at hand on Saturday. 
It's another early kick in Oxford as the Rebels and the Gamecocks will tee it up at 11 a.m. 
Marshall @ Southern Miss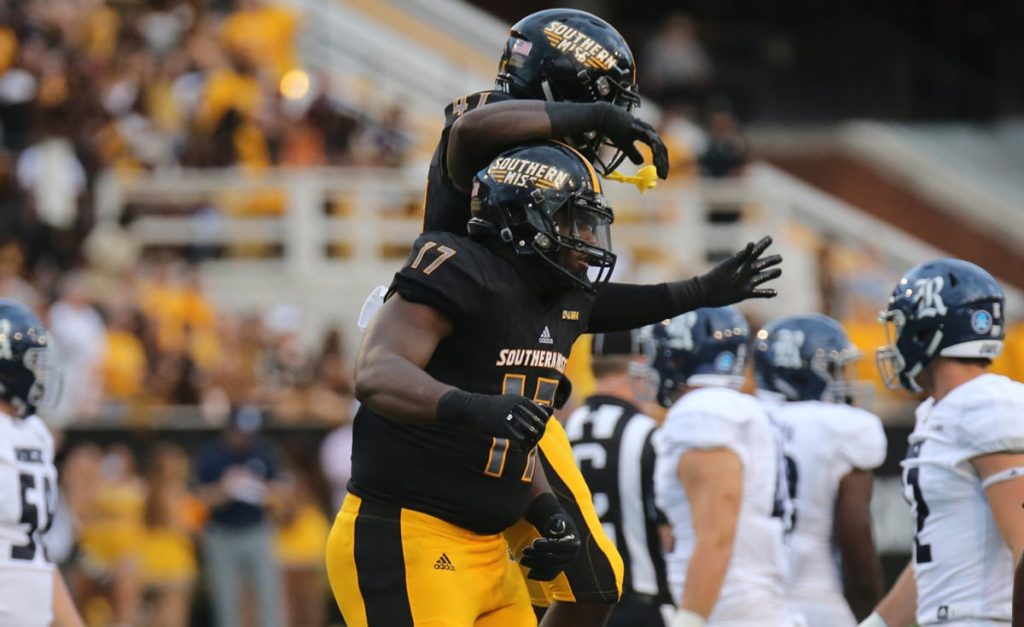 Last week, Southern Miss fell to Charlotte with QB Jack Abraham throwing 3 red zone interceptions. This week against Marshall, USM has to cut down on the mistakes if they want to get back into the win column. 
The offense was able to move the ball between the 20s, but that doesn't lead to points on the board unless you can finish drives. 
"It's frustrating," head coach Jay Hopson said about the turnovers. "We have had opportunities. We outgained them 465 to 260 or something like that and we lose the game. But then again, that is what happens when you turn the ball over. At the end of the day, you can look at every stat that you want but the stats don't count, the scoreboard is what counts. We have to protect the football when we get down in the red zone and give ourselves an opportunity. We can't have turnovers lead to cheap scores. That is what got us this game and it got us in the ULM game. You have to protect the football, that's football and that is something that we have to do a better job of."
Abraham was knocked out of the game with an injury, and Tate Whatley tossed two touchdown passes. Hopson said that Abraham will still get the start on Saturday. 
Defensively, USM played well last week, but the turnovers were too much to overcome. This week they'll face an offense that has scored 42 and 31 points in the last two weeks. 
"Marshall is just a good football team. They play fast on defense and offensively they are multi-dimensional, they can run it and they can throw it. I am a worn out record but it's Conference USA play, we have another good football team coming to town and we have to have a great week. We have to come out on Saturday and execute and that is something that we didn't do last week," Hopson said. 
Kickoff from M.M. Roberts Stadium set for 2:00 p.m.